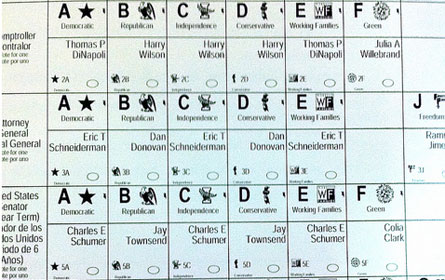 Winners appear in bold. An asterisk indicates an incumbent. Results are rounded, so may not always equal 100 percent.
These results are based on the unofficial vote tally as reported by the wire services .The official count from the Board of Elections can take weeks to complete and will be posted as soon as they are available. The results below are subject to change as the official count is made public.
For more on the elections go to Gotham Gazette's Who's Running for What.
Statewide
Junior Senator Bruce Blakeman (Tax Revolt) 0%
John Clifton (Lib) 0%
Joseph DioGuardi (R, C) 36%
Kirsten Gillibrand* (D, WF) 61%
Joseph Huff (Rent) 1%
Cecile Lawrence (G) 1%
Vivia Morgan (Anti-Prohib) 0%
Office
Candidate
Governor
Charles Barron (Freedom) 0%
Andrew Cuomo (D, I, WF) 61%
Kristen Davis (Anti-Prohib.) 1%
Howie Hawkins (G) 2%
Jimmy McMillan (Rent) 1%
Carl Paladino (R, C, Taxpayers) 34%
Warren Redlich (Lib) 1%
Comptroller
Thomas DiNapoli (D, WF) 50%
John Gaetani (Lib) 1%
Julia Willebrand (G) 3%
Harry Wilson (R, C) 47%
Attorney General
Dan Donovan (R, C) 44%
Ramon Jimenez (Freedom) 0%
Carl Person (Lib) 1%
Eric Schneiderman (D, WF) 55%
Senior Senator
Colia Clark (G) 1%
Randy Credico (Lib) 1%
Charles Schumer* (D, WF, I) 65%
Jay Townsend (R, C) 33%
U.S Representative
Office
Candidate
District 5
Gary Ackerman* (D) 67%
Elizabeth Berney (Tax Revolt) 1%
James Milano (R, C) 32%
District 6
Gregory Meeks* (D) 85%
Asher Taub (R, C) 15%
District 7
Joseph Crowley* (D, WF) 80%
Anthony Gronowicz (G) 1%
Kenneth Reynolds (R, C) 19%
District 8
Jerrold Nadler* (D, WF) 75%
Susan Kone (R, C) 25%
District 9
Robert Turner (R,C) 41%
Anthony Weiner* (D, I, WF) 59%
District 10
Ernest Johnson (C) 2%
Diana Muniz (R) 7%
Edolphus Towns* (D) 91%
District 11
Hugh Carr (R, C) 10%
Yvette Clarke* (D, WF) 90%
District 12
Alice Gaffney (C) 7%
Nydia Velazquez* (D, WF) 93%
District 13
Michael Grimm (R, C) 51%
Michael McMahon* (D, I) 48%
Thomas Vendittelli (Lib) 1%
District 14
David Ryan Brumberg (R) 22%
Dino LaVerghetta (I) 2%
Timothy Healy (C) 2%
Carolyn Maloney* (D, WF) 75%
District 15
Roger Calero (SWP) 2%
Michael Faulkner (R, C) 10%
Charles Rangel* (D, WF) 80%
Craig Schley (I, VOTE) 8%
District 16
Frank Della Valle (R, C) 5%
Jose Serrano* (D, WF) 95%
District 17
Eliot Engel* (D, WF) 87%
York Kleinhandler (C) 2%
Anthony Mele (R) 11%
State Representative
Office
Candidate
BRONX
Senate 28
Jon Girodes (R) 7%
Jose Serrano* (D, WF) 92%
Keesha Weiner (C) 2%
Senate 31
Adriano Espaillat (D, WF) 84%
Raphael Klapper (C) 2%
Ann Roos (G) 4%
Stylo Sapaskis (R) 11%
Senate 32
Ruben Diaz* (D, R) 94%
Michael Walters (C) 6%
Senate 33
John Reynolds (G) 3%
Gustavo Rivera (D, WF) 97%
Senate 34
Jeffrey Klein* (D, I, WF) 73%
Frank Vernuccio (R, C) 27%
Senate 36
Robert Thompson (R) 4%
Ruth Thompson (D) 96%
Assembly 76
Walter Nestler (G) 2%
Peter Rivera* (D, WF) 91%
Steven Stern (R, C) 8%
Assembly 77
Tanya Carmichael (R) 3%
Vanessa Gibson* (D, WF) 96%
Robert Marreo (C) 1%
Assembly 78
Jose Rivera* (D, WF) 90%
William Sullivan (R, C) 10%
Assembly 79
Deborah Benbow (R) 3%
Henry Bonet Jr. (C) 1%
Eric Stevenson (D, WF) 96%
Assembly 80
Joseph DeLuna (R) 22%
Robert Goodman (C) 4%
Naomi Rivera* (D, WF) 74%
Assembly 81
Jeffrey Dinowitz* (D, WF) 77%
Joseph McLaughlin (R, C) 23%
Assembly 82
Michael Benedetto* (D, WF) 73%
Michael Rendino (R, I, C) 27%
Assembly 83
Trevor Archer (G) 2%
Carl Heastie* 96%(D, WF)
Patrick McManus (C) 2%
Assembly 84
Carmen Arroyo* (D) 91%
Rosaline Nieves (R< I> C) 9%
Assembly 85
Marcus Crespo* (D) 94%
Leopold Paul (R) 4%
Arturo Santiago Jr. (C) 3%
Assembly 86
Lisa Marie Campbell (C) 2%
Nelson Castro* (D) 78%
Hector Ramirez (WF) 17%
Rene Santos (R) 3%
BROOKLYN
Senate 17
Michael Freeman-Saulsberre (R, C) 9%
Martin Malave Dilan* (D) 91%
Senate 18
Velmanette Montgomery* (D) 96%
Laquan Word (R, C) 4%
Senate 19
Rose Laney (R) 7%
John Sampson* (D, I, WF) 93%
Senate 20
Eric Adams (D, WF) 91%
Allan Romaguera (R, C) 9%
Senate 21
Brian Kelly (C) 2%
Jeffrey Lodge (R) 14%
Kevin Parker* (D, WF) 84%
Senate 22
Michael DiSanto (D, WF) 34%
Martin Golden* (R, I, C) 66%
Senate 23
Diane Savino* (D, I, WF)
Senate 25
Joseph Nardiell (R) 14%
Daniel Squadron (D, WF) 86%
Senate 27
Carl Kruger* (D) 73%
Avrohom Rosenberg (C) 27%
Assembly 40
Inez Barron* (D) 94%
Kenneth Waluyn (R, C) 6%
Assembly 41
Allan Bellon (R,C) 21%
Helene Weinstein* (D, WF) 79%
Assembly 42
Rhoda Jacobs* (D) 92%
Alan Kesler (R) 8%
Assembly 43
Karim Camara* (D, WF) 91%
Menachem Raitport (R, C) 9%
Assembly 44
James Brennan* (D) 80%
Alfred Caccamo (R, C) 20%
Assembly 45
Steven Cymbrowitz (D, WF) 57%
Jospeh Hayon (R, C, School Choice) 43%
Assembly 46
Jerry Amalfitano (C) 15%
Alec Brook-Krasny (D, I, WF) 85%
Assembly 47
Phyllis Carbo (R, C) 34%<br/ > William Colton* (D, WF) 66%
Assembly 48
Brian Doherty (R, C) 38%
Dov Hikind* (D) 62%
Assembly 49
Peter Abbate* (D, I, WF) 62%
Peter Cipriano (R,C) 38%
Assembly 50
Jacqueline Haro (R, C) 12%
Joseph Lentol* (D) 88%
Assembly 51
Henry Lavalle (R. C) 17%
Felix Ortiz* (D, WF) 83%
Assembly 52
John Jasilli Jr. (R, C) 11%
Joan Millman* (D, WF) 89%
Assembly 53
Vito Lopez* (D) 89%
Byron Orozco (R) 11%
Assembly 54
Khorshed Chowdhury (R, C) 8%
Darryl Towns* (D, WF) 92%
Assembly 55
William Boyland Jr.* (D, WF) 96%
Robert Marshall (R, C) 4%
Assembly 56
Garnsey Lee Alston (R) 2%
Annette Robinson* (D) 98%
Assembly 57
Hakeem Jeffries* (D, WF) 97%
Frances Voyticky 3%
Assembly 58
Nick Perry* (D, WF)
Assembly 59
Alan Maisel* (D) 86%
Robert Maresca (C) 14%
Assembly 60
Marietta Canning (Rt. to Life) 1%
Janele Hyer-Spencer* (D, I, WF) 45%
Nicole Malliotakis
MANHATTAN
Senate 25
Joseph Nardiell (R) 14%
Daniel Squadron* (D, WF) 86%
Senate 26
Saul Farber (R, I) 30%
Liz Krueger* (D, WF) 70%
Senate 28
Jon Girodes (R) 6%
Jose Serrano* (D, WF) 92%
Keesha Weiner (C) 2%
Senate 29
Thomas Duane* (D, WF) 85%
Joseph Mendola (R) 15%
Senate 30
Bill Perkins* (D, WF) 93%
Donal Yarbrough (R) 7%
Senate 31
Adriano Espaillat (D, WF) 84%
Raphael Klapper (C) 2%
Ann Roos (G) 4%
Stylo Sapaskis (R) 11%
Assembly 64
Sheldon Silver* (D, WF)
Assembly 65
Micah Kellner* (D, WF) 73%
Michael Zumbluskas (R) 27%
Assembly 66
William Buran (R) 13%
Deborah Glick* (D, WF) 87%
Assembly 67
Linda Rosenthal*
Assembly 68

Carlton Berkley (100 People) 9%
Robert Rodriguez (D) 82%
John Ruiz (WF) 9%
Assembly 69
Daniel O'Donnell* (D)
Assembly 70
Dexter Davis (R) 4%
Keith Wright* (D, WF) 96%
Assembly 71
Glenda Allen (R) 10%
Herman Farrell* (D) 90%
Assembly 72
Guillermo Linares (D, WF) 90%
Dan Russo (R) 10%
Assembly 73
Jonathan Bing* (D) 64%
Gregory Lundahl (WF) 2%
Paul Niehaus (R, I) 35%
Assembly 74
Brian Kavanaugh* (D, WF) 84%
Dena Winokur (R) 16%
Assembly 75
Michael Chan (R) 18%
Richard Gottfried* (D, WF) 82%
QUEENS
Senate 10
Shirley Huntley* (D, WF)
Senate 11
Tony Avella (D, WF) 53%
Frank Padavan* (R, I, C) 47%
Senate 12
Michael Gianaris (D, WF) 81%
Jerome Patrick Tina (R, C) 19%
Senate 13
Richard La Salle (R, I, C) 17%
Jose Peralta* (D, WF) 83%
Senate 14
Samuel Benoit (R) 18%
Everly Brown (C) 4%
Malcom Smith* (D, I, WF) 77%
Senate 15
Joseph Addabbo Jr.* (D, I) 57%
Anthony Como (R, C) 43%
Senate 16
Robert Schwartz (C) 13%
Toby Ann Stavisky* (D, I, C) 88%
Assembly 22
Grace Meng* (D, WF)
Assembly 23
Harold Paez (R, C) 33%
Audrey Pheffer* (D, I, WF) 67%
Assembly 24
Timothy Furey (R) 24%
Bob Friedrich (C) 9%
David Weprin (D, WF) 67%
Assembly 25
Rory Lancman* (D, WF)
Assembly 26
Edward Braunstein (D, I) 59%
Vincent Taubone (R, C) 42%
Assembly 27
Nettie Mayersohn* (D, I)
Assembly 28
Andrew Hevesi* (D, WF) 54%
Aleksander Powietrzynski (R, C) 41%
Jospeh Tiraco (I) 6%
Assembly 29
William Scarborough*(D, WF)
Assembly 30
Margaret Markey* (D) 60%
Anthony Nunziato (R, I, C) 40%
Assembly 31
Michele Titus* (D, WF)
Assembly 32
Vivian Cook* (D)
Assembly 33
Barbara Clark* (D, WF)
Assembly 34
Michael DenDekker* (D, WF)
Assembly 35
Jeffrion Aubrey (D)
Assembly 36
Aravella Simotas
Assembly 37
Catherine Nolan* (D, WF) 84%
John Kevin Wilson (R) 16%
Assembly 38
Donna Marie Caltabianco (R, C) 31%
Michael Miller* (D, I, WF) 69%
Assembly 39
Francisco Moya (D, WF)
STATEN ISLAND
Senate 23
Diane Savino* (D, I, WF)
Senate 24
Anthony Lanza* (R, I, C)
Assembly 60
Marietta Canning (Rt. to Life) 1%
Janele Hyer-Spencer* (D, I, WF) 45%
Nicole Malliotakis (R, C, Taxpayer) 54%
Assembly 61
Dave Narby (Lib) 7%
Matthew J. Titone* (D, I, WF) 93%
Assembly 62
Albert Albanese (D) 21%
Lou Tabacco* (R, I, C) 79%
Assembly 63
Michael Cusick* (D, I, C, WF) 92%
Danny Panzella (Lib) 8%
City Council
Office
Candidate
BROOKYLN
44th District
David Greenfield* (D, C)
QUEENS
28th District
Albert Baldeo 14%
Nicole Paultre Bell 25%
Charles Bilal 9%
Martha Taylor Butler 4%
Allan Jennings Jr. 10%
Harpreet Singh Toor 7%
Ruben Wills 31%
Judges
Office
Candidate
BRONX
Supreme Court Judge
Rick Lazio (R) 13%
Thomas Ognibene (C) 84%
Edgar Walker (D) 3%
Civil Court -- District 1
Joseph Capella (D)
Civil Court -- District 2
Linda Poust-Lopez (D) 89%
Daniel Szalkiewicz (R, C) 11%
BROOKLYN
Supreme Court Judge (four)
Sylvia Ash (D, R) 20%
James Domagalski (C) 1%
Deborah Dowling (D, R, C) 28%
Elio Harpaz (WF) 2%
Francois Rivera (D, R) 21%
Kenneth Schaeffer (WF) 3%
Giovanni Silvagni (C) 1%
Jeffrey Sunshine (D, R, C) 21%
Amy Young (WF) 3%
Civil Court Judge -- County
Vincent Martusciello (R, C) 22%
Harriet Thompson (D) 78%
Civil Court Judge -- District 7
Betty Williams (D)
MANHATTAN
Supreme Court Justice (three)
Karen Burke (R) 13%
Matthew Cooper (D) 28%
Georeg Janis (R) 6%
Cynthia Kern (D) 21%
Jodi Mosiello (R) 5%
Jeffrey Oing (C) 27%
Civil Court Judge -- Countywide (three)
David Cohen (D)
Michael Katz (D)
Leticia Ramirez (D)
Civil Court Judge -- District 1 (two)
Joan Kenney (D)
CarolRuth Feinman (D)
Civil Court Judge -- District 5
Kelly Levy (D)
Civil Court Judge -- District 9
Gerold Lebovits (D, I)
QUEENS
Surrogate
Peter Kelly (D)
Civil Court -- Countywide (two)
Dennis Lebwohl (D)
Barry Schwartz (D)