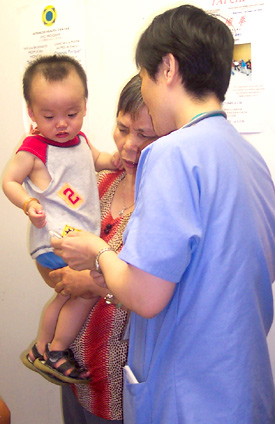 A staff member sees a patient at the Betances Health Center where 70 percent of clients are on Medicaid.
About 25 years ago, the Betances Health Center on the Lower East Side was little more than a van dispensing medical care to the needy -- a van that "always got vandalized and eventually burned on the highway," recalls executive director Wanda Evans. Today, Betances occupies a former Sloan's supermarket on Henry Street and logs 50,000 visits a year from 7,000 patients. And like some 650 health centers throughout the city, Betances depends on Medicaid, the government program to provide health care to low-income people.
As it celebrates its 40th birthday, Medicaid has been the focus of much attention – not so much for the care it provides as for how much it costs. The New York Times reported recently on billions of dollars in fraud and abuse. Governors demand that the federal government relieve some of the states' costs. Mayor Michael Bloomberg highlighted Medicaid as a big budget item beyond the city's control. All of this has prompted an array of proposals and counterproposals about how to reform Medicaid, cut costs or improve care.
Such changes could deeply affect centers such as Betances. These community institutions "provide care and help keep people out of emergency rooms," said Deborah Zahn, of the Primary Care Development Corporation, which was created by the city to provide financing and other assistance to the health centers. If you cut Medicaid, she said, "you would cut their ability to be financially solvent."
Unlike a traditional doctor's office, Betances aims to provide a "one-stop shop" to cure disease and make its clients healthier. On a recent hot summer morning, patients from the neighborhood -- black, white, Asian, Hispanic; young, old; men, women – waited in a room flooded with sunlight from the skylight above. Some wanted to see a doctor, but the center also offers an array of preventive health programs. Betances works with people who are HIV positive to keep their condition from getting worse. It offers acupuncture, tai chi, exercise machines and cooking classes – helping students prepare low-fat versions of traditional fare like rice and beans. While Medicaid does not cover many of these programs, it does cover about 70 percent of the patients at Betances.
WHAT IS MEDICAID?
Congress created Medicaid to serve low-income people in July 1965 at the same time it established Medicare for the elderly. Back then, Medicaid was a rather narrowly defined program, but it has expanded to provide a wider array of services to a larger number of people. Today Medicaid pays for health care for 50 million Americans and costs about $300 billion a year. The costs are divided between Washington and the states, with richer states, such as New York bearing 50 percent.
Without major changes, everyone expects the bill for Medicaid to grow. For one thing, overall healthcare costs are rising. For another, the population is aging. Although Medicare covers many medical costs for older Americans, Medicaid pays much of the costs of long-term care, including nursing homes.
NEW YORK'S $44 BILLION PROGRAM
By any measure, Medicaid in New York State is huge. Some 4 million people -- poor, elderly or disabled -- belong to the system, which handles about 1 million claims a day. Medicaid pays for one quarter of all dollars spent on prescription drugs in the state, one third of the money spent to deliver babies and a full half of the money spent on mental health, according to Newsday.
All this adds up to a $44 billion program, the most expensive in the nation. New York State and its local governments will pay about $10,800 (in pdf format) per Medicaid recipient this year. This costs every person in the state about $2,140 a year.
Supporters of Medicaid say that New Yorkers should be proud of this. "New York gets a really bad rap for having a program that is really good," said Laura Caruso of Medicaid Matters, a coalition to protect the system.
"Medicaid has been a lifesaver to many people across the state," said Robin Frank, a vice president at the Health Association of New York State, which represents hospitals and nursing homes. "Medicaid has been critical to people's lives."
Critics, though, say we do not get what we pay for. "Even though we spend billions and billions of dollars to meet poor peoples' health needs, we still have a higher than average rate of mothers who don't get prenatal care," said Robert B. Ward, director of research at The Public Policy Institute, a business-oriented research group.
Much of the burden for the high costs falls on local governments. New York is the only state in the country that requires local governments to pay a substantial share of Medicaid costs. Medicaid will cost the city almost $4.9 billion this year -- a number Mayor Michael Bloomberg estimates will reach $5.3 billion by 2009. But that may be conservative, based on the increases over the last five years. The costs pose an even greater burden on some upstate counties. Erie County Executive Joel Giambra has said that "every penny" of his county's property tax goes to Medicaid.
WHY IS IT SO EXPENSIVE?
Experts and advocates offer a variety of explanations for the costs of New York's program. There is little agreement on the causes of the expense, let alone the solutions.
--The funding formula: The split in paying the Medicaid bill in New York State – with Washington paying half and state and local government dividing the rest – encourages the state to put as many programs as possible into Medicaid to get federal funds. So, for example, New York has shifted some mental health spending into Medicaid while California has not. Similarly, the state's Medicaid program provides a subsidy to train doctors in teaching hospitals that other states do not provide.
Some people say this makes sense – why not get Washington to pick up the tab? But on the down side, critics say that New York State officials are less fiscally prudent about Medicaid spending than officials in other states because they only pay about a quarter, as opposed to half, of the costs. It's easy to give more services to more people, they say, if you get other people to foot most of the bill.
--The scope of services: The federal government requires that all states provide certain basic services, but makes others, such as vision, dental and podiatry care, optional. New York has elected to provide many of these services.
--Broader coverage: To qualify for Medicaid in New York, a family of four must have a monthly net income of less than $992. But New York State has expanded Medicaid through Family Health Plus and Child Health Plus, which offer health coverage to low-income people who might not normally qualify for Medicaid but who do not have other health insurance. Many work, but their employers do not offer benefits or charge too much for them.
--Who provides the care: Private teaching hospitals, which tend to be expensive, deliver a higher percentage of care in New York than in many states. The Public Policy Institute says the hospitalization rate (in pdf format) in New York is 42 percent above the national average. Similarly the state has more people in nursing homes, as opposed to providing less restrictive – and cheaper – long-term care in the community than many other states.
--Payments for care: Others charge that the state simply pays hospital and nursing homes too much. But some dispute this, saying reimbursement rates in New York remain too low. Nursing homes in New York receive $21 a day less in Medicaid reimbursement than what the care actually costs, according to Monica Mahaffey, director of government affairs for the Health Association of New York State. Reimbursement for emergency room care, set in the early 1990s, the group says, covers less than a third of costs.
--Politics: Hospitals, other medical providers, health care unions and advocates for the poor form a politically powerful coalition to boost spending on health care. For example, in 2002, Dennis Rivera, president of Local 1199 won a 13 percent raise for his members from the state and then supported Governor George Pataki's campaign for re-election. Higher salaries increase health-care costs and eventually show up on the state's Medicaid bill.
--Bad management: New York does not police its system well, giving out hundreds of million, if not billions, of dollars a year in fraudulent claims. While experts differ on the magnitude of the problem, all agree it exists.
Ward of the Public Policy Institute thinks the reason for New York's high costs go beyond any single cause: "All of this points to the conclusion that, unlike other states, New York has never even believed Medicaid should be affordable."
FIXING THE SYSTEM
Most proposals for cutting costs fall into five major categories: shifting funds, reforming care, improving efficiency, cutting services and eliminating fraud.
Shifting Funds
Mayor Michael Bloomberg and the state's county executives would like to see the state assume all the costs of Medicaid. And many budget watchdogs support them. In 2004, the Citizen Budget Commission called for full state funding of all Medicaid costs not covered by the federal government as one of 10 proposals (in pdf format) to fix the state fiscal practices.
But shifting the funding collides with the state's budget problem woes. "Merely redistributing the burden is not enough," Pataki said in his 2005 budget address. "The state can no more afford to pay for the current and future costs of Medicaid than counties can."
Delivering Care Better
New York has already taken one major step to try to improve the delivery of health care for Medicaid recipients. Since 2002, most people on Medicaid in New York City have to enroll in a city-approved managed care plan. This was intended to control costs and give beneficiaries better access to primary care and more coordinated help. A 2003 report (in pdf format) by the United Hospital Fund found that managed care could be improved but noted, "We have found no constituency in New York arguing for a return to the old fee-for-service program."
Today, some experts say the system needs to focus on treatment of patients with particularly vexing problems. A fifth of Medicaid users in the state account for 70 to 80 percent of expenditures, according to the United Hospital Fund. Many of these people have substance abuse problems and more than one chronic medical condition. Providing them with a doctor who could coordinate health care and help them obtain housing and social services could keep them out of very expensive hospital emergency rooms. More coordinated measures could also help patients with chronic problems, such as asthma, diabetes and heart conditions, avoid expensive hospital stays.
Similarly, shifting some patients from traditional nursing homes to less restrictive settings is seen as another way to save money and improve the life of the patient.
And, paradoxically, some say Medicaid could save money not by cutting people from the rolls but by adding them. Getting patients into the system, they argue, means they will get care sooner before a health problem becomes a crisis and when it is cheaper to treat. Now, says Deborah Zahn, bureaucratic hassles force people off Medicaid. Many return -- often with health problems that they allowed to fester when their coverage lapsed.
And when people without Medicaid finally seek help, said Denise Soffel, a senior policy analyst with the Community Service Society, "they come in sicker and need care that is much more costly."
Making the System More Efficient
Almost everyone sees the potential for savings in the bill for drugs and supplies, which accounts for about 15 percent of Medicaid spending in New York. This would involve greater use of cheaper generic drugs and perhaps bulk buying of medicine. The state this year took some steps in this direction, agreeing to a list of generic drugs that could save about $61 million a year, according to the Institute for Competitive Government.
New York currently has more hospital beds than it needs, This, Erie County Executive Giambra has said, drives up the cost of health care including Medicaid, "with no tangible improvement to patients." Closing hospitals is never popular – workers lose jobs and communities may lose a valued local institution—but many believe it will be necessary.
And some look to technology to cut costs. Mayoral candidate Anthony Weiner, for one, has suggested using electronic records to enroll and keep track of Medicaid recipients.
Reducing Services
Medicaid advocates fear the federal government is laying the groundwork for widespread cuts in services. Although negotiations in Congress continue, they believe much of an anticipated $10 billion cut in federal spending will come from Medicaid. "It's the big elephant in the room," said Laura Caruso of Medicaid Matters.
Many governors have called for such reductions as tightening the eligibility rules and increasing the amount of money -- the co-payment -- that recipients must pay for services. Arkansas Governor Mike Huckabee, who heads the National Governors Association, said that the only way to save Medicaid "is to make if a more efficient, responsible program." As part of this, he would increase co-payments.
In his report on cutting spending in New York, Edmund McMahon of the Manhattan Institute called for larger co-payments for such services as prescription drugs. This does two things: It may make recipients more selective about what services they choose and it reduces the state's cost for the services the patients do select.
But Medicaid advocates say those proposing increases in co-payments ignore the reality that most people who receive Medicaid have very little money. Soffel cites a Community Service Society survey that found that one third of New Yorkers living in poverty do not have even $100 in the bank. And a Minnesota doctor told the Associated Press that, after that state raised the co-payment for prescription drugs, one of his patients could no longer afford both her diabetes medicine and her grandson's diapers; she had to choose.
McMahon would also reduce Medicaid rolls by relaxing regulations on private insurance companies to encourage them to provide health insurance to low-income working families. To take this further, Governor Jeb Bush of Florida has proposed giving Medicaid recipients money they could use to purchase their own insurance, choosing from a variety of options offered by private companies, with money left over going into an individual account for medical expenses
Eliminating Waste, Fraud and Abuse
James Mehmet, a former chief state investigator of Medicaid fraud, estimates that at least 10 percent of Medicaid money in the state goes to fraudulent claims, according to the New York Times. Another 20 percent to 30 percent of spending, Mehmet said, while probably not criminal, is unnecessary or abusive. Together, the improper claims could total $18 billion a year.
The Times told of Dolly Rosen, a Brooklyn dentist who billed Medicaid for as many as 991 procedures a day. Medicaid reimbursed her, sending her and an associate $5.4 million in 2003. And it cited a recent federal audit, which found, that between 1993 and 2001 the New York City schools misspent $870 million in Medicaid payments for speech therapy, hiring unlicensed people and providing therapy to students who did not even need it. "The city schools are portrayed in the audit as having vigorously tapped into an antipoverty program, while doing a haphazard job at best of adhering to federal regulations," the Times reported.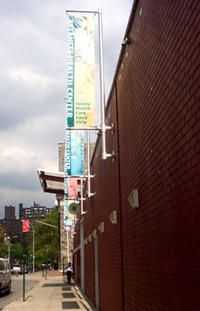 Despite such abuses – and even though some 400 million Medicaid claims were filed in New York State in 2004 -- the state health department managed to uncover only 37 cases of suspected fraud. Part of this reflects the lack of staff. About 50 state employees fight Medicaid fraud, down from more than 200 in the late 1980s. The series faulted both Governor George Pataki and Attorney General Elliot Spitzer for not doing more to fight abuses.
In response, Pataki announced a series of steps to fight fraud, including an overhaul of state agencies involved in the issue and creation of an independent inspector general's office.
The governor's announcement encountered some skepticism. "Shamed, embarrassed, caught with his pants down and lacking a good explanation for the loss of untold millions of taxpayer dollars, Governor Pataki said he was establishing an inspector general to battle a tsunami of fraud in New York's $44.5 billion Medicaid program," the Daily News said in an editorial. "Ooooh, an inspector general! That'll throw a fright into the thieves who are robbing the program blind."
"Certainly there's a lot of waste in New York's health care system," said Laura Caruso of Medicaid Matters. "It's not just Medicaid." But, she cautioned that the state must take care in that, in cracking down on abuses, it "doesn't mean putting people through the ringer to get the benefits they need."
And Ward says that while fraud is a problem, "the real scandal is what's legal." As an example, he cited patients who know -- or who hire experts who know -- how to manipulate the system. Critics cite the case of a Long Island millionaire who managed to get Medicaid to pick up the tab for his wife's nursing home care while he gave a huge contribution to a local college.
The story, reminiscent of Ronald Reagan's welfare queens, may be apocryphal, but eldercare lawyers do advise people on how to rid themselves of their assets so they can qualify for Medicaid. How much such people cost the system is open to dispute. Soffel thinks cracking down on that would save only "a little money on the margins."
But many experts believe that any solution can only go so far to cut Medicaid costs in New York or anywhere else. Medicaid will be huge -– and costly -- as long as we have an ever-more costly health care system, in the words of a recent essay,"whose expenses will soon exceed $2 trillion -- more than the gross domestic product of Great Britain or France -- yet leaves 45 million Americans uninsured."
Photos by Jeannine Coppola
For More Information
ORGANIZATIONS AND WEB SITES
AARP Policy and Research
The policy arm of the American Association of Retired Persons
1199 SEIU
The Web site of the union that represents health care workers. It works to oppose cuts in Medicaid.
Greater New York Hospital Association
A trade association representing more than 250 not-for-profit hospitals and continuing care facilities, both voluntary and public, in the metropolitan area and the surrounding region.
Heritage Foundation
The page from a national conservative think tank includes links to research and articles on Medicaid.
Manhattan Institute
This page from the think tank includes links to many of its articles on Medicaid.
New York City Department of Health and Mental Hygiene
New York State Department of Health
Medicaid Matters New York
A coalition that advocates for Medicaid
United Hospital Fund
A nonprofit that works to improve health care in New York.
REPORTS AND ARTICLES
Finding a Better Way
A report by Medicaid Matters, a coalition that supports Medicaid, on ways to cut costs and improve care.
Low Income Consumers' Experiences: Results from a Citywide Survey of Managed Care Consumers in Medicaid, Child Health Plus, and Family Health Plus (in pdf format)
A paper by the Community Service Society on a survey that highlighted the advantages and problems of moving Medicaid recipients into managed care.
Medicaid Watch 2005
A series of short papers by the Public Policy Institute, a business-oriented research group, on the costs of Medicaid in New York State and proposals to reduce those costs
The Myth of the Uncontrollables (in pdf format)
A report by the Citizens Budget Commission about how the city can pare some expenses it says it has no control over, including Medicaid.
New York Medicaid Fraud May Reach Into Billions
The New York Times article documenting widespread fraud in the state's Medicaid system.
New York City's $4 Billion Medicaid Bill: What Is Driving the Rise in Costs?
A report by the Independent Budget Office
Understanding Medicare, Medigap and Medicaid
(AARP Magazine) A primer on how the system works.
Â