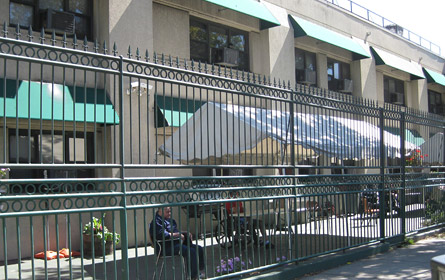 photo by Gail Robinson
It's the simple things in life that bring Irene Kaplan a sense of joy -- things most people take for granted. Deciding when she goes to bed, how to decorate her apartment, when to take her medicine. She likes buying her own groceries, choosing what she eats and how she cooks it; lately she has been experimenting with Caribbean spices and wants to bake more bread.
"What people like about it is the smell of bread baking. It's absolutely drool worthy. I've been experimenting with multigrain bread and Italian style. I've been using different healthy oils. It's a whole new, wide open world once you get out of the home," she explained.
A bout of pneumonia and a telegram letting her know that she no longer had a job led to Kaplan's stint as a homeless person and her eventual arrival at an adult home, a for-profit facility where the state places mentally ill adults. Kaplan spent 16 years in such a home.
Earlier this month Federal District Court Judge Nicholas Garaufis ruled that keeping mentally ill people in these homes violated their rights by preventing them from functioning as part of society. The state is still deciding whether to appeal a decision that could have a dramatic impact on how New York cares for people with mental health problems.
Kaplan, though, has already left her home. Thanks to state funding for supported housing for 60 patients, she lives in her own small apartment in Brownsville. She gets therapy and assistance from local groups as she works to reconstruct her life.
Now as a result of Garaufis' ruling, more patients like Kaplan may have a similar chance at freedom. Whether that happens, though, depends on how the state responds.
Not So Welcome Home
Since the state phased out its mental institutions in the 1970s, it has grappled with how to deal with mentally ill adults. For-profit homes, such as the one where Kaplan lived, have become the standard treatment centers for mental patients in New York. Over 4,000 New Yorkers with mental issues are housed in adult homes throughout the city.
In 2002, the New York Times ran a series about adult homes and the problems that ran rampant in them at the time. Reporter Clifford Levy found abuse and neglect of patients and that homes subjected residents to unnecessary medical procedures to take advantage of Medicare. In a 2003 article the Times referred to adult homes as "little more than psychiatric flophouses."
Following the Times series in 2002, advocates and the Pataki administration moved to reform the adult homes. The administration proposed spending $8 million to send social workers and caregivers to adult homes to increase the quality of care and evaluate whether some patients would be better served in other settings. But after strong lobbying by owners of adult homes, the legislature took $6 million of that money and allocated it to a program to give cash bonuses to adult homes that fared well good inspections -- essentially, advocates say, bribing them to provide a decent standard of care.
A taskforce was put together by the Pataki administration to address the care of the mentally ill. It recommended that the state move thousands of mentally ill adult home residents to apartments or small homes in communities. This was all supposed to be accomplished by March of this year. In the end only 60 patients were moved including Kaplan.
Over the past several years, some of the abuses have been addressed with better monitoring from the state. Adult homes are licensed and regulated by the New York State Department of Health. The State Office of Mental Health licenses and regulates mental health providers that diagnose and treat patients in the adult homes. Homes are regularly inspected.
Patients and advocates say there are good homes and bad ones, but as a whole they say adult homes effectively cut off patients from the outside world while fostering a sense of dependency and helplessness. In effect, these new institutions, they say, have become prisons that warehouse patients without any eye to letting them return to society.
Going to Court
In 2003, lawyers representing thousands of adult home patients and advocacy groups filed a suit in U.S. District Court in Brooklyn alleging that the state had violated the Americans with Disabilities Act by segregating the mentally ill.
The lawsuit said that most patients would be better off in their own apartments where they could receive treatment. This, the suit said, would also save the state money. It asked the court to block the state from sending the mentally ill to adult homes.
In his decision, Garaufis ruled in the complainants' favor by agreeing that the state violated the rights of the mentally ill in New York City. But he stopped short of barring the state from sending patients to adult homes. Still, Garaufis indicated in the decision that the state should consider providing apartments or small homes to patients who are not a threat to themselves or others.
Garaufis ordered the state to submit a "remedial plan" by October. The plaintiffs, including disability advocates, will be allowed to critique the plan.
The ruling only applies to homes in New York City, but the state will likely have to overhaul the entire system by which it services the mentally ill. Advocates expect the decision to have national ramifications since many other states also rely on adult homes to care for the mentally ill?.
The Next Move
So far the Paterson administration has remained mum on its plans. Jill Daniels, spokeswoman for the state Office of Mental Health, said that the judge's 210-page decision is still under review. "It's a long decision. Multiple agencies are involved," she said. Paterson's office did not return calls for comment.
A number of advocates are calling on the Paterson administration not to appeal the decision. Glenn Liebman, chief executive officer of the Mental Health Association of New York State, said New York should instead do now what it could have done to avoid the suit in the first place. "The state should have moved years ago to change conditions in adult homes. The state should have done a better job. They did some good things but they did not take a comprehensive approach," he said.
Saying he is "pleased with the decision," Sen. Tom Duane, who serves on the Senate Mental Health and Developmental Disabilities Committee, said he thinks "the Paterson administration is very sympathetic" to the ideas expressed in the ruling. Duane said he plans to work with the administration to develop more supported housing for the mentally ill.
Lisa Newcomb, director of the Empire State Association of Assisted Living, which represents some homes, criticized the decision for casting the entire adult home industry in a negative light. She said the decision seems to assume that many of the patients in the homes are capable of functioning at a higher level than they actually can. According to Newcomb, sizable number of patients probably need the care and supervision the homes can provide.
Newcomb added, though, that she recognizes that more options for independent living are needed. "Honestly, we need more of everything," she said.
Paying for the Alternative
The real struggle facing the state is likely to be financial. Advocates acknowledge that the state is confronting fiscal crisis and that finding affordable housing in New York City is no easy task. But they say that providing the mentally ill with an apartment and finding them therapy and other services in their areas will actually be less expensive than paying to support their stay in large adult homes. And advocates say that a support structure of case workers and healthcare workers will be readily available to the patients.
Garaufis agreed. In his decision, he wrote that it costs at least $7,946 a year less per patient for the state to provide "supported housing" to the mentally ill than to pay for a stay in an adult home, which costs around $47,946 a year. Garaufis also found that supporting a patient in an adult home costs Medicaid twice as much as it does to keep a patient in supported housing.
Advocates insist there are a number of funding options, federal and otherwise, that could initiate a supported housing program across the state. They say the program could be ramped up over the next few years.
The other financial consideration comes from the adult home industry, which is not exactly keen on giving up a steady source of income. Advocates say adult homes are represented by a "very powerful lobby," that has been able to get its way with the legislature in the past.
Rediscovering Independence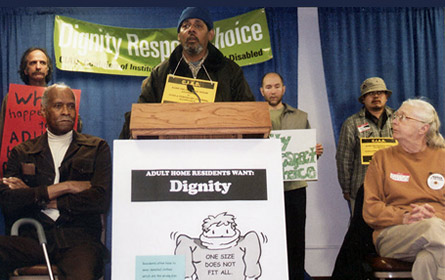 In his decision Garaufis pointed to the stigma of living in an adult home and said it can curtail social and professional options. The rules and restrictions, such as limits on visitors and not being able to have a phone, run counter to the image of an independent functioning person. Garaufis also noted that, while homes tend to focus on training in life skills, such as cooking and shopping, residents rarely have the chance to apply their skills in society.
Advocates acknowledge that not all patients will be ready to live on their own, but they say they should have the choice. Kaplan, who as a member of the Coalition of Institutionalized Aged and Disabled has been very active in advocating the rights of the mentally ill, agrees.
She admits that some patients need more help than others, but believes more harm than good is being done by keeping them all in one place and segregating them from society.
At Surf Manor Homes in Coney Island Kaplan was told what and when to eat and when to bathe. She had limited contact with the outside world and recalls being scolded for changing her linens, being coerced and intimidated into following instructions, and having to pick her roommate off the floor at night. She particularly remembers suffering summers without air conditioning.
Kaplan said she knew she was simply "too functional" to be in an adult home. "I did a lot of things for myself: I clean my room, take care of my personal hygiene needs. I didn't need that kind of support," she said.
While Kaplan recognizes that not everyone is as functional or independent as she is, she said living in a home erodes a person's self reliance. She says it is hard for some, after years of regimentation, to fight for more freedom or even to want it. "They do your shopping, do your cooking, help you shower. It is not conducive to a sense of independence," she said
Ready for the Next Move
Derek White, though, wants to move on. Three or four years ago he was living on the streets and addicted to drugs when he found himself in a hospital in White Plains. From there White was sent by health officials to Palisade Gardens, an adult home in Westchester where he received the support he needed to rebuild his life without drugs. White became involved with the Coalition for Institutionalized Aged and Disabled -- he is the president of the chapter in Palisade Gardens -- and works as an inspector for the local Board of Elections.
White credits the home for getting him back into the swing of things. "This place is not bad. ... I know for a fact that a lot of homes are a lot lesser," he explains.
But still White is ready to move on. He is tired of going to dinner only to find ground beef replaced by ground turkey, and ribs and pork chops pulled off the menu because of budget cuts. "I think I'm ready to go now," he said without any sense of anger or frustration. "I miss doing things for myself. I miss cooking, I miss choosing what I get to eat."
White imagines himself in a one-bedroom apartment, perhaps a studio, anything to get him back into society and making his own choices. He still wants some of the counseling and support he gets from the state. For now at least, no appropriate option is available.
"I've got nothing bad to say about this place. They helped me," White said. But now if I could get a little bit of help to get out of here. ... I'm ready to move on."
At this point the hopes of White and hundreds of other patients rest in the hands of the state.