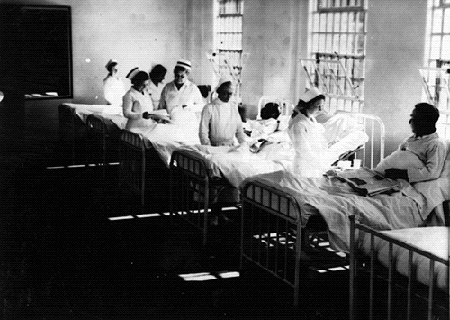 Date unknown. Image courtesy of National Archives and Records Administration /
New Deal Network
WPA Nurses assisting patients at Rikers. The original caption read "The New York City institutions have an unusually high proportion of inmates who require such services."
For eight months, John, a 56-year-old resident of the Bronx, lived as clandestinely as possible, doing his best to cloak the three scarlet letters symbolically etched on his chest: H-I-V. He avoided prescription lines and ignored cravings for Ensure - considered a clear sign that someone has "the virus."
On Rikers Island, human immunodeficiency virus goes by another name. Whether it's a passing reference to "the monster" or the prying questions including, "You live in the House In Virginia?" John, like the thousands of others who go in and out annually, did everything he could to keep his status a secret. "I found myself trying to conceal it more than take care of it," said John, who declined to give his last name.
Because on this 413-acre island nestled between the Steinway section of Queens and the Bronx, health care was not John's first priority. And in the view of some advocates, providing medical care to prisoners is not one of the city's top priorities either.
Receiving and delivering health care is a balancing act on Rikers. Officials must constantly weigh the relative importance of security, privacy and health as they attempt to care for a population that is not only transient, but is also disproportionately afflicted with mental illness, substance abuse and debilitating illnesses, like HIV.
Clinics on Rikers now are run by a private company whose contract was just renewed for another three years. Though the quality of care has improved since the days when a private hospital ran the clinics, many advocates argue the system still has an attitude of us versus them, of prisoner versus guard and of control versus the powerless -- certainly not conducive to quality care. As the city prepares to likely review the standards that guide health care within the correctional system, decisions made in the months ahead will have an effect on thousands of people who, after leaving Rikers, will return to families and neighborhoods across the city.
A Transient Population
At any one time on Rikers, there are approximately 14,000 inmates, adding up to about 100,000 admissions in a given year. They are not mass murderers, but alleged drunk drivers or drug addicts, among others convicted of misdemeanors, and about 80 percent are being detained prior to trial.
About a quarter are mentally ill, according to the health department, and a third are seen as extremely frail, plagued by severe drug addictions or chronic illnesses.
An average inmate stays 40 days, but the most frequent discharge from Rikers Island is on day one. The population is constantly changing, moving from facility to facility or from imprisonment to freedom.
Rikers has seen its fair share of turmoil. Its health contract has been passed from a nonprofit hospital to a for-profit, private medical center to a private corporation in a little more than a decade. Scrutiny over the island's health care has fluctuated too.
Now overseen by the city's Department of Health and Mental Hygiene, the clinics on Rikers are run by Prison Health Services, a private, for-profit company based in Tennessee. It manages the health and dental care of 10 of the city's 11 jails, nine of which are on Rikers Island. The other is the Manhattan Detention Center. (The Vernon C. Bain Center in the Bronx is not covered by the contract.)
All nine jails on the island have their own clinic, and the whole population is served by one infirmary. Inmates in more serious condition are sent either to Elmhurst Hospital Center or Bellevue Hospital Center.
Barriers to Care
The climate of control and authority that is part of any prison system affects health care. By far the largest complaint about medical care on Rikers, according to former inmates and prisoner advocates, is what they see as the indifference of some corrections officers and employees of Prison Health Services to the inmates' health. Former prisoners, like John, have waited for several hours before seeing anyone at the clinic - a tactic some claim corrections and Prison Health Services's employees use to assert their authority. Prisoners say that those who complain are sent back to their cells. All they can do is wait.
Health department officials said they receive similar complaints and are encouraging Prison Health Services to promote an atmosphere of respect.
"There is concern about the question of respect particularly," said Louise Cohen, deputy commissioner for health care access and improvement at the Department of Health and Mental Hygiene. "It's clearly a problem when you have an adversarial population. People already feel dehumanized. They don't have control over their own lives. They don't have the freedom to move around."
The department, Cohen added, investigates and takes seriously every inmate complaint it receives.
Gotham Gazette requested figures on the number of complaints received by the health department, including the numbers that were eventually substantiated, since Prison Health Services took over the contract in 2001. The department said it did not track such complaints.
Some inmates who have been behind Rikers' bars said they are subject to intimidation, not health care. Casimiro, whose last name is being withheld, spent 16 years in and out of Rikers Island. He has had 67 arrests, some violent, some drug-related. And time and time again, he said he was treated like an animal.
The 40-year-old former inmate turned group counselor said he had carried other inmates to the clinic, while corrections officers stood by unwilling to call for help. When Casimiro himself visited the clinic, medical charts were often in plain view for any passerby to peruse.
Jason, a 41-year-old Harlem resident who spent eight months on the island in 2000 and whose last name is being withheld, has been HIV positive for more than two decades. He did not disclose his status during the initial mandatory intake procedure for fear of the stigma (All inmates get a medical examination within 24 hours of arriving at Rikers.)
Several days later with a lingering feeling that his body was "shutting down," Jason approached a corrections officer and dislcosed his status. The officer, he said, didn't believe him, claiming he "had no proof."
"They looked at me like I was lying," said Jason. "Their job is to question you."
That attitude, Jason recalled, kept him tight lipped for the rest of his stay on the island, no matter how his body felt.
Given the population at Rikers, some skepticism is justified - but how much? Some medical professionals, including those intimately familiar with the conditions at Rikers, contend the health department and Prison Health Services successfully balance the challenges posed by the population with providing quality health care.
"It's very hard job working out there in extremely challenging circumstances," said Dr. Eric Manheimer, medical director of Bellevue Hospital Center, which houses the men's inpatient prison ward for Rikers. "Generally they (Prison Health Services staff) are qualified... They make good decisions... What we've worked out with the staff over there is a very low threshold to send (inmates) to us."
Some of the prisoners' complaints are beyond the health department's jurisdiction, like those pertaining to corrections officers. The department's role, officials said, is to ensure inmates have access to care and address health issues that may have been ignored for too long, like providing testing for sexually transmitted diseases for all inmates.
According to the department of health, about 5 percent of inmates at Rikers come into the intake process saying they are HIV positive. Another 25 percent, according to the department, submit to a voluntary test that is offered to every inmate. The testing, the department says, is part of the preventive care it attempts to provide on the island. The department has also implemented full discharge plans for HIV positive inmates, and over the last year it has seen 98 percent of them make it to their first appointment outside of Rikers.
"If we can improve the health of those that are incarcerated than we can improve the health of the communities that they come from," Cohen.
Still, admitting to a chronic illness within the confines of Rikers creates another set of obstacles for the prisoner and not just from fellow inmates. Former Rikers inmates say that they have, for example, seen corrections officers insist on wearing rubber gloves when they interact with prisoners who are HIV positive.
Privacy in the Open
Mayor Michael Bloomberg has made public health a hallmark of his administration, and that focus has had an effect on Rikers Island. The health department is creating a network of records accessible throughout all the Rikers facilities so doctors will know a patient's history if they had been previously incarcerated or were being moved from jail to jail. Patients will soon also have the option to disclose past medical records so physicians can get a more well-rounded view of their ailments. Currently, doctors have access only to information on the care patients received on Rikers Island.
Despite these efforts, though, the challenges of providing health care in jail continue to persist to the detriment of inmates, said some advocates. One of the largest concerns for inmates is privacy.
All consultations with medical personnel are supposed to be private. But, inmates said, in a clinic with no walls and diagnoses occurring side by side, confidentiality is impossible. (The health department refused to allow Gotham Gazette to visit a clinic on Rikers, because of privacy issues.)
"There is no confidentiality in jails," said Dale Wilker, a staff attorney at the Prisoners' Rights Project at the Legal Aid Society. "There are standards for it, but guards are right there and overhear. It's something the medical staff must jealously safeguard, but that's difficult in the treatment rooms."
Part of that security is warranted. Rikers clinics are among the few areas on the whole island where inmates from separate units converge in one space. It is there, inmates confirm, that drugs, weapons or other contraband are traded. Because of that, inmates may have reasons for asking to see a doctor that have nothing to do with medicine.
"We do not inform the Department of Correction law enforcement or the courts about their records," said Cohen. "We do, however, recognize the need for security. All patients need to be in the line of sight of a correction officer at all times."
A History of Neglect
Given the difficulties of providing private health care in the city's jail system, who would take it on?
In the 1990s, the city first awarded the contract to a for-profit entity, St. Barnabas Medical Center. During the three years of St. Barnabas's tenure, accusations surfaced that the hospital denied basic services to inmates to cut down on cost.
When its contract expired in 2000, the city turned to Prison Health Services - the for-profit, private company that holds a virtual monopoly on correctional care throughout the country. Under their care, complaints have received far less attention, but periodically rise to the fore.
Nonetheless, Prison Health Services isn't going anywhere anytime soon. The city recently renewed its contract for another three years for $366 million. It expires in December 2010. When the city first signed the contract with Prison Health in 2000 it was for $254 million over three years.
This nearly 20 percent increase, adjusted for inflation, occurred despite the company's less than favorable reputation throughout the country. It was found to have flawed and even occasionally fatal medical care in New York's upstate prisons. Health officials said no local, nonprofit hospital bid on the contract last year.
Oversight and Accountability
St. Barnabas's contract was set up so the medical center could pocket any extra profits, providing an incentive for it to keep health costs at a minimum. That meant steep reductions in hospital visits and keeping specialists out of the island's locked hallways.
Health department officials say prison health's contract does not resemble its predecessor's, but is based on the cost of care for health policies set up by the city. This way, the department contends, the company has no drive to reduce care to save money.
Oversight and accountability for health care at Rikers rests with the city's Board of Correction. The nine-member board has jurisdiction over every aspect of the correction system, from phone calls to health care.
Three sets of standards guide its work: general provisions covering most aspects of the correctional system from uniforms to telephone calls, mental health standards and the health care standards, which include inpatient and outpatient care and privacy rights.
These rules, said city officials and advocates, govern the ins and outs of the city's jail system. They can protect an inmate from an overbearing corrections officer or an employee disclosing personal medical records to the rest of the population. It is also these regulations that might soon change.
Governing Rikers Health Care
The board embarked on a revision of the city's general standards in 2006. This sparked objections from the advocacy community, which claimed the new rules slashed inmates' rights and gave the Department of Correction an even heavier baton. Advocates claimed their concerns were not adequately heard. Some board members, including Chairwoman Hildy Simmons, refute this claim.
The board approved the new rules late last year. They are currently being reviewed by the city's Law Department.
According to some board members, the health care correctional standards are likely to be next on the agenda. Simmons said it was too early to know whether the board would undertake a full review. She emphasized any review would roll out in three stages: an initial discussion, a formal review and formal action to approve or deny the proposed revisions.
Both the executive director of the Board of Correction Richard Wolf, and Deputy Director Kathy Potler declined to be interviewed for this story.
Paul Vallone sat on the oversight branch since 2002 and voiced concerns over the review process on the general standards. He said he hopes the board will open up the process more this time. "A lot of lessons were learned during that last process that will go and make this process a lot smoother," Vallone said.
Some advocates, many of whom claim that the board has a cozy relationship with the Department of Correction, are skeptical. Jennifer Parish, director of criminal justice advocacy at the Urban Justice Center, said if the board is going to change the mental health standards or health standards it should start by consulting the community and not the Department of Correction.
"It seemed the process was driven by (corrections commissioner) Marty Horn and the Department of Correction saying, 'We want these standards changed and here is the way we want them changed,'" said Parish of the recent review. "That's the cart leading the horse, because the whole role of the Board of Correction is to oversee and monitor the Department of Correction."
Prisoners' advocates saw the last review as having eroded civil liberties by approving monitoring of phone calls and inmates' mail. In light of that, some would rather avoid a review of the health standards entirely. The standards for both mental health and health have not been reviewed since they were promulgated in the 1986 and 1991 respectively.
A Yardstick for Care
While advocates and inmates complain and vehemently criticize the quality of care on Rikers Island, in many respects the city is ahead of the correctional health curve. Most jails require a medical examination within a week of arrival. The city does it in a day.
Most jails do not provide drug treatment. The city's methadone clinics have been championed by some prisoners' advocates.
And the health department contends it is not the face of an inmate it sees, but that of a patient.
"We care about correctional health," said Cohen. "We care about our patients, and we think we are doing a good job." But, Cohen agrees, there is always room for improvement.
Â