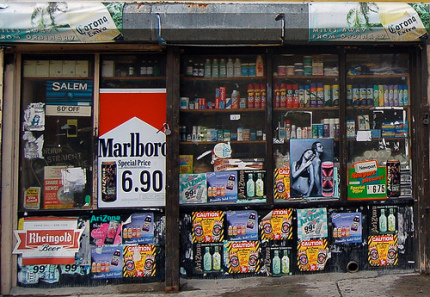 At Harmony Variety Discount in East Harlem, the meat and cheese case is empty, but the beer refrigerators are packed. A sign outside the Lexington Avenue Bodega calls in customers for 99-cent, 24-ounce cans of Miller Lite and packs of Newports for $6.50.
For eight years, owner Mohammed Saleh has provided the low-income neighborhood with a place to grab a six-pack and cigarettes -- not fresh fruits or vegetables.
He tried to sell healthy foods for six months last year, but no one bought them.
"Nobody buys them," said Saleh of fruits, vegetables and even low-fat milk. "If you ordered healthier food, the store would lose money."
Saleh's second location on the Upper East Side, however, sells such healthy products successfully. Grocers on the Upper East Side may stock leafy lettuce and ripe grapes, but 20 blocks north, similar products are noticeably absent.
The Grocery Gap
Residents of Harlem, Central Brooklyn and the South Bronx often have no choice but to shop at stores like Harmony Variety Discount, which fail to provide healthy options.
Supermarkets are few and far between - some city zip codes are without them entirely - leaving many residents scrounging for affordable meals at fast food restaurants, small grocers or bodegas. Instead of the Whole Foods or Associated Supermarkets found in more affluent areas, many residents in Harlem must rely on Popeye's or McDonald's - options that do not reinforce a healthy lifestyle.
In response, the Bloomberg administration in 2006 launched a healthy bodegas initiative in Harlem, the South Bronx and Central Brooklyn. Its goal: to make fruits, vegetables and low fat milk more accessible in an effort to stifle the epidemics of diabetes and obesity - diseases directly associated with diet.
Since the program began, the Department of Health and Mental Hygiene contends it has been a success. But does measuring the number of participating bodegas accurately measure whether fruits and vegetables are served at kitchen tables throughout the city?
What's In Stock?
In both Harlem and the northern and central sections of Brooklyn, bodegas are the main place to purchase food. According to a health department study released in 2007, two out of three food retailers in East and Central Harlem are bodegas in comparison to one in three food stores on the Upper East Side. In Bedford-Stuyvesant and Bushwick, approximately 80 percent of food stores are bodegas. Only 28 percent of those bodegas carry apples, oranges and bananas, according to a similar study on access to healthy foods in Brooklyn by the health department.
These neighborhoods are also more likely to be overrun by diseases that flourish among those with unhealthy eating habits. A resident of the South Bronx, for instance, is about six times more likely to suffer from diabetes than a resident of the city's more affluent neighborhoods.
Arguing that access can make all the difference, the Bloomberg administration launched the multi-faceted healthy bodega campaign, specifically aimed at getting low and reduced fat milk in bodegas in low-income neighborhoods alongside fruits and vegetables. Over the course of two years - the original deadline is this December - it hoped to cover 1,000 stores.
It tested several approaches, like selling sliced individual apples in bodegas, some with greater success than others. Overall, said advocates, the milk initiative seems to be having more of an impact than efforts to get produce in the stores, and the health department says it has reached its target to get storeowners committed to selling low fat milk. (So far, the fruits and vegetables program has also not been rolled out entirely - it should be out in full-force this spring.)
The department launched its fruit and vegetable pilot program last year at 60 locations, which, officials admit, was not entirely successful. The revamped full-fledged initiative will affect far fewer stores than some advocates initially expected. A health department official said about 450 bodegas will participate, all of which already sell some fruits or vegetables.
The cost of the initiative, according to the health department, is less than $300,000 annually, which is attributed entirely to staffing.
"We have seen more low-fat milk on their shelves," said Charmaine Ruddock, the project director of Bronx Health REACH, a community group that has launched its own healthy bodega program in the South Bronx. "There is an increase in awareness of eating healthier. The challenge, of course, is getting these healthy foods in there."
And Its Impact
Few would argue against eating healthy foods and making them more accessible (Though some did so this week at City Hall - see related stories here and here.) The challenges the health department faces are not over its goals but on its ability to make them a reality and enforcement.
The campaign is not penalty oriented. So, said Sabrina Baronberg, the deputy director of the physical activity and nutrition program at the health department, enforcement is done by follow-up visits from health department officials and through a questionnaire.
Even if bodega owners do stand by their commitment, it's difficult to gauge whether demand will naturally follow supply.
"We know there is focused demand in the community," said Baronberg. "It's not true that people in these communities are not interested."
What is true, said some advocates, is participating has proved to be difficult for some owners. Some bodegas do not have adequate space for fresh produce, while others cannot afford to lose profits on a product whose shelf life is relatively short.
"Lets say you stock up on watermelons for Memorial Day and it rains," said Joel Berg, the executive director of the New York City Coalition Against Hunger. "If you're a small bodega, you're out."
In East Harlem, some storeowners echoed that sentiment. Some storeowners said they don't have the space to expand beyond candy, toilet paper and other grocery items. At Harmony Victory Discount, price is a deterrent to selling fruits and vegetables, which are more expensive than other types of food.
"Eating healthy is expensive," said Ali Saleh, the owner's brother. "People come in here with $3, and they still owe us a quarter."
Health department officials said they are exploring ways to help bodegas get loans so they can afford to either purchase fruits and vegetables or revamp their stores to make room for them. Those loans, though, will not necessarily make such food more affordable to their customers.
Transforming Neighborhoods
Many say it's still too early to tell whether the city's healthy bodega initiative is getting more residents of low-income neighborhoods to eat healthier. Either way, some said, it certainly can't hurt to try.
This program is just one of many in the administration's public health crusade, which advocates characterize as one of the most progressive in the country. While this particular initiative is no panacea, they say it is certainly positive.
"It certainly hasn't hurt, but it hasn't transformed bodegas citywide," said Berg.
Â