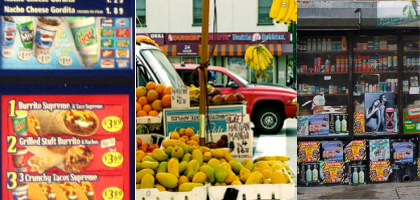 Mayor Michael Bloomberg has made public health a signature issue for his administration. During his six years in office, the city has waged war on smoking, focused on improving care at public hospitals and promoted a range of initiatives aimed at getting New Yorkers to take better care of themselves.
Many of these efforts have proved successful. Smoking has declined sharply, the number of AIDS deaths has dropped and an increasing number of New Yorkers see a regular physician. Even traffic deaths have hit a record low. But one area stubbornly resists the improved health picture: obesity.
About one fifth of all New Yorkers is obese, with the rate far higher in some areas. "We see obesity going up across the city, regardless of neighborhood, but also we see disparities between neighborhoods," the health department's Cari Olson said in an interview with Gotham Gazette last year.
As obesity rates rise, so has the prevalence of diabetes. A recent report by the City University and the Public Health Association of New York found the number of New Yorkers with diabetes has risen 250 percent in the last decade and that the death rate from it has almost doubled.
The administration has not ignored the problem. It has, among other things, replaced whole milk with the low-fat variety in school cafeterias, worked to make school food healthier in general, tried to get bodegas to stock more wholesome products and so on.
How successful are these programs? That remains unclear.
The city's most recent Public Health in New York City report featured pages and pages of indicators in a section titled "The Health Department by the Numbers." Few of the statistics concern obesity and fitness. The report does cite the implementation of the FitnessGRAM program in schools and other exercise programs, along with its efforts to remove transfats from city restaurants. But other than that, it has little to say on overweight New Yorkers, and the department's "Ten Steps to a Longer Healthier Life," largely ignores diet and exercise other than to tell New Yorkers to "keep your heart healthy."
In light of that, Gotham Gazette decided to assess some specific city programs intended to curb the obesity epidemic. We found some successes, some failures with work left to be done.
Putting Bodegas on a Diet: Many New Yorkers must shop at small groceries, which offer a smorgasbord of chips but not fresh produce. Can the city make storeowners change their ways?
Reading, Writing -- and Running? The Department of Education has implemented a FitnessGRAM so parents can help their kids shape up. But in an era when standardized tests influence so much of the school day, traditional phys ed classes often fall victim to a lack of time and space.
Affordable Greenmarkets: City and state efforts seek to make the bounty of city farmers markets available to low-income New Yorkers.
Beefing Up the Menu: Calories mount up quickly at fast food restaurants, and the Bloomberg administration hopes people will scale back -- once they know just how fattening their favorites burgers are. But restaurant owners are fighting back.
Also this week:
Curbside Vegetables: Will produce pushcarts encourage people to eat healthier foods?
Permit for "Green Carts": The City Council passes a measure to create a new class of street vendor.
Â