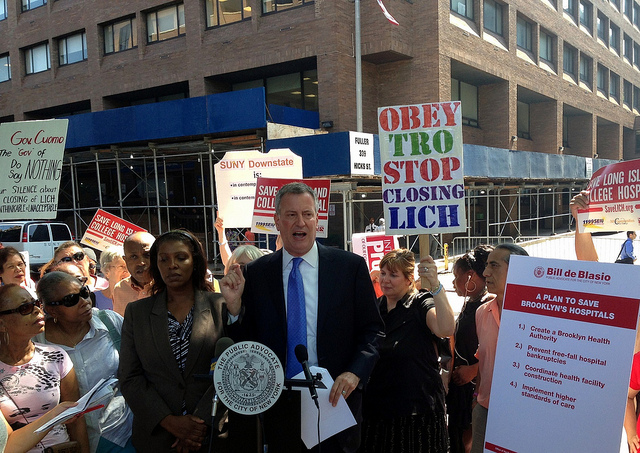 ALBANY, N.Y. — On July 7, Public Advocate and Democratic mayoral candidate Bill de Blasio joined a group of protesters demanding Long Island College Hospital in Brooklyn be saved from closure. "Our message to Governor Cuomo today is: 'Don't let this happen on your watch, don't let us lose more hospitals. You can be the difference maker," De Blasio said.
Three days later, police escorted De Blasio into the back of a police van, hands zip-tied behind him. He had intentionally disobeyed police orders at another protest to save LICH.
The scene was unique for two reasons — not many Democratic lawmakers have the guts to tell Cuomo to do anything, and De Blasio has been one of the only elected city officials to truly focus on the fact that Brooklyn is facing a hospital crisis.
For over a year, advocates and legislators have been struggling to get Cuomo publicly involved in the issue as LICH and Interfaith — both roiled by financial problems — have begun winding down service in preparation for closure. In the meantime, hospital emergency rooms across Brooklyn have become crowded and wait times have gone up.
Healthcare experts and public officials say the situation in Brooklyn is a microcosm for hospitals around the city and state that have been impacted by lowered reimbursement rates from Medicare and Medicaid while continuing to serve an indigent population.
As the mayoral race heated up with scandal, De Blasio has taken on the Brooklyn hospital crisis as his headline issue, highlighting the fact that the city has mostly ignored a series of hospital failures and increasing the pressure on Cuomo to act.
Cuomo oversees the State University of New York system and has a great deal of influence over what it does. LICH is run by SUNY Downstate; Cuomo appointed 15 of the 18 members of the board that voted to shutter it.
De Blasio recently proposed a plan that would create a super-authority to oversee Brooklyn hospitals that would be led by the governor and mayor. This week, he issued a report on the ability of residents to access convenient and safe healthcare were LICH and Interfaith were to close. The report estimates that 250,000 people will be affected by the closures of both hospitals and that the nearest hospitals are already nearing or at full capacity.
He's also written to the state Department of Health urging them to accept a restructuring plan from Interfaith Hospital and to help them fund the plan to avoid a major disruption in service to the community. On top of that, the mayoral candidate secured a restraining order against the closure of LICH, even if it isn't clear whether it is doing any good.
While fellow Democratic mayoral candidates Comptroller John Liu and former Congressman Anthony Weiner were at the protest when de Blasio was taken into custody, both obeyed police and avoided arrest — leading some political observers and reporters to see De Blasio's intentional arrest as a move of desperation by a mayoral candidate who had up to then been eclipsed in the polls.
It's fair to say that none of the mayoral candidates has been more vocal on the issue of ailing Brooklyn hospitals than De Blasio. City Council Speaker Christine Quinn, also a Democratic hopeful, has been criticized by Brooklyn residents for not getting more involved in the hospital crisis. However, the Council passed a resolution to save LICH in April and released a statement urging the federal government to release funds to buoy Brooklyn hospitals. Liu has not used his position as comptroller to focus on the hospital closures. De Blasio has strong ties to labor and has been endorsed by SEIU 1199. The national union has donated $4,950 to his 2013 campaign for mayor.
De Blasio's staff has sought to emphasize after his arrest that he has been engaged on the issue for years, even when he was a City Councilman. The hospital is in his old district.
As if to prove naysayers wrong, De Blasio has continued to roll out statements, reports and make appearances to call attention to the Brooklyn health crisis.
In his role as public advocate — commonly considered a platform for being a watchdog over city government that rarely engages the state — De Blasio has announced a plan to save failing hospitals that calls for the establishment of an authority to oversee spending of health funds and stopping hospital bankruptcies.
As mayoral candidate, he has launched a "Save Our Hospitals" tour that kicked off on Wednesday at Interfaith Medical Center in Bedford-Stuyvesant, which could close under financial duress by Aug. 15. On Wednesday, De Blasio visited Wyckoff Heights Medical Center while touting a plan to create a state and city super authority to oversee hospital service in Brooklyn. The plan would allow the authority to fire hospital CEO's who aren't successful.
Wyckoff CEO Ramon Rodriquez told The New York Daily News he welcomed the authority. "I don't feel uncomfortable saying Wyckoff should be helped by the city and the state," Rodriguez said.
But other elected officials wonder why, even after all the noise that he has been made, De Blasio has been all but publicly ignored by Cuomo.
State Sen. Kevin Parker, who represents parts of Brooklyn, has sent Cuomo letters since last summer requesting an audience about LICH and took to the Senate floor this year to protest what he saw as a lack of interest from the Cuomo administration in the LICH situation.
He said it was odd to see the cool reaction from Cuomo's office about De Blasio's arrest. When asked about De Blasio's arrest, a Cuomo spokesman responded stingingly to a query by The Daily News that "the people of New York deserve an honest dialogue from those hoping to represent them — not political gimmicks."
"Look, Bill de Blasio and Cuomo are supposed to be good friends," Parker said, "and if Bill hasn't been able to talk to the governor about this what does that tell you?"
When asked Tuesday at a campaign event whether he had discussed his plan with Cuomo or the state, De Blasio indicated state officials haven't responded as quickly as he would like them to. He lobbed criticism at Mayor Michael Bloomberg.
"We have had some initial discussions with state officials on the kinds of changes we need...But I think at the state level there's some cognizance of the fact that hospitals closing without any kind of plan, without any kind of provision for healthcare for the future of this borough and this city is unacceptable. I don't think they're acting aggressively enough, but I think they get the point."
Cuomo and De Blasio do have longstanding ties: In 1997, Cuomo was appointed to head the Department of Housing and Urban Development under President Bill Clinton. Cuomo then named De Blasio — who had worked for the Clinton/Gore campaign in New York — to represent HUD in New York and New Jersey. In 2002, Cuomo helped negotiate Cuomo's exit from the governor's race and the pair were reportedly close after Cuomo's divorce from Kerry Kennedy. In 2010, De Blasio helped negotiate Cuomo's relationship with the Working Families Party.
Cuomo administration officials indicated that the governor has not spoken directly to mayoral candidates about the Brooklyn hospital crisis, but that there may have been discussions between intermediaries. They acknowledged that a larger plan for sustaining the hospital system in Brooklyn is needed and that something is being discussed.
A source in the Cuomo administration who requested anonymity because negotiations were ongoing said that some sort of plan would likely be rolled out in early September. "No one is going to step foot in Brooklyn for the West Indian Day Parade without addressing the hospital situation," the person said.
In May, Cuomo wrote U.S. Health and Human Services Secretary Kathleen Sebelius asking for $10 billion in funds to save four Brooklyn hospitals — LICH, Interfaith, Brookdale Medical Center and SUNY Downstate. Cuomo proposed that the $10 billion would come from the $17.5 billion the state says it will save from restructuring the state's Medicaid program.
"Due to a rapid deterioration in the financial status of essential components of the health care services system in Brooklyn, if nothing is done within the next 12 months, the outcome will be disastrous," Cuomo wrote, adding: "Access to care will be compromised and the remaining health care providers in the borough will be destabilized."
The Cuomo administration is still waiting to get approval from HHS for the funding. Federal officials recently visited the four hospitals named by Cuomo in his letter with DOH officials.
In 2011, SUNY Downstate took over LICH's assets with permission from a judge on the condition that it keep running the hospital but SUNY has not honored the ruling. SUNY has closed its residency program at LICH as well as a number of specialty departments including the maternity ward. It banned ambulances from delivering patients to the emergency room. SUNY has also begun sending patients elsewhere. A SUNY spokesperson said they were taking the steps for patient safety because the hospital is short-staffed.
LICH staff are concerned that the company hired to process LICH's bills, Continuum Health Partners, has failed to collect payments. Some staff estimate the company has failed to collect nearly $15 million.
A spokesman for Continuum Health Partners declined to respond to the charge. "While Long Island College Hospital was a member of Continuum Health Partners, we did everything possible to keep it financially solvent so that the hospital could continue its mission to meet the healthcare needs of all who turned to us for help," the hospital said in a statement.
Meanwhile, according to a report by Comptroller Thomas DiNapoli, SUNY has transferred cash from LICH to other accounts.
Parker said it may be too late to save LICH. A combination of factors have led to the failure of Brooklyn hospitals, he said, including lower reimbursement rates, the large indigent population they serve and what he described as a failure of the state to acknowledge the change of how healthcare is provided in the country.
"Instead of coming in with a hatchet and closing hospitals willy-nilly the state needs to help manage communities through it," Parker said, adding that he has worked closely with people at SUNY and feels that they simply don't have the background in managing hospitals to make LICH a success.
He also said the people he has dealt with at SUNY regarding LICH are "feeling frustration over a lack of direction from the governor."
All this is taking place as Interfaith Medical Center has filed for bankruptcy and the health department has rejected proposed restructuring plans. It plans to wind down on Aug. 15. Kurron Shares of America has been accused by many of mismanaging the hospital into bankruptcy. Kurron is a for-profit company that comes in when medical facilities are on shaky ground and replaces management. Just before Interfaith filed for bankruptcy in 2012, the hospital renewed a $3 million contract with Kurron to outsource its management. Hospital executives have defended Kurron, saying the hospital was doing well until cuts in Medicaid rates in 2011.
SUNY Downstate has been taking bids on the LICH property and Legislators, including Parker, have called on SUNY to reveal the ever one of them so that public can see how the decision process is working.
State Sen. Daniel Squadron, who is running to succeed De Blasio as public advocate, has pushed the Legislature to come up with a comprehensive plan to save LICH since last year. He said he wants another operator to come in and continue to provide medical service to the community but he says he thinks SUNY's failure to manage LICH stems from the fact that "they have been allowed to think of it as $500,000 in real estate — not a hospital that provides an important service to the community."
Community members are worried that LICH will be sold to developers who want to build condos rather than continue to provide health care.
Parker, Squadron and De Blasio all note that the hospital closures are going to mean painful job losses to one of the poorest areas in the state. "The governor wants to talk about job creation upstate well then how is he going to let us lose 2,000 jobs in an area with some of the most intense poverty in the state? Meanwhile he wants me to vote for SUNY Free or whatever it is called while he putting my constituents out of work," Parker said.
Squadron said a solution could be hammered together, but it requires one thing: working together.
"Right now progress is not being made when it comes to LICH," Squadron said. "If folks sat down together at a table to talk about it, I think it would be very clear what the answer is."
City Government reporter Chester Soria contributed to this report from New York.