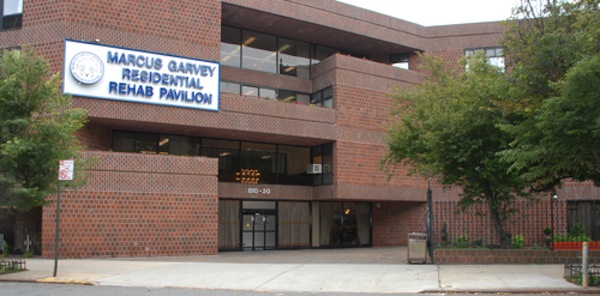 The Gotham Gazette examined inspection reports, complaints and court records to take a close look at five of the city's lowest-rated nursing homes. This is the third of five parts.
Citing a pattern of serious problems, federal regulators placed Marcus Garvey Nursing Home on an exclusive watch list of the worst nursing homes in the country in 2009 and again in 2011.
Those actions occurred while the state attorney general's office pursued a civil lawsuit accusing Ruby Weston, the facility's owner, of using money intended for resident care to enrich herself and her family. A 2012 settlement of the lawsuit required Weston to forfeit $821,000 in deferred compensation and pay $50,000 to cover the cost of the AG's investigation.
The 295-bed nursing home in Brooklyn's Crown Heights neighborhood is now named the Marcus Garvey Residential Rehab Pavilion and operated by new owners. Yet it remains one of the worst in the country.
Current administrators say they are working to solve the problems but seem to have a lot to overcome.
In 2009, the federal oversight agency for Medicaid and Medicare designated Marcus Garvey a Special Focus Facility (SFF) after an investigation found that its staff was failing to properly administer patients' medications. The nursing home was fined nearly $55,000.
The facility landed on the SFF list the following year after regulators found that Marcus Garvey staff failed to report a resident's high potassium levels, body numbness, and trouble breathing. The resident was hospitalized and died. Soon after that, the state fined the facility $20,000 for delivering sub-standard care.
When Marcus Garvey was placed on the SFF watch list, its administrators were told they need to make significant improvements to continue to receive Medicare funds. They needed to hire more competent staff, for example, and make clear policies to ensure patients receive the proper medications, according to Medicare documents. But the problems persisted.
"People are suffering and our tax dollars are paying for this," said Richard Mollot, leader of the advocacy group Long Term Care Community Coalition.
Substandard nursing homes such as Marcus Garvey are supposed to lose their Medicare and Medicaid money if they fail to correct serious problems, Mollot said. Government agencies are failing to enforce their regulations, he said.
Quality of care measures
Despite the fines and additional oversight, Marcus Garvey remains among the lowest ranking nursing homes in the city. One of the most troubling problems fueling its poor ratings is the large number of patients on antipsychotic drugs.
Aproximately 40 percent of the long-term patients at Marcus Garvey receive antipsychotics — more than twice the state average, according to state Health Department records. And 4.6 percent of the facility's short-term patients take the drugs, well above the 2.7 percent state average.
Elder care advocates and doctors have said antipsychotic drugs, which include powerful tranquilizers such as Risperdal and Seroquel, are often overused in nursing homes as chemical restraints.
Marcus Garvey Medical Director Pierre Brutus said he is trying to reduce the number of patients on antipsychotics. However, doing so is difficult because the nursing home receives many patients from Gracie Square Hospital, a psychiatric and substance abuse facility in Manhattan, he said.
Hospital adminstration said it could not provide information about the number of patients transferred to Marcus Garvey.
Two-thirds of Marcus Garvey's long-term residents display symptoms of severe depression, federal records show. That's nearly six times higher than the state average and 11 times higher than the national average. Brutus said that for many of these patients, there is nothing the facility can do.
"Some have major depression, and we cannot reverse that," he said.
Federal inspectors routinely found problems at Marcus Garvey that could be reversed. A Gotham Gazette review of federal inspection reportds from 2011 to 2012 found many other violations, including the failure to:
Properly administer medications (one insulin-dependent resident's chart showed no evidence that she had received insulin for three days in a row);

Provide proper dental services (during the state inspection, a resident told an inspector that she was missing her front teeth because of a fall and hadn't seen a dentist during her year-long stay at the facility);

Address "critical and aberrant" lab results;

Do an accurate assessment of each patient and keep each resident — along with his or her doctor and family — apprised of any changes in health status (one resident's health care manager told inspectors

that the facility "does not always inform him about changes in the resident's medication or treatment

").
Yoga instructor Daniela Bella discovered how frustrating it could be to try to improve conditions at Marcus Garvey. Once a week, she guided a classroom of residents in "chair yoga," in which the elderly participants go through a series of stretches and poses while seated in chairs.
"They were happy, they loved the music and they loved me," Bella recalled. "I got close with a lot of them," she said.
Despite the patients' enthusiasm, Marcus Garvey administrators often forgot to tell residents about scheduled classes or failed to clear the classroom of furniture, she said. It simply wasn't a priority, she said.
"You could tell they had just forgotten," Bella said.
The Marcus Garvey website prominently features a photo of the facility's visitor lounge. "Visitors welcomed and encouraged everyday," reads the photo caption. But a visit by the Gotham Gazette was clearly unwelcome; its reporter was escorted out of the building.
An apologetic Gloria Gasper, director of social work at the home, said a few days later that interviews with residents and staff are not allowed.
"I just think this is a place that has its own culture," she said. "I would suggest you not waste your time here."
Erin Brodwin filed this report while attending the CUNY Graduate School of Journalism.