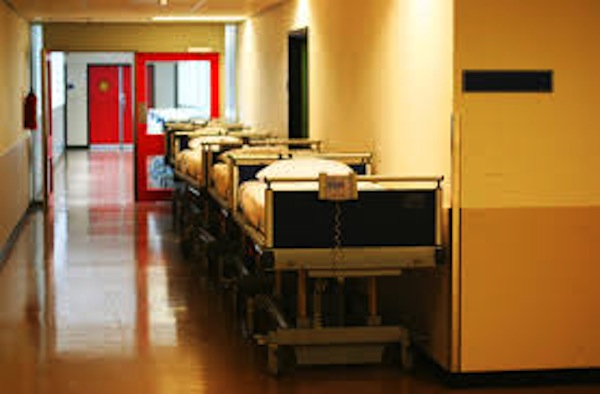 The Gotham Gazette examined inspection reports, complaints and court records to take a close look at five of the city's lowest-rated nursing homes. This is the last of five parts.
When Harold Beer entered Bishop Henry Hucles Nursing Home, he gave his prosthetic leg to an aide while being fitted for a wheelchair. He says they never returned it.
"They also won't tell me when they're letting me go," complained the 73-year-old Beer. "I can't get a straight answer around here."
Complaints about Bishop Henry Hucles are not uncommon. The facility, located in the Bedford-Stuyvesant neighborhood of Brooklyn, ranks as one of the lowest-rated nursing homes in the city, according to state inspections and Medicare records.
Bob DeVito, administrator of the 240-bed nursing home, rejects the findings of state inspectors who assigned the facility several poor scores in categories used to measure its performance.
"Those scores must be either outdated or wrong," he said. "This nursing home takes great care of its residents."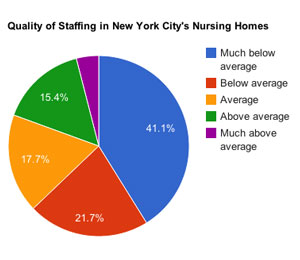 The Centers for Medicare & Medicaid Services (CMS), which evaluates nursing homes, gave Bishop Henry Hucles an overall rating of two stars, which the CMS assigns to nursing homes that provide a "below average" level of care.
DeVito would not allow a Gotham Gazette reporter to tour the facility, citing instructions from new owner, Michael Melnicke, whose company operates several nursing homes. Meinicke didn't respond to requests for an interview.
The CMS gave Bishop Henry Hucles a one-star rating in the all-important staffing category. The CMS equates a one-star rating with a "much below average" level of care. The rating is based largely on the amount of time nurses and certified nurse aides spend each day with residents.
Arthur Edey, a former employee, claims that staffing problems began in 2011 when Episcopal Health Services, the non-profit that operated the nursing home, transferred ownership of Bishop Henry Hucles to Melnicke. The nursing home reduced staff to three certified nurse aides (CNA) for every floor, which have as many as 40 residents, he said.
"That's a lot of people to cover, and some of them need lots of help," Edey said. "It also means people have to wait longer to get the help they need."
Staff also was asked to clean two floors per person, which "is an impossible thing to ask one person to do," he added.
Bishop Henry Hucles admits many residents who need long term care and suffer from Alzheimer's disease and dementia. A nurse who asked that her name be withheld because she feared that she could lose her job for commenting, said that when staff gets squeezed, "the care of the patients sometimes suffers."
A typical nursing home needs an average of 4.4 hours of direct care staff time per resident per day to see positive outcomes, said Richard Mollot, a consumer advocate for nursing homes.
"If you dig into how CMS computes data, 4.4 hours translates to a high four- or a five-star rating," Mollot said. "Three stars is significantly below average, and one star means you're one of the worst in the country."
At Bishop Henry Hucles, registered nurses spend an average of 18 minutes per day per resident, less than half the state average of 42 minutes and national average of 48 minutes. The facility's licensed nurses spent an average of 59 minutes a day per resident, nearly 35 minutes less than the state average.
Unlike other states, New York does not have a mandated minimum staff ratio or a minimum amount of hours that nursing staff is required to devote to nursing home residents (although there is a proposed bill that aims to change that), Mollot said.
Staffing deficiencies can lead to patient neglect. For example, a resident walked out of Bishop Henry Hucles undetected on Dec. 18, 2012, according to a state inspection report. The resident typically strolled inside the facility at about 7:30 p.m. and nursing aides assumed she was on the first floor, the report says. It is unclear how long it took the home to locate the resident, but she wasn't reported missing until 11:20 p.m., according to the report.
The facility scored low in several care categories. There has been a 41-percent increase in the number of long-term residents who need help with daily activities, according to CMS data. The statewide average is 15 percent. Nearly 36 percent of the residents exhibit symptoms of depression – three times the state average of 11.7 percent, the CMS data show.
Health violations have also been a problem at the home. Inspectors cited Bishop Henry Hucles for 12 health deficiencies last year, more than double the 5.3 state average. For example, a licensed practice nurse (LPN) left medications unattended in a hallway while she went to the medication room. The LPN left the cart unattended again 10 minutes later. In another case, a resident with a skin rash was ordered to see a dermatologist, but didn't see one until 16 weeks later because of multiple miscommunications among staff.
On a recent visit to Bishop Henry Hucles, residents were dressed in tattered clothing. A few residents said the home's food was extremely poor and wished there was more variety.
"All they ever give us is gravy, gravy, gravy," said Sally Norman, a longtime resident. "It's not good for us."
Some staff members at the home are also unhappy. Edey, a 15-year employee at Bishop Henry Hucles, complained that Melnicke instituted a few unwelcome changes when he took ownership of the facility.
"They had added changes to our union contracts," he said. "And they weren't good."
The changes included fewer overtime hours and lower disability benefits, Edey said. Melnicke was unwilling to compromise on the changes, said Edey, who was the union representative.
"We voted the changes down," Edey said. "But Melnicke said no one had ever voted against him, and we had to vote over."
The next vote was an even more resounding no.
Edey, 61, had spent six months on disability after spraining an ankle and tearing an ACL on the job. He said that after the union vote Melnicke went to his supervisor and said he didn't think Edey was healthy enough to continue working, even though Edey's doctor had advised him to go back to work.
"I've been on disability ever since," he said.
Alex Eidman filed this report while attending the CUNY Graduate School of Journalism.
The "Quality of Staffing" pie chart uses data obtained from the Centers for Medicare and Medicaid Services.