Lee Gary is an intimidating man, towering over most -- if not all -- the people he meets. Sitting in the offices of CASES -- a nonprofit group in Lower Manhattan that assists the formerly incarcerated -- Gary, built like the largest of linebackers, spilled over his black rolling chair, obviously uncomfortable.
He fidgeted. He seemed nervous.
But this was not the most compromising situation he has ever been in.
According to his estimate, Gary has been arrested 30 times in the last eight years, spending a total of a year and a half on Rikers Island -- the 400-acre facility yards from LaGuardia Airport that houses many of the city's accused and convicted criminals. Gary, a 49-year-old Bronx resident who is diagnosed with bipolar disorder, spent half of his time in a mental observation unit there. The rest was clocked in at the prison ward of Bellevue Hospital Center.
"It's horrible," Gary said of Rikers, anxiously rubbing the sides of his legs with his large palms. "You get guys hoarding food. You get guys that want to fight."
"The officers are not there to help you," said Gary. "You'll just sit there to rot."
But Gary had company -- lots of it.
The percentage of Rikers inmates with mental illness has reached its highest level in eight years. While the number of people sent to Rikers Island every year continues to fall -- bucking a national trend-- those that remain, like Gary, keep coming -- often.
In what one expert refers to as a "population distillation," the number of people classified as mentally ill on the island has gone from 25 percent in 2004 to 32 percent today, according to the city Department of Correction. If the trend continues, Rikers Island could resemble the shuttered mental institutions of the 1970s instead of the correctional facility there now.
"Mentally ill inmates are less likely to be released. They are perhaps not as well equipped to manipulate the system. Their cases are more complex," said Martin Horn, the former commissioner of the Department of Correction. "All of those things, make them harder. They are the ones most likely to be there."
Advocates and experts acknowledge the city has taken steps to address the challenges this population presents. But following a decade-long court case over the quality of mental health care, they claim inmates with mental illness continue to fall through the cracks. They say more needs to be done to tackle the treatment, the recidivism rate and the overall number of mentally ill on Rikers -- long term.
These are Rikers' regulars and, for now, they don't appear to be going anywhere.
After Midnight
Circa 1999, it could be 2 a.m. Neon signs might penetrate the pitch-black sky in the middle of Queens Plaza -- a former hotbed of liquor stores, strip clubs and homelessness. Imagine the Rikers Island shuttle bus roaring up, opening its doors and inmates pouring out. Those with mental illness would be among them.
They would have subway fare, but many had nowhere to go.
More than a decade ago, the Urban Justice Center filed a lawsuit, commonly referred to as "Brad H," against the city claiming it failed to provide adequate discharge planning for inmates with mental illness. Advocates and experts contend proper planning for inmates outside of the jail's cement walls will successfully halt the revolving door of incarceration for Rikers' regulars.
Under a settlement reached in 2003, any inmate who stays on the island for more than 24 hours and sees a mental health staffer more than twice must receive a "discharge plan" -- a roadmap to services, housing and hopefully a normal life. When released, inmates must have medication for seven days, leave the island during daylight, be referred to a treatment provider and start the application process for supportive housing or reactivating Medicaid benefits. Inmates are also free to deny these services.
In 2003, the court appointed monitors -- who declined to be interviewed for this story -- to oversee the transition for the next five years.
Because of counter suits, that five-year period was extended until the summer of 2009. The center, which claims the city has not met its discharge planning goals, then asked the court to extend the monitoring for another two years.
In August, the city successfully convinced the courts on appeal that the monitoring period had expired and the Urban Justice Center had no grounds to extend it. The center has appealed to the state's highest court, which will soon decide whether to hear the case.
While the case is on appeal, the monitoring continues at Rikers.
"When people with mental illness are released from city jails today, the services they receive vary widely. Some get real discharge planning, and that's an improvement from a decade ago -- but too many still do not," said Jennifer J. Parish, the director of criminal justice advocacy at the Urban Justice Center's Mental Health Project. "The city has not yet lived up to the commitment they made when they settled the case in 2003."
Part of the so-called failures at Rikers is communication. There are four city agencies that have some hand in the delivery of health care -- from start to finish -- in addition to a for-profit, private corporation, PHS Correctional Healthcare.
Some say the correctional system itself is the problem -- a jail is not conducive to treatment and its confines aggravate the mentally ill.
Or maybe it's staffing. The department of health, in particular, critics say, has been plagued by high turnover rates. (The department did not provide Gotham Gazette with turnover figures for this story.)
All of this leaves advocates wondering whether inmates with severe mental illness are leaving the island without the proper preparation, reentering society just as unstable as when they left it and destined to return to Rikers.
Left Behind
Marcelene J., according to an affidavit filed with the state Supreme Court, could not get any treatment after leaving Rikers in October 2008. Marcelene, a 23-year-old homeless woman who is diagnosed with bipolar and schizoaffective disorder, was referred to Interfaith Medical Center in Brooklyn upon her release by a Department of Health and Mental Hygiene discharge planner.
When she got to the hospital, she was told she didn't have an appointment. No one knew who she was or that she was coming.
So she left, according to the court filing.
"I was not able to continue my medication because I did not have any place to get ongoing mental health treatment," Marcelene wrote. "I would like to receive psychiatric medication and therapy because I continue to have mood swings and the voices I hear never seem to go away."
Darryl C, according to the court filing, has been bouncing between hospitals, prison and Rikers almost his whole life. A heroin user diagnosed with depression and generalized anxiety disorder, he first received treatment at Rikers in 1990.
During his recent stint there in late January 2009, following an arrest for petit larceny and possession of stolen property, doctors on Rikers refused to treat Darryl, despite his previous medical history, according to the court filing.
He was removed from mental health status the next month.
"I do not want to use heroin again," Darryl wrote. "I want to get help for my mental illness."
According to the most recent monitoring report released in July, many "pivotal monitoring, programmatic and legal issues remain unresolved" in the delivery of discharge planning services. Inmates are misclassified, the report states. Computer files put them in a less severe category of mental illness, while the inmate's physical medical chart may say otherwise. Inmates were not referred to programs that address more serious mental health problems, the report states, and some are still leaving Rikers at night.
The monitors criticize inmates' refusal of treatment, questioning whether discharge planners make an honest effort to convince this difficult and untrusting population to get help.
In response, a spokesperson for the health department said it has been working to increase the accuracy of its electronic records. According to the department, a patient must be "motivated" to receive proper follow-up care. The agency said it is training staff to help engage inmates to get the assistance they need.
Of the 33 areas the monitors evaluate, the city was found "noncompliant" in 10, according to the latest report, which examines a sample of inmates' records. Of those, the city made the appropriate appointment referral only 57 percent of the time. Just 22 percent of the eligible cases received the appropriate referral for supportive housing, according to the report, and 82 percent were sent to the right place for case management. In five areas, results were inconclusive.
Some of the city's figures dispute the monitor's findings and in many cases show it meeting and surpassing its goals. But the reliability of those figures has been repeatedly questioned by the court appointed monitors.
In the areas the health department did acknowledge it failed to meet the court's requirements, staff did perform the relevant tasks, but not within the required timeline, according to the department.
"While it's in appeal, we are complying with the requirements," said Deputy Commissioner Louise Cohen of the Department of Health and Mental Hygiene in response to questions about the lawsuit. "The city is committed and we are certainly committed as an agency to do discharge planning in the best way that we can for the mentally ill."
Should the state Court of Appeals refuse to hear the latest iteration of the litigation or side in favor of the city, Cohen said the city would likely modify its discharge planning process.
The settlement focuses on time restrictions, such as ensuring an inmate referred to the Rikers mental health staff is seen within 72 hours. Cohen said the department would prefer to focus on results. She declined to give specifics on the proposals the department is considering.
"The city would continue to hold itself accountable for discharge planning for those that are mentally ill," said Cohen. "I think it's a question of what that looks like."
Within Rikers Walls
"Single file, ladies," called Deputy Warden Antonio Cuin down the halls of the Rose M. Singer Center, the women's facility on Rikers Island. Two women in jumpsuits several yards ahead followed the order.
Red and yellow stripes line the floor of the fluorescent-lit corridor. Inmates on either side. Staff in the center.
Asked why the inmates had to walk in a straight line, military-style, Cuin explained: "It's just control. That's what it is."
Later on, Corrections Commissioner Dora Schriro explained further.
"Our primary mandate to focus on is 'Safety Now,'" said Schriro, detailing her new department philosophy. "The statute, at a minimum, expects the Department of Correction to prevent bad things from happening."
Schriro just celebrated a full year on the job. She was previously the head of corrections in Arizona and Missouri and had a brief stint as an advisor on immigration in the Department of Homeland Security.
So, her personal philosophy is still being teased out here on Rikers. Nonetheless, inmates aren't in rehab, although Cuin said they hold daily Alcoholics Anonymous and Narcotics Anonymous meetings and regular group therapy sessions at the women's facility. It's a jail.
Balancing safety with required mental health care can be precarious -- especially when two thirds of the violent incidents that occur at Rikers involve someone classified as mentally ill, said Schriro.
Health care comes second.
"It's only after they have symptoms or behaviors that by the Department of Corrections standards are dangerous," said Dwayne Mayes, executive director of the Howie the Harp program, a peer advocacy group for the mentally ill that contracts with the health department at Rikers. "They are subjective to punitive measures as opposed to health measures."
And some results are mixed.
James, whose first and last name are being withheld due to safety and privacy concerns, has battled schizoaffective and bipolar disorders since 2003, said his mother, Elizabeth, whose middle name only is being used.
But James early this year had been taken off of his medication by a therapist in the Bronx, Elizabeth said. On Mother's Day he was riding the bus when he felt threatened by a female passenger. James found a stray piece of glass, slashed her face and ran away.
He ended up in Rikers' mental health facility -- the Anna M. Kross Center -- in a group dormitory setting, said Elizabeth. Nervous and agitated, he refused to shower, and he was punished for it. When another inmate punched him unprovoked, he ended up in the hole (or solitary confinement), said Elizabeth.
"People who don't understand people with mental illness, they don't get it," Elizabeth, who has been communicating with her son and advocates on a daily basis. "We get up and bathe every day. People don't understand that."
On other occasions, Elizabeth said, her son was so overmedicated he was to the point of drooling. As of Friday, Elizabeth was able to get James his own cell back at the mental health facility and on the right medication. But she and advocates wonder what happens to inmates who don't have someone pushing from the outside.
Moving Forward
No one questions that since 1999 the city has made improvements in how they handle the mentally ill on and off of Rikers Island.
For the past year, Schriro, has been ruminating over population statistics and procedure. In August, she unveiled her first major policy shift as the head of the country's second largest jail system (the first is Los Angeles County).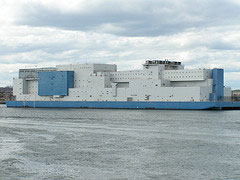 Photo (cc) reivax. The Bronx barge will relocate to Rikers under the new facilities plan.
She is going to build a new jail and tear down the dilapidated temporary facilities erected during the crack epidemic of the 1980s (facilities that resemble small white spacecraft instead of jails). Hailed by criminal justice advocates, the commissioner is also centralizing the intake procedure, making sure inmates are classified up front. She plans on consolidating staff and some of the mental observation units, streamlining the process. There are now seven separate units spread out throughout the island.
Starting this month, Schriro launched a pilot program to provide corrections officers with additional training on mental health issues. The commissioner says she is approaching correction and health department staff "as a team who together can create a continuum of custody and care that can be carried out not only in the hours and days that our clinical staff is there."
Advocates have called for additional training for a very long time.
The department of health also has almost completed its electronic patient records system on Rikers (now active in several jails). The new system will make sure there is an ongoing record of those with mental health issues on the island.
Should an inmate come back, officials don't have to start off at square one. They can pick up where they left off, said Schriro.
Advocates commend the effort.
"Commissioner Schriro is making really valiant attempts to do something about this," said Joel Copperman, the chief executive officer and president of CASES. "She recognizes the reality that people are coming back to Rikers Island, so what she wants is to understand it, to develop treatment plans."
These represent steps in the right direction, advocates said. But a more seamless transition to society is still necessary to make sure those without advocates or parents by their side can get help too, they add. That means better communication between the agencies overseeing health care and the service providers on the outside. It means getting the proper diagnosis and classification as soon as one enters the system.
Back at CASES, Derrick Neptune, a 36-year-old diagnosed with schizoaffective disorder who has been to Rikers four times, called his treatment off and on the island "helpful."
After spending five years in the shelter system, Neptune now lives in Flatbush in Brooklyn. He attends barber school. He is taking medication and quit smoking marijuana -- the so-called cause of many of his psychotic episodes.
"You learn a lot from being in jail," said Neptune.
So much that he hopes he won't have to go back.