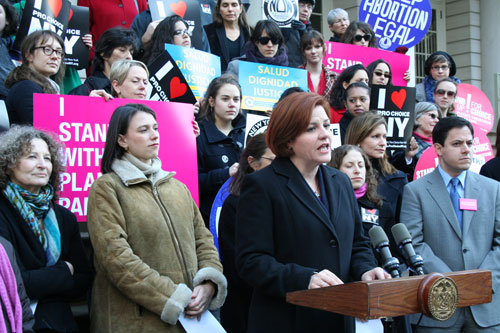 Photo (cc) Courtney Gross
In an emotionally charged moment, the City Council approved legislation Wednesday to force pro-life crisis pregnancy clinics that do not perform abortions to disclose what services they do and do not provide.
Supporters of the legislation allege these facilities deliberately deceive pregnant women who visit clinics to get medical services. These clinics do not disclose in advertising that they refuse to perform abortions, and staff members wear scrubs even though they have no medical training, the bill's backers say.
"Be proud of what you are and what you do," said Council Speaker Christine Quinn at a rally celebrating the legislation's approval. "I don't understand why anyone would oppose this legislation."
But many do. Opponents of the measure claim forcing clinics to immediately list the services they provide violates their First Amendment rights. Opponents promised to sue the city after the mayor signs the bill, which he is expected to do.
"No city or government agency has ever fined us, sued us or cited us for any violations of law," said Christopher Slattery, the founder and president of EMC Frontline Pregnancy Centers, which has 12 locations in the five boroughs. "The city transit system has accepted our advertising for years. If it is deceptive, why is it accepted?"
The council approved the bill by a vote of 39 to 9 with one abstention.
Right to Disclose?
Both sides dueled in opposing rallies and protests Wednesday. Supporters of the bill, which include Planned Parenthood and NARAL Pro-Choice New York, carried signs reading, "I love pro choice New York." Opponents of the bill, who led a sing along outside of the council's meeting, thrust up posters emblazoned with, "#1 Enemies of the First Amendment." Below the sign had photos of the bill's sponsors.
First introduced in 2010, the bill has attracted an unusual amount of attention despite its small impact. According to council officials, the legislation would only impact about a dozen clinics.
It also comes at a time when Planned Parenthood has come under fire in Washington and could lose hundreds of millions of dollars in federal funding.
Council officials say they are attempting to target clinics that do not provide any medical services, and are not attacking pro-life counseling centers.
Under the legislation, these clinics would have to post a sign disclosing whether they have a licensed medical professional on staff and whether they provide or refer to prenatal care, abortions and emergency contraceptive.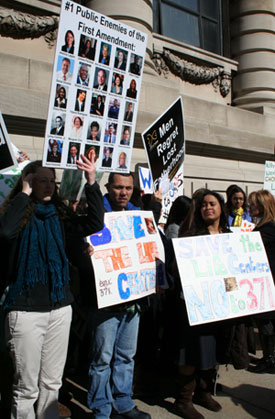 Photo (cc) Courtney Gross
This information would also have to be included in advertising.
Opponents are confident they will never have to post those signs. The courts struck down similar legislation in Baltimore earlier this year, determining it was against the First Amendment. Council officials say their proposal would hold up in court, because it targets a very narrow group of crisis pregnancy clinics.
At the Emigrant Savings Bank Wednesday, the council's temporary home, council members traded barbs and tears -- an exchange that pit the First Amendment against a woman's right to choose.
"Contrary to the speaker's comment this bill is in fact more restrictive than the speech requirements in [the Baltimore bill], and I say that as someone who practiced constitutional law and who is actually admitted to the Supreme Court," said Councilmember Dan Halloran, a Republican of Queens. "This is an unconstitutional infringement. It will be struck down."
Councilmember Melissa Mark-Viverito fired back.
"Our country is continuously being faced with controversial issues, and it is important that we embrace measures that promote choice and democracy versus exclusion and degradation," said Mark-Viverito.
Some council members attempted to change the tone of the debate altogether -- pointing to the city's more than 40 percent abortion rate. They urged the council to focus on education as opposed to a debate on pro-life versus pro-choice.
Help for Liens
The City Council also approved legislation Wednesday, which would provide homeowners who are eligible for tax exemptions assistance with liens.
The measure strikes an appropriate balance between getting scofflaws to pay up and assisting homeowners who can't keep up with their bills, said the legislation's sponsor Al Vann. Under the proposal, homeowners will be given the option to pay off tax liens in installments for eight years with no down payment.
The bill could affect any homeowner in default for property taxes as well as sewer or water payments.
The bill also gives the council the authority to sell liens based on an emergency housing repair program, which targets deadbeat landlords.