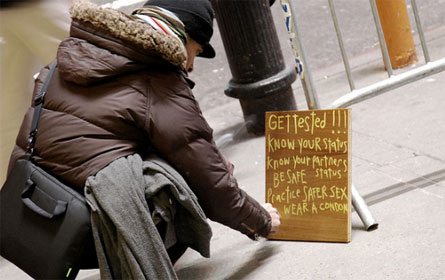 Part two of two. For part one on advances in treatment and the changing face of people with HIV and AIDS, go here.
Complicating the situation is the current recession. Funding cuts to programs that support people living with HIV are in the latest New York City budget, including a $1.3 million cut in the HIV/AIDS Services Administration's rent assistance program,. The city also cut HIV prevention and health literacy for seniors, HIV/AIDS Communities of Color and money for the Injection Drug Users Health Alliance.
The New York state budget has instituted a ceiling on payments to Certified Home Health Care Agencies that serve people with special needs, including those with HIV/AIDS. The budget also includes a cap on the Medicaid pharmacy benefit and a policy change that gives the state authority to deny coverage on certain drugs.
Just this month, the federal government reduced the Housing Opportunities for Persons With Aids program by $2 million and, as Congress has yet to pass a budget that would reauthorize funding for the AIDS Drug Assistance Programs.
Aging with AIDS
The cuts come as agencies confront the rise of HIV/AIDs among the elderly and soon to-be elderly.
Comorbidity -- other illnesses surfacing and existing simultaneously with HIV/AIDS -- is common for someone living with HIV, either as a result of the weakened immune system or as a side effect of the antiretroviral mediations. Heart disease, osteoporosis, diabetes and cognitive dysfunction are some of the conditions that can surface. Depression is twice as common among people living with HIV, particularly older adults, than with the general public, as is a higher incidence of substance abuse.
Nausea, diarrhea, fatigue, lipodystrophy (a redistribution of fat in the body), elevated cholesterol levels, neuropathy and kidney disease can all be side effects of the medication.
"Is it HIV or is it aging?" James Masten asks in his recently published book Aging with HIV: A Gay Man's Guide. The answer is not always evident and may require research and reflection.
Masten also addresses the "triple threat" that gay men over 50 who are living with HIV have to face: homophobia, HIV/AIDS and ageism. There is stigma at every turn.
Aging means changing, said Masten, and adapting to those changes is key, along with self-care and reestablishing a network of friendship and community. Embrace life, he counsels, and keep it simple.
Schaefer highlighted a number of recent successes for folks aging with H.I.V., including City Council support for sensitivity training for health and human service providers, and for senior center leadership staff, to counteract stigma and discrimination . The city also awarded SAGE (Services and Advocacy for GLBT Elders) a contract to open the first lesbian and gay senior center in New York starting in January 2012.
HIV/AIDS at 30: Grieving and Moving Forward
"The fact that we are dealing with H.I.V. and aging issues is a huge advancement in itself," said Schaefer. "Twenty years ago we weren't speaking of living with HIV in people 50, 60 and 70."
As Masten writes in his book, "The 1980s and 1990s were a holocaust for gay men."
The tragedy of those years still deeply affects those who lived through it.
Unacknowledged emotions -- such as grief, stigma, survivor's guilt and shame --are barriers to optimal aging with HIV," said Masten. "They prevent the adaptation of self-care strategies and aid in the creation of a shrinking life." Optimal aging, Masten suggests, involves rediscovering how you want to live your life.
For Jim, pleasure comes from being an activist. "I'm a late bloomer in terms of doing advocacy, putting in that effort, meeting with politicians," he said. "Even if every campaign is not a success, being able to expend my energy in that way instead of becoming depressed and escaping by diving into some type of addiction -- which will just kill you faster -- makes me feel like I have some control and that I'm contributing to what will be a positive outcome."
The day he was diagnosed with HV, Ethan had an insight that there would be love and support for him as he walked through this. Going forward into his future, he finds the issue is often, "Can I accept that love and support?"
Keith enjoys his 14-year-old poodle, his family and friends, and volunteering at a meditation center. And, he said, "not a day goes by where I don't have gratitude, for everything in my life, but especially just to still be alive. Every moment, whether great or difficult, I am just content to still be able to experience. It really can't get any better."