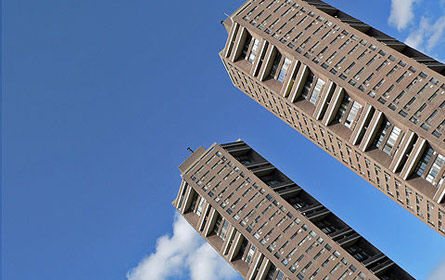 Roberta Rivers is worried. The retired Verizon worker says the elevators break down repeatedly, her neighbors can't get their windows replaced -- even as mold grows on their walls -- and there was no hot water for long stretches this winter. She wants the bank that holds the mortgage on her building to force the landlord to take care of the property or find a new owner.
A veteran tenant advocate and 30-year resident of the MetroNorth development in East Harlem, Rivers, along with about 100 other tenants and activists, rallied outside the Schomberg Plaza apartments on 110th Street and Fifth Avenue last month. Like MetroNorth, Schomberg Plaza, now called The Heritage, is among several buildings owned by Urban American Management.
Regina Cobb has lived at Schomberg Plaza for two decades and said the building's new owners are not maintaining it. She joined the rally, chanting, "Open the books!" and "We deserve a bailout," on her way to work. "They're having financial difficulties. We know that. That's why they are squeezing us," she said.
The tenants want Fannie Mae, which holds the mortgage on both developments, to monitor conditions at the buildings, disclose the owner's financial records and intervene if Urban American Management is unwilling – or unable -- to maintain the properties.
Rivers and as many as 80,000 other New Yorkers could find themselves at the center of a new real estate crisis. Advocates say tens of thousands of affordable apartments are owned by landlords who can't afford to both make their debt payments and maintain their properties. These over-leveraged owners are likely to default on their loans, dragging down already sickly banks and leaving a trail of devastated properties in their wake.
A March investor report from Deutsche Bank's research division, "Commercial Real Estate at the Precipice," warns declining property values make it more difficult for borrowers to refinance their mortgages. This, the report said, puts a record number of loans on commercial and residential real estate in danger of default. If this happens, banks that hold those mortgages -- or pieces of them -- will be battered just as they were by single-family home defaults. The Deutsche Bank report calls for "government programs to avoid hundreds of billions of dollars of distressed commercial real estate hitting the market and perpetuating a downward spiral in commercial real estate prices."
Tenants in the Middle
Rather than worrying about the bank, housing advocates are concerned about thousands of tenants stuck in foreclosed residential buildings where the owners can't afford to do even routine maintenance.
"It's a train wreck waiting to happen. And it's starting to happen. If we let this go off a cliff there will not be enough money in this country to fix the problem," said Dina Levy, director of organizing and policy for the Urban Homesteading Assistance Board. While experts say nothing can be done until the building is in default, Levy warned, "By then it will be too late."
Urban Homesteading, Tenants and Neighbors and other groups have been sounding the alarm for more than a year and are appealing for help to the federal government. They want to see banks that hold mortgages on over-leveraged residential buildings rewrite the loan terms and then transfer ownership to buyers who would keep the apartments affordable.
That's a tall order for a government racking up phenomenal debts as it scrambles to mitigate the flood of foreclosures in single-family homes. Requiring the banks to rewrite mortgages would mean already teetering banks would take tremendous losses, therefore requiring more government bailout cash.
Last month U.S. Sen. Charles Schumer introduced an amendment that would have required banks that received money from the Troubled Assets Relief Program to rewrite the terms of mortgages on overleveraged residential buildings and ensure that buildings were in good financial health. But that amendment died in the Senate. And last week several large banks opted out of the relief program altogether, preferring to return the government largesse rather than comply with the strings attached. A spokesman for Schumer says he is concerned with the problem of overleveraged apartments, wants to preserve the city's stock of affordable housing and is working closely with advocates, the Treasury and the Department of Housing and Urban Development to find a workable solution. But it's a thorny issue.
How We Got Here
In 2005, when real estate values were only going up, the homes where Rivers and thousands of others live were removed from Mitchell Lama, a decades-old state affordable housing program that gave owners tax benefits in exchange for maintaining rents that working and middle-class tenants could afford. Building owners would then be able to charge market-level rates for the apartments.
After leaving the Mitchell Lama program, MetroNorth and Schomberg Plaza's long-time owners sold their 4,000 apartments to a private equity-backed real estate investment group for $295 million, or about $74,000 per apartment. Private equity backed firms are financed by investors who put money into a wide range of assets usually hoping for quick and steep returns: a strip mall in Florida, an entrepreneur's business in Des Moines -- and the homes of tens of thousands of New Yorkers. The people behind the pools of money -- or equity -- don't necessarily have any experience owning or managing a large apartment building or operating state and federal programs such as the Section 8 housing voucher program. And the firms' owners are beholden to these investors, who act like shareholders. The focus becomes making attractive returns for investors, not necessarily managing a building.
Two years later, the portfolio was sold again, this time for $918 million, to Urban American Management, another private equity backed real estate investment firm . The tripling of the portfolio sale price between 2005 and 2007 reflected nothing but wishful thinking since the amount of income generated by tenants' rents increased only slightly, said Amy Chan, organizer for Tenants and Neighbors.
An analysis by Tenants and Neighbors of the rent roll at another property in the portfolio, 3333 Broadway, estimates the owners are losing $800,000 a year on the building.
A spokesman for Urban America declined to discuss specifics of the firm's financial record. Doug Eisenberg, chief operating officer of Urban America said in a statement that his company is in no danger of defaulting. "The properties are healthy, we never take on debt beyond our means, and we are continuing to invest in these properties. Nor are we in the business of pushing out our residents. We are committed to these buildings for the long-term, as we are to long-term residents," he said.
The private equity firms invested in the buildings because they thought the apartments were undervalued. In rapidly gentrifying Harlem and elsewhere, the new landlords thought they could command market rents. When his building left Mitchell Lama in 2005, Claude Johnson, a retired building maintenance man who lives at 3333 Broadway, saw rent on his one bedroom increase from $800 to $1,390.
Tenants and their advocates began to talk about gentrification, about working class tenants being pushed out, about the erosion of affordable housing. Responding to cries of forced gentrification from voters in Harlem, Bushwick, Washington Heights and elsewhere, the City Council passed an anti-tenant harassment law.
At the May 28 rally, State Sen. Bill Perkins of Harlem noted the irony of Schomberg Plaza being renamed The Heritage at a time when the historically African American neighborhood was becoming whiter – and wealthier.
"We have seen the worst of times and we are not leaving when the good times come. These landlords are in the process of disappearing us. We will not be disappeared," he said.
But now that the boom has collapsed, the problem is a few degrees more complicated. The new private equity owners couldn't actually make huge returns on the buildings, Levy argues. It might be possible to harass a few Section 8 and rent-regulated tenants into leaving and convert their apartments into high rent spaces, Levy said a few months ago. "But these new owners can't actually get rid of everyone. There are layers and layers of subsidies that keep the buildings in these programs," she said. "Thank God for that. We don't want people priced out of their homes. But it means there is no way for these buildings to perform financially."
The conversion from Mitchell-Lama, did, though, make owners think of the buildings as a kind of cash cow, prompting them to try to drive out tenants in the hopes of getting higher rents. It hurt the tenants -- but hasn't worked for the owners either.
Overleveraged to a degree that would make an average subprime borrower blush, the private equity firms are now in real trouble, advocates contend. "I mean you do the math. It can't work," Levy said.
Examples of private equity-owned buildings sinking under the weight of their debt are becoming more common. In the Bronx, the 16 buildings owned by Ocelot Capital Group are in such terrible condition that the city Department of Housing Preservation and Development has placed the complex in its Alternative Enforcement Program, a triage for deeply troubled buildings. Ocelot has 902 code violations and tenants want the lender, Deutsche Bank, to find a responsible owner.
In January Stellar Management, the private equity owner of the Riverton complex, 1,230 units of former Mitchell Lama housing in Harlem, defaulted on its $250 millions worth of loans.
Tenants and advocates are holding their breath on several other developments throughout the city, according to Chan.
In the 1970s and 1980s, when redlining and under-investment let to massive landlord abandonment in places like the South Bronx and Bushwick, city government eventually picked up the pieces. The city's housing department took ownership of failing buildings and, through a variety of initiatives, sold them off to community housing organizations and qualified private owners. But the fixes did not come until entire neighborhoods had hit bottom, thousands of New Yorkers were living in decrepit conditions and the social fabric of whole swaths of the city was destroyed.
Leona Fredericks understands the crisis more than she would like to. The tenant leader from the MetroNorth complex spoke at a private equity forum in East Harlem in April in which hundreds of tenants laid out the serpentine problem of overleveraged buildings. "We are part of this foreclosure crisis," Fredericks told the assembled crowd of renters. "Did you know that?"
The president of UPACA 7, another private equity-owned building put the problem succinctly. "We all have a common problem: real estate speculators who overpaid for our buildings. They are having trouble making their mortgages payments, but we are the ones who will be hit," he said.
Over and over at the forum, tenants raised the specter of the 1970s. "Remember how bad it was?" they reminded each other. "We can't let it get to that again," said Fredericks.
Taking a page from the1980s when tenant activists targeted banks that held slumlord mortgages, the new coalition is arguing that Fannie Mae and other mortgage holders should enforce the good repair clauses in the mortgages. "Fannie Mae has a stake in these assets. We want them to intervene and say to landlords that they have to keep the buildings in shape," Chan said after the rally at Schomberg Plaza.
But as long as Urban America and other overleveraged owners keep making their mortgage payments, even if those payments are made at the expense of maintenance, Levy points out that lenders see no reason to intervene. "The banks are saying we can't intervene on loans that are performing," she said. But what happens when they inevitably stop performing will be a disaster like Ocelot. We can't let that happen."