With gay and lesbian marriages now legal in Massachusetts, court cases pending in that state and California, and President George W. Bush pushing for a constitutional amendment that would ban them, the issue of same-sex marriage is hardly a remote one.
How many New York same-sex couples would marry if they could? How many would then divorce? And how would they differ from heterosexual relationships?
The Same-Sex Marriage Market
As I discussed here before in New York City the census found 25,906 same-sex couples in "unmarried partner" relationships. Some of these couples marked "married," when they filled out their 2000 Census form, but the bureau recoded them as unmarried partners who had a "close personal relationship." (In 1990, the census added this new category "unmarried partner" to get at the large numbers of people, mostly heterosexual couples, who were living together in a relationship but were not married.)
Of course, counting the people who were in a same-sex relationship and were willing to tell the government about it is a poor way of determining the total number of gay and lesbian New Yorkers. But it probably is a reasonable estimate of the number of same-sex marriages we could expect over the short term if they were legalized in the city.
Many would probably not marry. According to the 2000 Census, about 1.1 million of the three million New York City households consisted of married couples, another 129,815 were opposite-sex unmarried partners, while there were just 15,016 male-male partner households and 10,890 female-female partner households. In other words, married couples accounted for 88 percent of all households headed by couples in New York City; unmarried opposite sex partners comprised 10 percent; and same-sex partners comprised just two percent,
Couples Compared
How do same-sex couples compare to couples of the opposite sex, both married and unmarried? Using data from the 2000 Census, here is my analysis, presented in the accompanying table: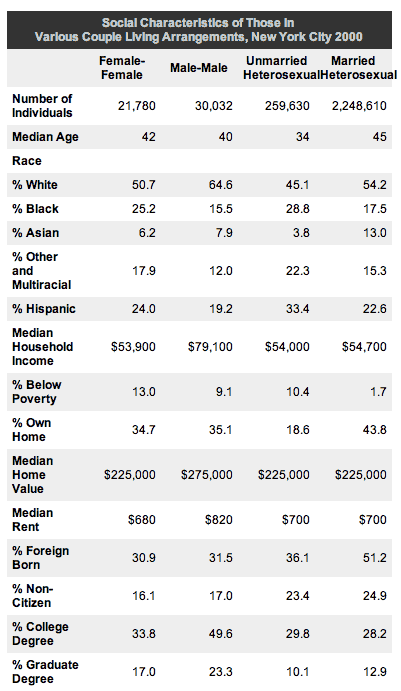 Interestingly, same-sex couples share more with married couples than they do with unmarried heterosexual couples; the unmarried heterosexuals are younger, less well-educated, and less likely to own their own homes.
The male-male couples are much more educated and affluent than the other couples. They are also more likely to be white. The same-sex couples are more likely to be citizens and less likely to be foreign born.
Lesbian and Gay Divorce
Since same-sex marriage is not legal, there is no such thing as legal gay divorce in the United States, though recently there was the first gay divorce in Canada. However, in several countries in Europe where same-sex marriage has been legal for a number of years, we do have some information on the frequency with which gay couples formally end their unions. A recent study of divorce among gay couples in Sweden and Norway sheds some interesting light on the prospects for gay divorce in New York City. The researchers found that female-female couples were about three times as likely to dissolve their partnerships, and male-male couples were about one and one-half times as likely to dissolve their partnerships, as were married opposite-sex couples. The reasons for the higher rate of dissolution, especially among female-female couples, are not obvious from the study. Regular divorce proceedings are usually initiated by the female.
If same-sex marriage becomes legal we can be sure that there is a ready market for the institution among the roughly 26,000 same-sex couples that were willing to declare their partnership to the Census Bureau.
Andrew A. Beveridge has taught sociology at Queens College since 1981, done demographic analyses for the New York Times since 1993, and provides expert testimony on a range of cases, including housing discrimination. The opinions expressed are his alone.