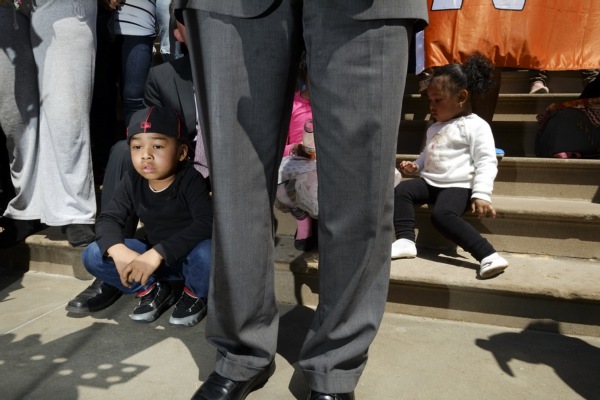 NEW YORK — Since being displaced by Superstorm Sandy from their Far Rockaway apartment, Cherrell Manuel and her four children have lived in two different hotels.
At the Park Central Hotel near Times Square where the family is now, they are spread across three different rooms. Aware that the situation cannot last, Manuel says she gets up everyday at 6 a.m. to go apartment hunting. She doesn't get back until about 6:30 p.m.
"There's some apartments you go, the landlord say they're ready. When we get there, the floors are all messed up, the ceiling is leaking, and they're telling us, 'Oh, sign the papers and I'll fix it.' Thats not fair to us," she said. "If we take an apartment like that and they don't fix it then we're stuck there for the year."
Six months after the storm, time is running out for Manuel and hundreds of other people displaced by the hurricane and living precariously in hotel rooms. The city-funded program that pays for the rooms is being terminated on Tuesday and with it will go the shred of stability that these families have come to rely upon.
Some elected officials and advocates are warning that many of the families could end up in the city's homeless shelter system unless a plan is put into place and are calling for a month-long extension to the city's program.
"While we agree that this program cannot continue indefinitely, we question whether the April 30 deadline is realistic for those remaining 196 households that do not qualify for the housing options currently available," wrote Council Speaker Christine Quinn and Councilwoman Annabel Palma in a letter sent to Department of Homeless Services Commissioner Seth Diamond on Friday following a hearing on the hotel program.
"It would be unfortunate for these households who have suffered such serious displacement as a result of Sandy to be left with the DHS shelter system as their only option," they continued.
They said the city's decision does not make sense since other options are being discussed by policymakers, such as specialized housing vouchers.
Public Advocate Bill de Blasio sent a letter to Mayor Michael Bloomberg on Friday, calling the decision to end the program on April 30 without finding long-term housing solutions for the remaining households "a wrong-headed approach that lacks compassion and pragmatism."
"If it is going to set an arbitrary date for ending hotel stays, the city must better assess the individual needs of each household, and ensure that an accessible, long-term housing solution is reached for these impacted New York City families," he wrote in the letter.
Both Quinn and de Blasio are running for the Democratic nomination for mayor.
The impending termination of the hotel programs, and the fact that many families displaced by Sandy continue to be in limbo, is one of the legacies of the hurricane. Officials have said about 10,000 homes in the state were damaged or destroyed by the storm.
The federal government said on Friday that it had approved a $1.7 billion state plan for rebuilding. The city is receiving its own pool of funds, $1.8 billion, but its plan has not received approval. Both city and state officials have funds will be directed toward helping homeowners rebuild.
But the hotel program under the city may not be reimbursed by the federal government, and it's unclear whether more money would be made available to house families in hotels.
DHS Commissioner Diamond testified for an hour Friday about the hotel program before the Council general welfare committee that Palma chairs. Council members questioned Diamond about a range of issues, including complaints about case managers and possible alternatives to the hotel program that may soon become an option. Dozens of people, including Sandy evacuees and housing advocates, crowded the hearing that was preceded by a rally on the City Hall steps.
As of Friday, Diamond said 488 households — about 1,000 people — were still in the hotel program, which has cost the city $40 million and involves some 50 hotels. Some 290 households will remain in hotels until the end of May because they have established clear transition plans, he said, with 43 households waiti ng for repairs to be completed and 249 going through the city's public housing application process or Section 8.
Of those households, however, he said 196 don't qualify for existing programs or rejected apartments that they were qualified to take.
Diamond said case managers continued to work with those remaining households to help identify more sustainable alternatives for them.
But during the hearing, Council members that represent some of the most storm-ravaged neighborhoods expressed skepticism that enough was being done to help those remaining families find more permanent housing solutions.
"I totally fail to believe that 71 individuals have rejected apartments from my district who have no place to go," Councilman Donovan Richards, of Queens, said to Diamond.
"I understand that you're having difficulty with that and, as we said before, we continue to do what we can to work with those families," Diamond responded, but he later added: "We are disappointed too, as you are, that more of them didn't take us up on the offers we've made."
Richards also said that he had received complaints about how cases were being managed, and that Diamond was trying to make the process seem less challenging than the reality.
"I didn't say there were no issues. I said I thought they've done an excellent job," Diamond replied. "To the extent that there have had issues, we've addressed them."
Councilwoman Gale Brewer, of Manhattan, asked Diamond during the hearing whether he thought 71 households who had been matched with apartments — but rejected them for whatever reason — might end up in the homeless shelter system, Diamond did not answer directly. "Nobody wants them in the shelter system," he said.
The existence of a separate hotel program run by the Federal Emergency Management Administration, has also caused some confusion, especially after it was extended for another month last week because the agency could not identify long-term housing solutions for them. Diamond said that, as of Friday, 114 evacuees were in the program. At its peak, Diamond said that the FEMA program was helping 1,070.
"We will have three times more people in our hotel system after the extension than FEMA has," Diamond said during the hearing. "While they've extended all along, they have reduced 90 percent of their population. We have been much fairer, much more compassionate, much more deliberate in the way we have handled the families."
After the hearing, Diamond emphasized to reporters that the "overwhelming number of people" who the city has helped have left the hotels without resources and not ended up in the homeless shelter system.
"We've worked for six month with these families. Very intensively," he told reporters after testifying. "We've had $15 million of case management resources invested in the program, and we've worked tirelessly with all the families in the program. Over 800 have been able to leave. I think that's a tremendous success."
Manuel, 46, said facing eviction felt like the city was sending them a message that they had failed to meet their part of the bargain for accepting help.
"They're acting like we're not doing what we're supposed to do," she said. "We're up and about every day and there's nothing more we can do. We can't make landlords take us."
She said she had scoured advertisements for rental apartments in newspapers, Craigslist and from Section 8, and has seen a little more than 40 apartments. But landlords will reject the family for a variety of reasons, including the ages of her children. She said they said the youngest is 7, the eldest 25.
"All we want is for the city to help us. We want them to stop feeling like we're sitting in a hotel, relaxing like this is a vacation," Manuel said. "We need help. And we need people that are going to work with us. We don't need people who don't understand our situation."
––––
Cristian Salazar contributed to this report. Image of children displaced by Sandy on the steps of City Hall during rally to call attention to the end of the hotel voucher program. Photo by William Alatriste, courtesy of the City Council.