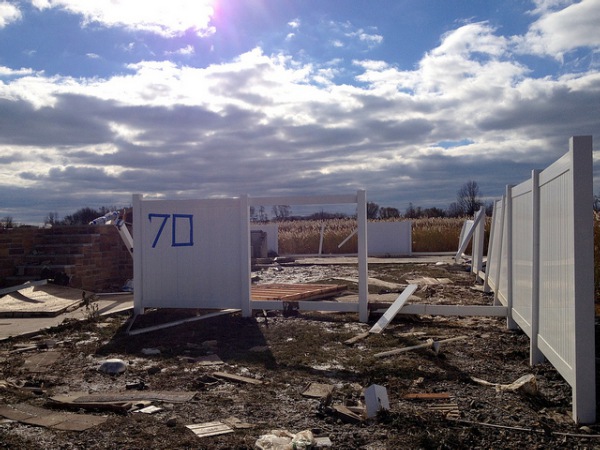 ALBANY, N.Y. — The Fox Beach community of Staten island sits only a few blocks from the ocean on wetlands where tall reeds sprout across the landscape.
After the lives of three of its residents were lost during Hurricane Sandy and flooding destroyed a number of the small bungalows that make up the community, more than a few people who live in Fox Beach were ready to abandon the previously idyllic area.
A few days after the storm, a large group of local homeowners began meeting in the St. Charles School auditorium to discuss how to move forward and, when the prospect of government buyouts was brought up, the room was casually polled.
"Every person in that auditorium raised their hands," said Joseph Tirone, who owns a home in Fox Beach and is the head of the Oakwood Beach Buyout Committee. He said the homeowners pressed officials for weeks, and eventually caught the attention of Gov. Andrew Cuomo.
Cuomo announced on Feb. 25 that the Fox Beach community, which is a subsection of the larger Oakwood neighborhood, would be the testing ground of his general buyout program designed to return parts of the seashore to a natural state to create a storm buffer.
"There are some places that Mother Nature owns," Cuomo told the audience at the College of Staten Island. "She may only come to visit every two years or three years or four years. But when she comes to visit, she reclaims the site."
Weeks later, the buyout program is coming into focus for the Fox Beach community, but what will happen with the rest of storm-ravaged New York is still hazy. For months, homeowners have heard sometimes conflicting reports about the city's plans, the state's plans, as well as programs offered through the Federal Emergency Management Administration.
Lawmakers and community members say they have been told that the state under Cuomo will be unveiling a number of "enhanced areas" in the next few weeks where homeowners will be able to apply for a buyout worth 100 percent of their homes pre-storm value, with a five percent incentive if they move within their borough. The Cuomo administration has yet to confirm.
The state has allocated $171 million for buyouts, but officials estimate they could ultimately spend $400 million. Officials estimate 10,000 homes were severely damaged during Hurricane Sandy but expect only 10 to 15 percent of owners will take buyouts.
Meanwhile, the Bloomberg administration is not billing its efforts as a "buyout" program and will refer those looking for buyouts to the state.
Instead, the Bloomberg administration has also proposed a program that, if approved by U.S. Housing and Urban Development, will allow the city to buy damaged property at post-Sandy rates for redevelopment. The city's program would appeal to property owners who aren't part of the "enhanced areas" that would be covered under the state.
City officials say the properties would first be offered to homeowners who are staying and might want a larger yard, or to add to their property. It is unclear exactly how much the city plans to spend on this program.
Staten Island Borough President James Molinaro says his office has received 400 inquiries about home buyouts but is unsure how the programs offered by the city and state will help.
"Almost every block is a different story, every home has a different problem," Molinaro said. "Some of these people are already underwater on their mortgage."
Molinaro said it is unclear how those homeowners would benefit from a buyout if the money they get from the city or state does not cover their mortgage and they are left without a home.
He noted, however, that some banks in New Jersey have been working with homeowners to come to mutually beneficial solutions.
"I wouldn't say there is an easy answer, but it is a problem we are aggressively addressing," Tirone said. He said he expects banks to work with homeowners who are underwater on their loans and who want to take a buyout.

The press and local officials have underestimated the desire for buyouts, he said. "Elected officials are opposed to buyouts because they can't visualize unbuilding," said Trione, who feels city lawmakers have failed to do enough to ensure local homeowners are briefed on all their options.
Tirone recalls the story of a retiree who had tapped out his life savings to make repairs to his house following Sandy. "If he had been made aware that he could get the pre-storm price for his house and buy a new house that is not in a storm zone, he could have been set for life with his savings still intact," Tirone said.
Molinaro is skeptical of the process so far, saying, "I have not seen any movement yet. The governor said he would buy homes at 100 percent of their value pre-Sandy but I have not seen any purchased yet."
He emphasized that he has advocated for prioritizing buyouts to homeowners who have completely lost property and who have no mortgage so that they can quickly purchase a new home. Molinaro said he had warned residents that the buyout process can take years.

Randy Douglas, Town Supervisor of Jay, N.Y., knows firsthand that the government buyout process is anything but quick.
The Town of Jay suffered flooding in 1996 and 2008 from the AuSable River; then, in 2011, Hurricane Irene hit and the flooding was worse than ever. Roads, parks, youth facilities and sewer systems were wiped out along with homes. The town nearly lost its iconic covered bridge.
Some residents had simply had enough. Eighty homeowners out of the town's estimated 2,500 residents were interested in a buyout program — one that paid 75 percent of pre-storm value.
Eighteen months later, residents are just now signing contracts with FEMA for the purchase of their properties. And the number of interested homeowners has dropped to 40.
"Some of them just couldn't wait due to the length of time," Douglas said. "A two-year process is way too long. I actually had people pass away during the process. It is just really sad."
Douglas said he hopes that the concerns of victims of Irene and Lee have helped push officials to expedite the process for other homeowners. (The good news for Douglas: the state has included funds in its Sandy recovery plan to make sure homeowners who are bought out from Irene and Lee get a full 100 percent of their homes' pre-storm value).
Despite having advocated for buyouts and having helped his residents push through the process, Douglas said there isn't anything terribly positive about seeing residents decide it is time to pack it up.
"I've said since day one this isn't a good thing," he continued. "You lose your tax base, you lose families who have lived here for generations and you lose your identity. But with us, we couldn't continue to put people in harm's way."
Douglas said he understands the reluctance of New York City officials to fully back buyouts. "Mayor Bloomberg has said he wants to build back stronger and seems to want to avoid buyouts. I'm not criticizing him because you don't want to lose these people. You don't want to give them up," he said.
Sen. Joe Addabbo of Queens, who represents some of the neighborhoods hardest-hit by Sandy, including Breezy Point where dozens of homes went up in flames, said he has not seen a great deal of interest in buyouts. "We have a lot of longtime homeowners whose families have been here for generations who just want to rebuild. They aren't looking to go somewhere else," Addabbo said.
Addabbo acknowledged, though, that there has been confusion about buyouts. "Whenever there is a lack of information there is confusion," he said, "but I think it will end as we get more information on the two programs in the next two weeks."
But Addabbo admits he doesn't favor buyouts — in fact, he thinks they are a bad idea. "Personally, no, I don't buy into the buyout program so to speak. It is a loss of revenue for the city, and the neighborhood behind that neighborhood loses their storm buffer, I think it causes other problems," Addabbo said.
The state senator said not enough is being done to address flood mitigation. "What about seawalls, jetties, things that mitigate flood damage? Why aren't we talking about that? Instead we are gonna buy 'em out? I don't want them to leave," he said. "As an elected official I want them to stay. Whether they have to elevate or [do] flood mitigation — whatever it takes."
The Fox Beach community of Oakwood was labeled an "enhanced area" where the entire neighborhood was eligible for a buyout. Of the 183 households that were eligible for the state program, 180 have submitted applications according to state officials. Those homeowners are eligible for 100 percent of their homes pre-storm value.
Tirone said he thinks Cuomo's motivations are completely apolitical. "I truly believe this plan has nothing to do with politics. The governor wants to create a natural buffer for those inland," he said.
Meanwhile, plans for his neighborhood are developing apace. Homes have been appraised and, although he thinks Cuomo might be unhappy with him for such a bold prediction, he speculated that the process could be completed before the end of the year — a notable accomplishment given that the federal process can take three to five years at times.
But, for now, Tirone is still helping get the word out about the state program. "I get five to 10 calls a day from residents asking me to help them get bought out," he said.
Image of destroyed home in Oakwood, Staten Island, by Paul Soulellis, used under Creative Commons license.