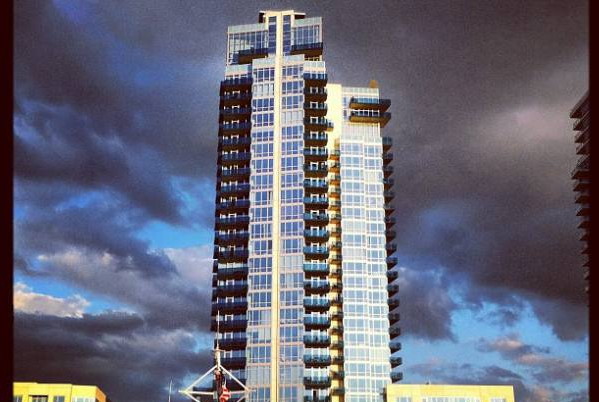 Democratic mayoral hopeful Bill de Blasio has ambitious plans to reshape the inequalities in the real estate market by mandating developers build affordable housing.
His plan to ensure that New York is no longer a "tale of two cities" is seeded in his affordable housing proposal known as mandatory inclusionary zoning. The policy would require developers to set aside a certain percentage of a building's units as permanent affordable apartments in exchange for increased building heights and tax breaks.
But an optional version of the policy, instituted by Mayor Michael Bloomberg's administration, has had a checkered history in New York City. Instead of stimulating the creation of more affordable housing, many developers have chosen to opt out — leaving policy experts skeptical of how a mandatory plan might work.
The Bloomberg administration's optional zoning policy pairs well with its pro-development mentality. The policy gives developers the choice to participate in the program and receive perks like taller buildings or government subsidies to make up for the added development costs, or not participate at all.
Dozens of neighborhoods in Manhattan and Queens currently qualify for inclusionary zoning because big real estate developments are already underway in those areas (see map below). But only 13 percent of all new multi-family units are currently designated as affordable housing and more than a third of the city has been rezoned during Bloomberg's tenure.
De Blasio's hopes of breaking away from the Bloomberg mold by implementing mandatory inclusionary zoning is paramount to his campaign promises to revamp the affordable housing crisis in the city.
"I want to see much more aggressive policies in terms of how the city works with the real estate industry," de Blasio said in a recent Ask Me Anything forum on the online aggregator Reddit. He said he plans to add an additional 200,000 affordable housing units in the next decade.
At a recent mayoral debate, Republican mayoral hopeful Joe Lhota said inclusionary zoning is unconstitutional.
"I don't believe in mandatory inclusionary zoning," he said. "I don't believe that that will work. I think it's a violation of the constitution."
Supporters of a mandatory program like City Councilman Brad Lander, who represents Brooklyn's 39th district, said he thinks de Blasio has a shot at passing a citywide mandatory inclusionary zoning policy.
"It's an important part of a much bigger plan motivated by addressing the tale of two cities and the affordability crisis," Lander said. "He's built a great campaign on the basis that the inequality in New York City is much too big."
There are many potential problems with a mandatory program, according to The Furman Center for Real Estate and Urban Policy at New York University. Slowing of new development of market-rate housing could create a domino effect that would provide less affordable housing. Extra construction costs may also be passed on to market-rate tenants to make up for the losses incurred by creating affordable units.
Allowing developers to build taller to accommodate more people exacerbates the stress on public services and would require finite plans for more schools and better infrastructure.
Lander admitted there are pitfalls to the program, but his 33-page report makes a case for why the city could benefit from inclusionary zoning. He said it is important that the specifics be spelled out early on to ensure the program can be successful.
A comparable policy might be the city's Inclusionary Housing Program, created in 1987, with a goal to incentivize developers to create affordable housing in market-rate developments. In its 26-year history, inclusionary housing has created a little more than 4,500 affordable units. Prior to the creation of the inclusionary zoning program in 2005, there were only 1,753 affordable housing units preserved or created.
Recent massive rezoning projects in the Brooklyn neighborhoods of Williamsburg and Greenpoint, as well as in Manhattan's Chelsea, have accounted for about 2,700 affordable units, or less than two percent of the total housing units built in the last eight years.
The Edge in Williamsburg is an inclusionary zoning fairytale. The zoning allows developers to build an additional 1.25 square feet for every square foot of affordable housing built. Of the 1,000 residential units at the Edge, 347 are affordable housing units (about 35 percent).
But the success of the program at the Edge is an exception. Even in areas with the strongest participation seen in Manhattan's Hudson Yards and West Chelsea, there is only 18.6 percent of total development designated for affordable units — falling short of the 20 percent standard set by the program.
To avoid any legal concerns, de Blasio's legislation will need to set clear-cut guidelines on the types of projects that will be mandated and what real estate developers will be required to build or pay for.
The Furman Center has already done part of de Blasio's work of determining the hurdles he might face by creating a list of four specifics it thinks is necessary for a mandatory program to be successful. Those include the duration the units need to remain affordable; whether or not affordable housing requirements need to be met on or off site; whether developers can contribute to an affordable housing fund instead of building units; and what kind of density increases developers might be offered.
Inclusionary zoning is not the only option that incentivizes affordable housing. The 80/20 subsidy program gives developers tax-exempt bonds for their commitment to provide 20 percent of their units to low-income tenants in desirable city locations.
But that program also has shortcomings, at least one policy expert said.
"It is merely a zoning bonus," said Josiah Madar, a research fellow at the Furman Center. "The developer provides affordable housing, the city lets them build bigger."
Without a mandated inclusionary zoning, Lander said he fears affordable housing will disappear, especially in upscale neighborhoods.
"There's not a silver bullet," Lander said of the affordability crisis in New York.