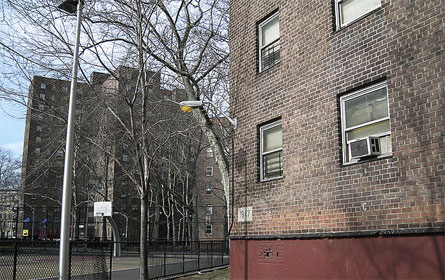 With more than a quarter of a million families on the waiting list for public housing in New York City and some people waiting as long as eight years for an apartment, anyone who has public housing would be unlikely to want to give it up. Two recent cases, though, underscore how difficult it can be for a tenant to fight eviction from public housing.
One involves Monique Hill. She had lived in public housing all of her life except for one period from 2005 to 2007 when she resided in a homeless shelter.
Hill grew up at Vladeck Houses on the Lower East Side where she lived with her mother. In 2007 she and her daughter, then six, moved into Lincoln Houses on upper Madison Avenue. During the total of 29 years she resided in apartment buildings run by the New York City Housing Authority, there had never been a complaint against her.
Then, a dispute with another tenant became physical and led to her arrest for assault. That sparked charges that she was an undesirable tenant, which in turn led to proceedings aimed at terminating her lease. Whether or not Hill was convicted of the assault in Criminal Court, the incident itself, which she described as "incidental contact," was sufficient to constitute a breach of housing authority rules and regulations. She also had fallen behind in her rent.
During a hearing, the Legal Aid Society represented Hill as she sought to defend herself against the assault complaint and chronic rent delinquency as well as failure to submit annual income recertification forms.
Following a mini-trial, an administrative hearing officer at the New York City Housing Authority sustained the charges against Hill. This authority's commissioner accepted the recommendation that Hill be removed from her apartment leaving her with only one recourse: bringing an Article 78 proceeding in State Supreme Court in Manhattan, before an elected justice of the court.
Going to Court
However, the judge -- in this case, Carol Robinson Edmead -- has very limited powers in the face of an agency determination. Whether or not she agrees with the findings she cannot change the result except in very limited circumstances. Was the administrative judge's decision arbitrary? Capricious? Irrational? Unsupported by the evidence? Did the judge abuse his or her discretion? If not, the tenant -- or anyone challenging the final decision of a city or state agency -- is generally out of luck.
Edmead found that the housing authority hearing officer's finding was reasonable an supported by the evidence. "Moreover," she wrote, "the agency's determination involves factual evaluation within an area of the agency's expertise ... and must be accorded great weight and judicial deference."
There is one other test that may be applied, and that is whether the result is so disproportionate to the misconduct, "as to be shocking to one's sense of fairness." Edmead found that the determination in Hill's case was not and dismissed Hill's petition, meaning that the tenancy is terminated and she will be evicted.
Illegal Dogs
Similarly, in another recent case, the petitioner, known only as Florence, sought to reverse the New York City Housing Authority's termination of her tenancy. Florence admitted to having two pit bulls in her apartment that she had failed to register in compliance with housing authority rules.
Besides not being registered, one of the animals had run into the hallway and attacked a neighbor. Also, as in Hill's case, Florence had been in arrears on her rent.
At the Supreme Court stage, Florence brought up the issue of allegedly poor conditions in her apartment, but Justice Alexander Hunter could not consider her allegations since she had not raised them at the agency level. In dismissing the petition, Hunter wrote, "A failure to impose the penalties associated with the applicable rules is unfair to other tenants and enforcement is essential for respondent [the New York City Housing Authority] to maintain its federal funding."
As to the rent delinquency, the tenant, representing herself, had argued that "the unpredictable nature of her work makes it difficult to budget her finances."
This problem, the judge decided, did not constitute an adequate reason for Florence not meeting her rental obligations. Accordingly, Hunter concluded that the agency's findings were not an abuse of discretion, and "the penalty of termination of tenancy does not shock the conscience ... . Petitioner's disregard for the Housing Authority's pet policy along with her inability to make timely rent payments a priority is conclusively proper grounds for termination."
While these two cases involve charges beyond rent arrears, chronic nonpayment or late payment alone has been upheld as a legitimate reason to evict a tenant in countless cases. Judges do have the power to order a case returned to the agency for a new hearing if they find the hearing officer's abused his or her discretion. An actual judge, though, cannot overturn the ruling simply because he or she disagrees with the hearing officer opinion.
Some ruling have been sent back to the agency because they "shock the conscience." These involved instances where tenants were evicted for infractions like not being home at the time of an appointment for an apartment inspection or knocking a clock off a housing authority employee's desk. Such cases, though, are the exception not the rule -- as Hill and Florence have learned.
Emily Jane Goodman is a New York State Supreme Court Justice