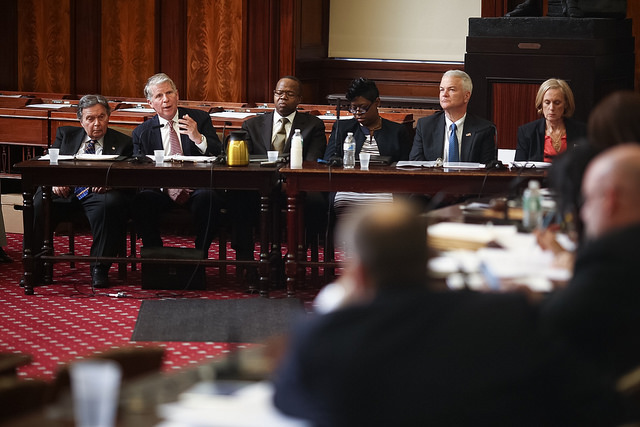 The five District Attorneys at a March hearing (photo: William Alatriste)
---
The district attorneys of the five boroughs reasserted their need for increased funding in the 2017 fiscal year at a City Council executive budget hearing Monday at City Hall. Council members—opting to forego heavy questioning of the necessity of this funding—framed fulfilling the district attorney requests as a crucial step towards criminal justice reform.
The public safety committee hearing was the penultimate executive budget hearing, with the finance committee set to finish the proceedings Tuesday before closed-door negotiations lead to a budget deal between Mayor Bill de Blasio and the City Council before the July 1 start of the new fiscal year.
De Blasio's preliminary budget, released Jan. 21, estimated $94 million would be allocated to the King's County (Brooklyn) DA office, $57 million to Queens County, $10 million to Richmond County (Staten Island), $101 million to New York County (Manhattan), and $59 million to Bronx County.
The five DAs presented additional funding requests during a preliminary budget hearing in March, after which the Council called on de Blasio to fully fund those budget needs in its response to his preliminary budget and listed public safety among its top eight priorities. Of the five offices, New York County requested an additional $600,000, Bronx County $11.5 million, Kings County $1 million, Queens County $4.9 million, and Richmond $3.6 million. The Bronx request was so large because new DA Darcel Clark plans to open a new bureau on Rikers Island, as well as several other significant initiatives.
None of the additional funding requests were included in de Blasio's $82.2 executive budget, released April 27—a decision Council Member and Public Safety Committee Chair Vanessa Gibson said on Monday she was "very disappointed to see."
"The City Council is making significant impacts to criminal justice reform, but none of this will matter if the city does not support our District Attorneys," Gibson said. "Though I applaud the efforts that the administration's [making] to fund other law enforcement agencies such as the NYPD, it is irresponsible not to include funding for our city's prosecutors."
At Monday's executive budget hearing, representatives from the DA offices, including three DAs themselves, said increased funding would be the only solution to severe problems facing each county, and Council Member and Finance Committee Chair Julissa Ferreras-Copeland said the Council was "on the same page." Ferreras-Copeland criticized de Blasio's executive budget earlier in May when she said it did not "ensure that the shared priorities of both the Administration and the Council are included."
In response to Monday's comments from the district attorney offices and Council members, mayoral spokesperson Monica Klein said in an emailed statement, "The administration is committed to appropriately funding the critical needs of our District Attorneys, and we look forward to working with the Council and DAs throughout the budget process. Mayor de Blasio has also invested in numerous initiatives to support our DAs' essential efforts -- including an additional $2 million per year to the Special Narcotics Prosecutor and $10 million to the Anti-Violence Innovation challenge -- and launched expansive initiatives aimed at reducing opioid misuse and overdose deaths across the City, in close partnership with local elected officials."
Manhattan DA Cy Vance said on Monday that additional funding would go toward the creation of an Alternative to Incarceration unit aimed at preventing low-level nonviolent offenders from facing jail time.
Staten Island DA Michael McMahon, a Democrat who succeeded Republican Dan Donovan (now a member of Congress) as DA, said his predecessors "did not aggressively pursue" sufficient funding at City Hall. As a result, McMahon said his office is unequiped to combat Staten Island's rising heroin overdose epidemic and domestic abuse incidents, and currently unable to finance a case management system. All five DAs are now Democrats, like de Blasio and 48 of the 51 City Council members.
Brooklyn DA Ken Thompson, represented at the hearing by his chief of staff Leroy Frazer, and Queens DA Richard Brown, represented by Chief ADA Jack Ryan, both hope to direct additional funding towards increasing personnel and improving facilities.
While Bronx DA Clark said some funding would go towards facilities and retaining more staff within her offices, she also hopes to establish a Rikers bureau that targets the prison complex, where she said corruption currently fosters "criminal business as usual."