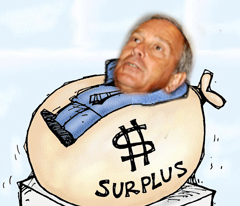 When Mayor Michael Bloomberg delivered his State of the City address to the crowd crammed into the Snug Harbor Cultural Center on January 26, he laid out some ambitious ideas. He wanted to slash poverty, cut down on illegal guns flooding into the city from elsewhere, and launch development projects throughout the five boroughs to create 250,000 new private sector jobs in the next five years. And that was just the start.
"During the last campaign, I promised more than 100 initiatives that will keep New York moving forward," he said. "Have I forgotten those promises? Not one. Will I honor them? You better believe it!"
When Bloomberg stood at City Hall last week to present his proposed budget for the 2007 fiscal year, which starts in five months, it was hard to find any of those initiatives amid all the columns of numbers. This was true despite one number in particular that stood out -- a surplus of more than three billion dollars.
With such a giant surplus and so many promised initiatives, the most remarkable thing about Bloomberg's budget is what isn't in it. It does not call for hiring hundreds of new city employees. It also does not ask for new tax cuts.
Instead, the proposed $52.2 billion budget that Bloomberg laid out last week (in video, and slide show, with accompanying budget publications) is long on what he called fiscally prudent measures. "These are the steps that we need to take to produce a budget that is realistic and responsible," the mayor said during his presentation, "one that keeps New York on firm fiscal ground now, and in the years to come."
THE SURPLUS THEN AND NOW
When blessed with budget surpluses during the 1990s, former Mayor Rudolph Giuliani hired new employees and instituted tax cuts. Eventually, this led to something close to economic disaster, when the economic engine slowed dramatically toward the end of his second term, and this was made far worse by the terrorist attacks of September 11, 2001. Having spent the surplus, there was nothing to fall back on.
Thus, when Michael Bloomberg succeeded Giuliani, the new mayor had to scramble to balance the budget by both cutting spending on city services and raising taxes. Three years later, with an improved economy and higher than expected revenues, the city had a surplus once again -- which, occurring during an election year, Bloomberg proposed spending on various goodies and a large tax cut.
This made fiscal experts unhappy. "Taking a $3.3 billion surplus and spending it all next year is pretty short-sighted," said Charles Brecher of the Citizens Budget Commission, a non-partisan budget watchdog group.
The election is over now, and for fiscal year 2007, which begins on July 1, 2006, the mayor says he wants to use "today's good fortune to address some of tomorrow's most troubling problems." He has allocated $1 billion of the current surplus to go to reducing debt over five years and another $500 million for deficit reduction. He wants to earmark $2 billion of the surplus toward a trust fund for retiree health benefits. (Currently, unlike for pensions, there is no money in reserve to pay for future health benefits. A new accounting standard requires that municipalities eventually create such a reserve, and Bloomberg calls the $2 billion a "downpayment" on it.)
Now, some fiscal experts are happy. "The mayor did an extraordinary thing," said Diana Fortuna of the Citizens Budget Commission. "He's getting out ahead of the curve here by proposing to allocate $2 billion to defray those costs. It's a very prudent move. This defines why this is a good budget."
(Not everybody agrees. See The Mayor's Underwhelming Budget For 2007, by Glenn Pasanen.)
GOODIES IN THE BUDGET
Continued Tax Rebate
The mayor's budget contains one conspicuous perk for taxpayers: the continuation of the $400 property tax rebate for the next three years.
Children
The fine print includes some initiatives Bloomberg had previously touted. During his State of the City address, he said the Administration for Children's Services would get "$16 million in new initiatives that will improve oversight, ease caseloads and ensure coordination among all city agencies." And indeed, there it was in his preliminary budget.
Diabetes
Bloomberg said he wanted to help address the city's diabetes crisis by creating a diabetes registry. In his budget, Bloomberg set aside money for 14 staffers to begin this project.
Housing
Bloomberg also put $2 billion toward the $7.5 billion affordable housing program he discussed in his State of the City address. Presumably, that could go a long way toward his promise of building 15,000 new units over the next year.
Capital Budget
The capital budget, which is separate from the operating budget (and is funded largely by loans to the city), also contains money for some new projects beyond maintaining streets and bridges. Bloomberg earmarked:
-$265 million for parks and infrastructure at the new stadiums for the Yankees and Mets;
-$133 million to help turn the General Post Office on Eighth Avenue into Moynihan Station;
-$23 million for development of Governors Island;
-$16 million toward creation of electronic medical records for community clinics. In his State of the City address he asked for state, federal and private money to bring the total up to $100 million.
BADDIES IN THE BUDGET
New Fees
The budget contained some ways to increase revenue, including:
more than 100 new traffic agents issuing more parking and traffic tickets
increasing fees for some housing applications, charging nonprofits for fire inspections (which are currently free to them) and other jumps in city fees
charging fees at all Parks Department recreation centers, raising almost $2 million.
Albany and Washington
As usual, the city's budget relies on money from state and federal governments. And the mayor argues that neither Washington nor Albany gives the city as much as it deserves, given all the taxes we send them. "New York City pays $11 billion more in state taxes than it gets back in funding despite being the economic engine of the state," according to the mayor, and about $13 billion more to the federal government than it gets back. Bloomberg wants the state to give New York City an additional $250 million and the feds to contribute an additional $100 million.
Missing: Education Settlement
One thing is conspicuously absent from the budget: money for city schools from the Campaign for Fiscal Equity lawsuit, which would fund school construction and operating expenses. The courts have ruled New York City schools need billions of dollars more a year than they now receive, but the state has appealed the ruling.
But Bloomberg's explanation for not relying on money from the Campaign for Fiscal Equity suit was simple: We do not have it yet and probably won't get it this year because the case will remain tied up in court. "CFE has nothing to do with this budget," he responded to a question from a reporter.
"Hidden Cuts"
There are other missing items,according to members of the City Council members -- $320 million in "hidden cuts" (reductions from current appropriations) to various city programs:
-about $40 million from city libraries;
-more than $20 million from senior programs;
-more than $20 million from cultural programs like art, theater and dance;
-$26 million from city educational programs like computer training;
-$53 million from the City University of New York;
-more than $45 million from youth programs;
-$45 million from the healthand mental health programs.
According to Domenic Recchia Jr., chair of the council committee on Cultural Affairs, Libraries and International Intergroup Relations, the Natural History Museum has already volunteered to take the brunt of a $1.8 million arts cut. He said the Metropolitan Museum of Art did the same thing last year.
"We will continue to fight to restore the services that are a priority for all New Yorkers," said Finance Committee Chair David Weprin. This is an annual ritual in New York: The mayor proposes cutting some popular programs, with the apparent assumption that the council will negotiate a restoration of the cuts by the time the budget must be passed five months later. The strategy is evidently intended to keep the council from fighting for greater increases. Weprin and Speaker Christine Quinn have vowed to change this yearly "budget dance." (See related article, The Last Dance?by David Weprin)
REACTION
When Bloomberg proposed his 2006 budget about nine months before Election Day, his political opponents were quick to attack it. Representative Anthony Weiner assailed the property tax rebate as an "election year gimmick," while other Democrats called for more money for housing, schools and youth services.
But this year –- with Bloomberg still reaping the benefits of his re-election victory -– reaction was muted and largely favorable. "The reaction from the city's business community and those who follow the city's long-term fiscal health was nearly unanimous: He may not be political, but Bloomberg is certainly prudent," David Saltonstall wrote in the Daily News.
Although expressing concern about future fiscal problems, City Comptroller (and probable future mayoral candidate) William Thompson issued a mostly favorable, if brief, statement: "The mayor has identified enhanced revenue sources and not sacrificed essential services," he said.
However, Nicole Gelinas of the Manhattan Institute called on Bloomberg to reduce employee pension and health care costs – not just save money to cover them. "To get the budget on a sustainable path, the mayor must first acknowledge that there's lots of dirty work that must be done in Albany and in negotiations with (or against) municipal unions," she wrote in the Post.
More controversy could emerge between now and the end of June, when the council must approve the budget. But for now it looks as if this year's budget season will be unusually calm.
A WORRISOME FUTURE
Though the city is flush with money now, the mayor warns not to expect big surpluses in the future.
For one, the real estate market boom that has contributed so much tax revenue to the city is already starting to taper off. Prices for single-family homes are expected to fall by 10 percent over the next few years, and sales themselves are expected to drop by 14 percent. Revenues from real estate transfer taxes are also expected to level off.
What's more, the city is notoriously over-reliant on profits and tax revenues from Wall Street. While bonuses were up again last year, profits are expected to decline for the third year in a row once interest rates are factored in.
Bloomberg warns that the city's "non-controllable" or "non-discretionary" expenses -– costs the mayor says the city has little or no ability to control –- will become increasingly burdensome in years to come. Chief among these costs are "alarming" and "worrisome" Medicaid and pension obligations, and the money the city owes on funds it has borrowed. "Making a down payment on these costs now is the fiscally responsible thing to do," he said.
These costs are the biggest contributor to a budget deficit that dogs the city year after year. Despite the good news this year, the mayor warns that a gap –- roughly $3.5 billion in 2008 and again in 2009 -– will loom over city finances in years to come.
As people live longer and health care gets more expensive, the rising costs pose a national problem. "Those are things that not only is New York City wrestling with, every municipality across the country is wrestling with and every company in the private sector is wrestling with," Bloomberg said. "Nobody has enough money to pay everything."
But the mayor was optimistic -- more or less: "I don't think people should be depressed; quite the contrary. We've shown we know how to get through tough times. We've shown that we are responsible. We are taking steps to make sure that we are preparing for the future. But the city still spends more than it takes in, in the billions of dollars each year."
Â