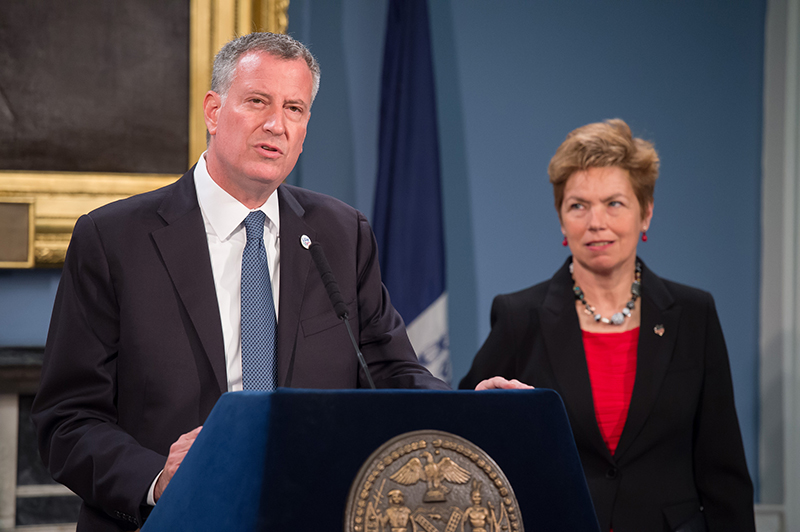 Mayor Bill de Blasio and MOVA Commissioner Loree Sutton (photo: @servicewomen)
---
NEW YORK—If there is going to be a new Department of Veterans' Affairs in New York City, it is isn't going to happen anytime soon.
On Monday, the City Council's Committee on Veterans held the first hearing on Intro. 314, a proposed local law which would create a new Department of Veterans' Affairs to replace the Mayor's Office of Veterans' Affairs (MOVA) as a central source for helping veterans get services in the city. While there was much support for the bill during testimony, the timing does not appear to be on the side of those who favor the move, including Council Member Eric Ulrich, chair of the veterans committee and sponsor of the legislation.
Newly minted MOVA Commissioner Loree Sutton gave very brief testimony, but, noting she had only been on the job for 29 days, was not ready to commit to her full support for the legislation.
"Introduction 314 deserves all due consideration as we dedicate ourselves to the historic journey that lies ahead," Sutton said during her testimony. "After completing my assessment and sharing my findings with Mayor [Bill] de Blasio, I look forward to following up with the New York City Council Committee on Veterans to discuss this important proposal in further detail."
She added that the five person staff at MOVA is currently overhauling its website to make accessing relevant resources and services easier. The 2014-15 Agency Liaison list, a "contact MOVA" form, and Sutton's bio have already been added. In October MOVA will launch a "Commissioner's Blog" section, according to mayoral spokesperson Marti Adams. Adams said additional design changes and "other improvements aimed at increasing MOVA's capacity to engage with the veteran community" should be expected soon.
Sutton did not, as some commissioners have on other pieces of legislation, submit any objections to the bill. Sutton's testimony politely implied she had not been on the job long enough to make a qualified assessment.
The council members present did not press her on her stance on the bill, agreeing she had not been on the job long enough.
"She is new, and we have to give her a little time to settle in to her job," Ulrich said on Monday. "But she wants to listen, she wants to learn, and she wants to lead. As I stated before, I don't think Mayor de Blasio could have picked a better person."
Sutton stayed through the entire committee hearing, listening intently and jotting down notes as members of four different panels spoke - an unusual move for a sitting commissioner.
Support for the bill was widespread, with affirmative testimony from organizations like Helmet to Hardhats and Legal Services NYC, as well as the chairman of the Veteran's Advisory Board (VAB), Vincent McGowan. Testimony echoed the perils of underfunding MOVA and all saw the creation of a new department (replacing an office under the Mayor) as a way to increase funding.
But not all groups saw Intro. 314 as the best way forward—at least not the way it is currently written. Rob Cuthbert of the Urban Center Veteran Advocacy Project gave the most impassioned testimony of the hearing, offering constructive criticism and specifics areas of improvement.
"Unfortunately, the proposed law does not provide enough detail on the duties of the new department," Cuthbert said during his testimony. "Without a clear mission, the department could do little to improve the lives of New York City's veterans."
Cuthbert suggested that if the Department of Veterans' Affairs was made, it should not stop its focus at just employment, as it has been at MOVA, he said. He suggested four separate pillars: health, legal services, housing, and education.
In addition, Cuthbert suggested the annual report provided by the Veteran's Advisory Board (which is required by law) be much more substantive than it currently is. VAB reports currently only list meeting minutes "providing little to no policy guidance to the public, veterans advocacy groups, or New York City's government," Cuthbert said.
Ulrich said there will be an oversight hearing on the VAB in October that will specifically deal with that issue.
Monday's was only the first hearing on the bill and Ulrich said it was just the first conversation of many with veterans on the bill. He said one change already being considered is changing the name from Department of Veterans' Affairs to Department of Veterans' Services so as not to be confused with the federal agency.
"I can assure you and all the stakeholders, we will definitely engage the veterans community before any further action or consideration is made on this bill," Ulrich said, "We don't want to pass something that nobody really knows anything about."
***
by Kristen Meriwether, Gotham Gazette
@MeriwetherK
Note: this article has been updated with comment from the mayor's office.