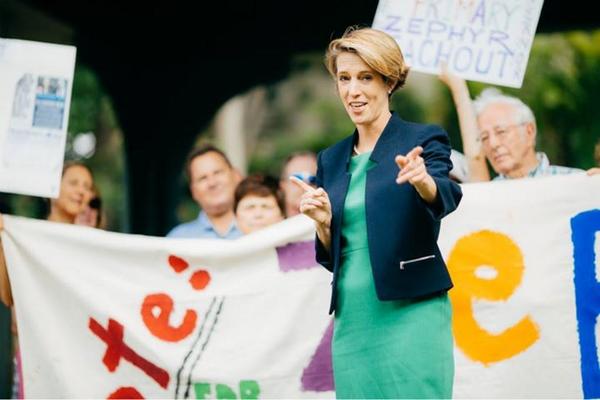 Zephyr Teachout at a rally in Poughkeepsie (photo: @ZephyrTeachout)
---
Exactly four weeks from Election Day former Democratic gubernatorial candidate Zephyr Teachout said "It's hard to see it happening" when asked if she had made any headway in her decision about endorsing incumbent Democratic Governor Andrew Cuomo for re-election.
In an interview with Gotham Gazette, Teachout explained that in her eyes the governor has done "no serious campaigning" toward ensuring a Democratic takeover of the New York State Senate, which she sees as the key to advancing priority issues of campaign finance reform and proper levels of school funding. When asked if Cuomo was doing enough to work for Democratic Senate candidates, Teachout said, quickly, "No, of course not. No."
While Teachout did not completely rule out endorsing Cuomo, she said that she was sticking to her previously set date of October 28 as when she would make her decision about whom to back in the gubernatorial race, if anyone. Gotham Gazette was prompted to touch base with Teachout after a Capital New York report this week indicating that the Cuomo administration had edited and delayed a federal study on fracking - an energy extraction process that Teachout firmly opposes. Teachout has shared the article and commented about it on social media.
"I have a role in the Democratic Party," Teachout said by phone, explaining that she has nine events on the calendar this week taking her to different parts of the state where there are competitive Senate races or where she can rally what she called her "strong base." She specifically cited an appearance planned for Wednesday in Brooklyn with Democratic State Senate candidate James Kemmerer and her plans to visit the Hudson Valley and Southern Tier. Teachout also listed Rochester, Buffalo, and Long Island as places she will make appearances.
Of Kemmerer, who is looking to unseat incumbent Republican Sen. Martin Golden, Teachout said he's "facing an uphill battle," but that it should be a Democratic seat and it's the type of race the governor should be involved in.
Money continues to flow into her campaign, Teachout said, explaining that she is still employing a small staff and is organizing those who agree with her progressive, traditional Democratic values. "There's a lot of enthusiasm after the campaign," she said, followed by noting that she's not sure what shape her organizing efforts will take longer term. It is unclear, of course, how much impact Teachout's endorsement decision will have - she did earn over 182,000 votes in the Democratic primary. There seems to be a chance Teachout could endorse Green Party candidate Howie Hawkins, whose stances on many issues, including fracking, closely align with Teachout's. On Tuesday, Teachout repeatedly expressed her immediate focus on the Senate.
A Fordham law professor, Teachout is embarking on something of a mixed-purpose journey as she clarified that her schedule is part book tour. "It's a book tour with a focus on what's happening in New York and what we can do about it," Teachout said referring to her book Corruption in America as a starting point for a conversation that will be about the need for a Democratic takeover of the New York State Senate and for significant campaign finance reform.
Saying that she will be asking, "Why are Republicans supporting a broken system of private financing?" Teachout said that she is motivated by the key, larger question at play: "Who's going to have power in Albany next year?"
As of today, Teachout said that Cuomo's pledge to work for Democratic control of the Senate (the Assembly is certain to remain strongly in Democratic hands) "looks like a broken promise." She continued, "Ads are one thing, actions show there is no energy behind it."
She then asked, rhetorically, "has he been out stumping?"
***
by Ben Max, Gotham Gazette
@TweetBenMax