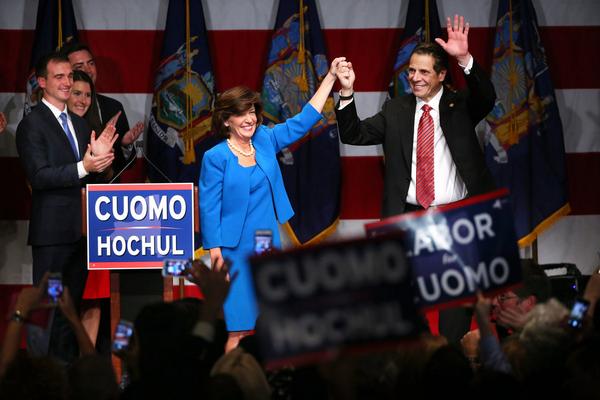 Gov. Cuomo & Kathy Hochul celebrate (photo: Chang W. Lee/NYT)
---
Governor Andrew Cuomo started campaign season bending over backwards and twisting himself into knots to secure the support of third parties. He ended it at war with one and dismissing others, all while aggressively promoting one of his own, the newly created Women's Equality Party (WEP). The WEP's was one of four ballot lines on which the incumbent Democrat appeared on Election Day, aggregating votes to win re-election easily.
It was a unique situation made possible by New York's law that allows candidates to run on multiple party ballot lines and accumulate the votes. Minor parties don't have to run their own candidates - they can offer their lines to more established politicians - and stand to gain because the more votes a party gets in the gubernatorial race, the higher its position on future ballots in each race it runs a candidate.
With returns almost completely processed by the Board of Elections a little over 24 hours after polls closed, it appears Cuomo's WEP has earned a future ballot line, reaching the 50,000 vote threshold, with more than 50,800 voters selecting Cuomo and his lieutenant governor running mate Kathy Hochul on that line.
As for Cuomo's two other 'third party' lines, nearly 73,000 voters selected Cuomo-Hochul on the Independence Party line and over 120,000 voters chose them on the Working Families Party (WFP) line. In the end, though, the 'third party' that did not back Cuomo came out on top. The Green Party and its gubernatorial candidate Howie Hawkins brought in 175,000 votes and will now move into Row D on the ballot, just behind the Democrat and Republican lines.
Speaking of the Democratic Party, Cuomo earned about 1.7 million votes - or nearly 90 percent of his total - on his major party line, which was an afterthought throughout. The governor won re-election by about 500,000 votes in another low-turnout election.
The governor's appearing on four ballot lines and all the controversy swirling around his allegiances, motives, and agenda is symbolic of a politician trying to amass widespread support from a variety of constituencies while ultimately hurting his standing among virtually all of them.
This July, despite facing a little-known primary challenger and a federal investigation for tampering with his own anti-corruption commission, Cuomo was in a position that would be enviable for most incumbent politicians. He sat on a $45 million war chest, had the entire State Democratic Party apparatus at his beck and call, and could rely on quite a bit of bipartisan support. Plus, in a situation unique to New York State, Cuomo was set to head into the general election on three ballot lines, giving voters a lot of exposure to his name.
But, despite the wide range of political ethos covered by the Democratic, Independence, and Working Families parties, Cuomo decided to create another: the Women's Equality Party.
The immediate benefits of creating the line were clear: Cuomo projected greater concern about women's issues while facing a young, female primary challenger to his left, and found a wedge issue between himself and Republican nominee Rob Astorino.
However, the line also spotlighted the fact that despite his claims that he had been a master of bipartisanship and that his alliance with Senate Republicans had been functional, he had failed to move his ten-point Women's Equality Agenda through the Senate due to Republican resistance to the tenth plank that deals with abortion. For the two years since Cuomo had put the agenda forward in his State of the State speech, Republican legislators told him that they would agree to the first nine planks, and were ready to pass them. Cuomo insists it's all ten or nothing.
Cuomo again claimed after a rally on Monday that he had felt the agenda would "sail through" the Legislature. However, he went on to insist that the influence of the Conservative Party, which threatened to revoke support for Republicans who worked with Cuomo after some had backed him on marriage equality and gun regulations, prevented further bipartisanship.
"You know what happened," Cuomo explained, "They passed marriage equality, they passed gun safety. They experienced a backlash from the Conservative Party and the backlash from the Conservative Party had a chilling effect on the Republican majority in the Senate."
"If the Republicans are in charge," Cuomo continued, "I certainly hope [things are different]. If the Democrats are in charge, we do not have to worry about it. But the Republicans, for the most part, do not represent ultra-conservative districts....So they're out of sync [if they oppose it]."
Cuomo appeared to be continuing his attacks on "fringe" third parties that he started during an appearance on The Brian Lehrer Show the week before. "It's almost amazing when you think about it," Cuomo told Lehrer while discussing the importance of the Women's Equality Party. "We've formed every kind of fringe party for every kind of reason. We have Democrat, Republican, Green, Red, White, Blue, Working People, Working Short People, Working Tall People - we've never had a women's party. This is the home of Seneca Falls! Let the women make their voice heard. And that's what the women's party is about."
Despite his dismissal of the WFP and other third parties, Cuomo went to astonishing lengths capturing the Independence and WFP lines earlier in the year. In March Cuomo took the Independence line despite facing calls from Democrats to abandon it as it has been described as purely transactional. Cuomo responded to the controversy in March by telling reporters he would decide on whether to take the line "down the road." It was revealed, however, that Cuomo had already accepted the line that day. In discussions with Gotham Gazette, members of the Independence Party insisted that Cuomo's team had been pushing for the endorsement and seemed to have no qualms about it at the time.
Then in May, Cuomo went all out to win the endorsement of a conflicted Working Families Party. The state's progressive mainstay was fighting to keep its activist and union base together as members debated whether they should back Zephyr Teachout as a challenger to Cuomo or push Cuomo to agree to back progressive legislation and work for a Democratic State Senate. Backroom negotiations the weekend of the WFP convention played out until the last minute, with Cuomo capitulating to the WFP's demands and filming a video where he recited an agreed-upon agenda.
Insiders insist the effort was all part of Cuomo's push to win a landslide re-election to bolster his brand and national ambitions. But things changed. The WFP endorsement deal caused rifts with Cuomo's Republican allies; Teachout decided to challenge Cuomo in the Democratic primary regardless of the WFP decision, exposing friction between Cuomo and liberal Democrats; and Cuomo faced major scandal as it was revealed that U.S. Attorney Preet Bharara is investigating Cuomo's interference in his Moreland Commission.
After a bruising summer a number of insiders say that Cuomo's calculus changed. Knowing a landslide victory was a lost cause and seeing his national image damaged, Cuomo fell back to focusing on the pure power politics of governing the state and ensuring a strong re-election.
Members of the WFP kept quiet through election season despite deep-seated fears that Cuomo was bucking his promise to work for a Democratic Senate and only paying lip service to a policy platform that includes enacting the DREAM Act and allowing localities home rule to raise the minimum wage.
It was Cuomo, however, who fired the first shot by omitting the WFP from his campaign and pouring cash into his WEP. WFP members privately wondered at the time how Cuomo could hope to actually pass the Women's Equality Agenda without a Democratic Senate.
"If he really wanted to see the WEA pass he would have done more to get a Democratic-controlled Senate," said Karen Scharff, a WFP leader and head of Citizen Action/NY.
Scharff lamented that Cuomo refused to endorse in a Buffalo Senate race where the Republican-turned-Independent who Cuomo is friendly with had openly refused to vote for the WEA. "There is a difference between campaigning for something and actually getting it passed," said Scharff. The Democrat did go on to win that race.
The WFP began responding in late October to Cuomo's major WEP push, which included weekly Women's Equality Express bus trips around the state.
The WFP started sending blast emails to supporters from a variety of party members and supporters including Senator Kirsten Gillibrand, Gloria Steinam, Whoopi Goldberg, and Teachout's former campaign manager. The emails asked voters to hold their noses and vote for Cuomo on the WFP line so they would not lose ballot status and to show Cuomo that progressive issues matter.
There was also fear that disgruntled liberals may wind up voting Green.
Dan Levitan of BerlinRosen and former WFP spokesman wrote, "Vote Working Families Party tomorrow straight up and down the ballot. Cast a vote for progressive values and more importantly for progressive power. You might be considering other votes. But voting WFP helps do something productive for the long-term. Everything else is pretty much flushing your vote - and you only get one! ROW D."
Election night was a disaster for Scharff and her progressive allies in that all their hope for a Democratic Senate were erased. "What is the opposite of coattails?" Scharff asked Gotham Gazette hours after the polls closed. "The governor spent all this money on a fake party but not on carrying other Democrats. It really makes you wonder what agenda he really wanted."
WFP director Bill Lipton soon followed with an official statement: "Governor Cuomo promised to take back the State Senate. Instead, he squandered millions on a fake party, and left millions more in his campaign account as New York Democrats in the legislature and in Congress withered on the vine. But he couldn't sink WFP and we're not going anywhere, except back to Albany to fight for working families. Our party is needed now more than ever."
It is unclear how Cuomo will deliver on his major campaign promises without a Democratic Senate, or if he wants to now that he appears at war with the WFP. The day after the election, the WFP issued a statement insisting that Cuomo had not damaged its vote totals.
"Despite the decrease in turnout from 2010 to 2014 and widespread progressive displeasure with Gov. Cuomo, WFP's share of the vote for Gov. Cuomo remained almost exactly the same, while WFP's share of the vote for other statewide candidates like Comptroller DiNapoli ticked up."
***
by David King, Albany editor, Gotham Gazette
@DavidHowardKing