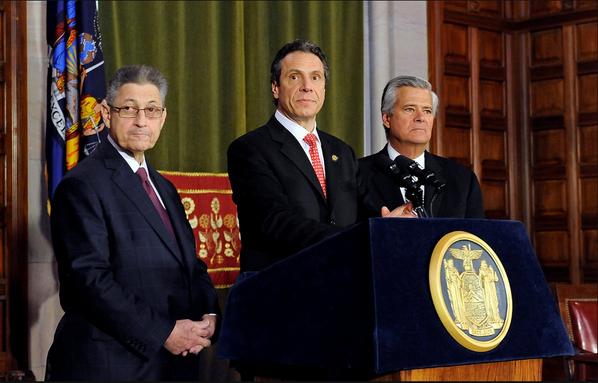 Can Silver, Cuomo, & Skelos make a campaign finance reform deal? (photo: @GannettAlbany)
---
"Band-Aids on multiple bullet wounds" is how Governor Andrew Cuomo described public financing of political campaigns just before Election Day this year, referring to the influx of millions in dark money or independent expenditures into state races.
Despite that characterization, in his election night victory speech Cuomo listed campaign finance reform among the top three things he would deliver during his second term. But that was before it was clear that everything had come tumbling down for Democrats in the State Senate, before it was clear that Senate Republicans, who have long opposed campaign finance reform - especially public financing of campaigns - had cemented their majority for the next two years, before it was clear that Cuomo's entire progressive agenda was in jeopardy.
That is, of course, if you take the governor at his word that he is truly behind campaign finance reform, including a meaningful public matching funds program. Even if he does believe in reform, it has been widely agreed upon that Cuomo does not mind the Senate outcome and it is unclear exactly what he really wants to accomplish during his next term. While the governor has expressed repeatedly that he believes in "public finance," as he likes to call it, he may already be backtracking by saying that the outside spending so dwarfs what is spent by candidates' campaigns that regulating the latter won't really do much to get the money out of politics.
Even when expressing support for reform, the governor has mentioned that public opinion polls show the majority of voters against public financing of campaigns. When asked in October about campaign finance reform's place on his agenda, Cuomo said, "I support it, we need a legislature that supports it, we don't have that now. If New Yorkers really care about public finance, what I've been urging them to do is elect legislators who support it."
For many, there is good reason to believe that campaign finance reform is a dead issue.
In the days following the election good government advocates began assessing their priorities for the next two years and some of them are following Cuomo's take on the impact of dark money in a post-Citizens United world, looking at the Republican Senate majority, and deciding that the issue of campaign finance reform is essentially a lost cause for the next two years. Others are taking Cuomo at his word and are ready for the uphill battle the next two years will likely bring.
"It was a difficult issue to get addressed even in 2014 when we had a more open State Senate than we will have in 2015," said Dick Dadey, executive director of Citizens Union. "There is a much tougher road ahead now that the chamber is controlled totally by Republicans, who are opposed to campaign finance reform. It depends largely on the governor's commitment and leadership as always. Advocates need to come up with a strong plan of attack."
One of those brave souls is Jessica Wisneski, legislative and campaigns director at Citizen Action of New York. Wisneski said she was heartened to hear Cuomo list campaign finance reform in his victory speech and thinks it is an important sign that when he is asked about the issue he now tends to refer to it as "public finance." "It indicates the governor agrees with us that public finance is the real solution for campaign finance reform," said Wisneski, who added: "If I take the governor at his word in his acceptance speech, campaign finance reform was one of the top three things he said he wanted to achieve this term."
Others in Albany take Cuomo's choice of phrasing as an indication that he is focused on the Republican argument that taxpayers do not want to foot the bill for public elections. Again Wisneski says that if you take Cuomo at his word those concerns should not be an issue. She points to the state budget deal reached last spring that contained a public financing pilot program for the state comptroller's race. Good government groups and Comptroller Tom DiNapoli himself rejected the system as a ramshackle red herring that was doomed to fail. And yet Wisneski says Cuomo repeatedly told her and other good government representatives that by having Republicans sign off on the pilot, which was supported by unclaimed funds, Republicans were effectively signing away their concerns. "Senate Republicans took "taxpayers footing the bill" out of the equation with the pilot program," said Wisneski. "The governor said that to us multiple times."
Dadey is skeptical of that argument: "I think that was their strategy to wiggle out of the bigger issue. That the creation of a pilot program that was doomed to fail whether or not it was using uncollected funds has somehow led Senate Republicans to find religion on this issue is hard for me to believe."
Wisneski insists that voters are more keyed into the issue this year because of how much dark money flowed into local Senate races. "People are appalled," said Wisneski, citing the political mailers, TV spots, and robocalls that inundated battleground districts. She says that advocates on other issues are also keyed in to how much of a role special interest cash played in the elections and they plan to track the issue in the coming session, which begins in January.
In April a judge rejected the State's $150,00 individual donation limit to super PACS, which allowed the groups to have an even larger impact on state elections this year.
Outside groups poured over $13 million into hotly contested State Senate races.. One of the biggest spenders was the real estate industry that was spooked by Mayor Bill de Blasio's efforts to win the Senate for Democrats and his promise to return control over rent regulations to the City. The state's rent control laws are set to expire in 2016 and tenant advocates fear the real estate industry has purchased its support in Albany.
The largest independent expenditures this year came from close Cuomo allies in the charter school sector. New Yorkers For a Balanced Albany, which is backed by major charter school investors, spent over $3 million on Senate races and got the outcome they were looking for, partly aided, many say, by the governor's lack of effort behind Democratic candidates.
"I think New Yorkers will see outside money driving the 2015 agenda," said Wisneski. "From privatizing schools to real estate we see these groups bought a Republican Senate. We will be taking every opportunity this session to point that out."
Supporters of New York City's public financing program say that not all is lost because of independent expenditures, in fact they say they are making major progress toward perfecting their system. The City recently passed a law requiring that groups involved in independent expenditures disclose their top donors. Meanwhile, the Campaign Finance Board has made it easier for small donors to contribute over the Internet and through text message donations. Many hold up the city system as a model for the state.
Dadey said that advocates and legislators need to examine the environment dark money has created in Albany and come up with a comprehensive solution. "Public financing of campaigns was a slam dunk fix five years ago," said Dadey "Now with giant [independent] expenditures we need to assess how public financing will have a meaningful impact on a system that is flooded with outside money. I wish it were otherwise, but the growth of dark money has led to that change."
***
by David King, Albany editor, Gotham Gazette
@DavidHowardKing
Note: Gotham Gazette is an independent publication of Citizens Union Foundation, sister organization of Citizens Union