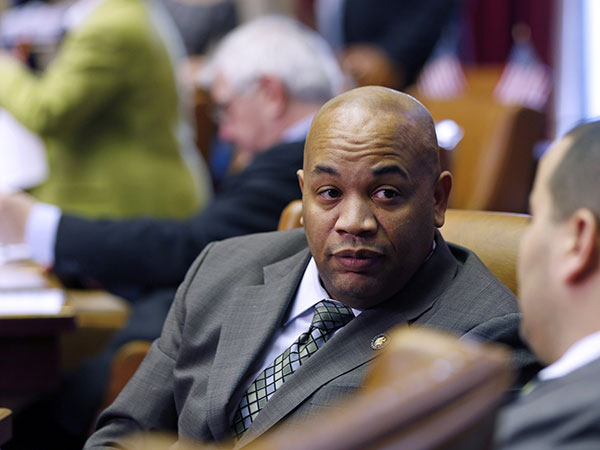 Assembly Member Carl Heastie (photo: AP/Mike Groll)
---
Examples from Assembly Speaker Front-Runner's Campaign Filings Underscore Views on Donor Influence
On July 7, 2011, Assembly Member Carl Heastie saw a staggering influx of campaign donations from pharmacies and drugs stores across New York City. Two hundred dollar donations flew in from Liberty Avenue Pharmacy in Brooklyn, Melrose Pharmacy on Courtland Avenue in the Bronx, Hana Pharmacy on Union Street in Flushing.
When all was said and done, the "Friends of Carl Heastie" campaign account had tallied a one-day total of $10,200 from 32 drug stores in what appears to have been a coordinated show of appreciation. What had Heastie done to deserve this flurry of pharmaceutical enthusiasm? Earlier in 2011 Heastie introduced and helped pass a piece of legislation that made the industry very happy.
Assembly Bill A05502B made it illegal for health insurance companies to mandate the insured use mail order pharmacies or charge the insured copays if they filled their prescriptions at local pharmacies. Insurers insisted that using mail order pharmacies would save them and consumers a substantial amount of money. Brick and mortar pharmacies worried they would lose significant business.
Heastie's bill wasn't particularly out of the ordinary except for the fact that despite being in the Legislature since 2000, Heastie has not been a particularly productive law-maker. He hasn't sponsored many bills, and has not had great attendance: he missed 174 votes - or about 15 percent - last year according to the New York Public Interest Research Group. Heastie is, of course, on the verge of becoming the new Speaker of the Assembly and thus of particular interest at this time.
Heastie has been especially tight with the pharmacy lobby despite not having any particular background in the field. The Pharmacy PAC of NY donated to Heastie four times in 2011 totalling $4,100. Since 2010, Pharmacy PAC has donated $9,000 to Heastie, including donations as recently as 2014, according to a review of campaign finance filings by Gotham Gazette. These numbers do not include the individual pharmacy donations from July, 2011 or on other dates throughout the years.
These workings are by no means atypical for Albany - an industry oftens finds a legislator who is willing to introduce their pet bills and continually rewards that legislator. The pattern is not necessarily illegal, though it may depend on communications between donors and lawmakers. But, it speaks to how Albany operates.
Now, as Heastie is set to take the Assembly speaker reigns from the disgraced Sheldon Silver, who was arrested on federal corruption charges in January, good government groups and some legislators are calling for major reforms to the system. Heastie has made promises to usher in reforms to how the Assembly runs, but not necessarily to how Albany's finances swirl. He has also made a pledge to make zero outside income if elected speaker - it was Silver using his position to rake in many millions that is at the root of his charges.
Reform advocates and sources connected to the now-defunct Moreland Commission on corruption in Albany point to Heastie as an example of how the state's current campaign finance system allows legislators to enrich themselves without doing anything illegal. U.S. Attorney Preet Bharara's office has picked up on Moreland's investigations, though, which is in part what led to Silver's arrest.
City and State NY reported that Heastie was a target of the Moreland Commission because he racked up nonspecified charges on his campaign's credit card to the tune of $25,000. In a more recent report from Capital New York, this number appears to be about $60,000. Heastie also used his account for quite a few car repairs and to pay hundreds of dollars in parking tickets - the latter is not allowed by campaign finance rules. "All campaign expenditures were properly itemized and were within Board of Elections guidelines," Heastie's spokesperson, Eric Soufer, told The New York Times last week. On the parking tickets issue, Soufer said that "It was the committee's understanding that this was an allowable expense under existing law. However, if that is not the case, we will address the issue."
The state's lax campaign finance laws don't require legislators to disclose specifics of campaign spending of under $50. But Heastie's campaign spending is curious to some because he is known to be a "number cruncher" and graduated from college with a degree in mathematics and statistics. "This is a guy who is supposed the know the value of a clean ledger," said one legislator with concerns about Heastie who spoke on the condition of anonymity.
Heastie's fundraising and use of campaign accounts is even more interesting when his views on campaign finance reform and the influence of money on politicians are taken into account.
In an interview with BronxTalk in September 2013 the notoriously press-adverse Heastie was asked about whether it was fair that candidates he was backing as chair of the Bronx County Democratic Committee had major financial support from PACs against candidates with meager means. "I guess that's a better question to ask the Supreme Court 'cause they're ones that ruled we can have these independent expenditure. It's difficult to say that people that want to express an opinion in an election should not be heard," Heastie told host Gary Axelbank, seemingly supporting the Supreme Court's Citizens United decision that found campaign spending by corporations to be protected free speech.
Axelbank then inquired whether Heastie believes campaign donations make politicians bend to donors. "No, that's another one of problems I have," Heastie replied. "The press seems to do - and people running against elected officials say - they believe that because someone supports you or contributes to your campaign someone owns you or you've taken a bribe. I've received contributions from someone I disagreed with. Gotta start looking at individuals."
An astonished Axelbank replied, "Certainly money to campaigns buys influence. Who could deny it?"
To which Heastie replied "I'm never gonna admit to that."
Heastie isn't just in charge of his own campaign coffers, as head of the Bronx County Democratic Committee he also manages hefty donations that are then spread out to help County-endorsed candidates (Heastie has said that if elected speaker he will step down from this post).
In January of 2013 Heastie introduced legislation that would have allowed the check-cashing industry in the state to offer pay-day loans - which are banned in New York. The bill would have enabled check-cashing stores to offer short-term loans with up to 200 percent interest. The proposal was vehemently opposed by Mayor Michael Bloomberg and eventually killed by the Cuomo administration.
Opponents insisted the bill would have allowed taking advantage of the working poor, especially in districts like Heastie's in the Bronx.
Heastie received two donations totalling $1,500 in April and March of 2013 from Check PAC, the lobbying group representing check-cashing stores The County Committee received $5,000 from the group in July 2013. Both Heastie and the County Committee received other donations from the industry. Heastie's ally, Bronx Sen. Jeff Klein, who introduced an earlier version of the bill in the Senate, took in $50,000 from check-cashing donors from 2008 to 2013.
Axelbank asked Heastie about the controversy over the check cashing legislation in the September 2013 interview. Heastie insisted he had not been influenced by donations and said it was important to see that the industry gave money to legislators who did not support their legislation.
"They sponsored the county dinner which solded about 400,000 worth of other people," Heastie said. "That contribution was made to the county dinner, they did not contribute money to my personal campaign. If you look at newspaper reports it looked like they gave money to me," Heastie added, indicating some of the cause behind his distrust of the media.
Axelbank followed up asking Heastie: "Why didnt you oppose that bill?"
"I have an MBA in finance," said Heastie. "APR [Annual Percentage Rate] is not a fair measure of short term lending." Heastie insisted that the bill was an attempt to protect constituents who are "going online and getting taken advantage of by people in other states. You can't stop people going online," he said. Heastie added that the bill would have essentially regulated the pay-day loan industry in New York and helped consumers.
Ben Lawsky, Cuomo's Financial Services Superintendent, certainly did not agree with Heastie's rationale and said the bill would "roll back longstanding and effective consumer protections."
One issue worth watching should Heastie assume the speaker mantle is the legalization of mixed martial arts or "ultimate fighting" in the state. Silver was thought to be the one impediment to regulating the sport, which is banned, thanks to his ties to certain labor interests. Heastie has indicated he would be open to considering allowing the sport that some call "barbaric." Zuffa LLC, the company that owns The Ultimate Fighting Championship, has donated a total of $4,000 to Heastie and $5,000 to the Bronx Democratic Committee since 2012.
Other notable large donors to Heastie, since 2011, include the New Yorkers For Affordable Housing at $7,000, the Vote Cope PAC that represents teachers unions at $14,150, Law PAC of New York at $10,900, and former Mayor Michael Bloomberg at $4,100.
Bloomberg gave Heastie a lump sum of $4,100 on July 12, 2011. Heastie had carried Bloomberg's outer borough taxi bill in the Assembly.
Good government groups have heated up the push for major reforms to state ethics and the campaign finance system in the wake of Silver's arrest but it isn't clear if it actually behooves Heastie to deliver on it. He is set to meet with a group of reform-minded Assembly members.
"This system works for Carl. He is of this system," said one Assembly member from New York City who is concerned about Heastie's quick ascent to the speakership. "Why would he be interested in reforming it?"
***
by David King; with some data analysis by Jon Reznick performed using FTMSQL2 by Competitive Advantage Research, LLC
@DavidHowardKing