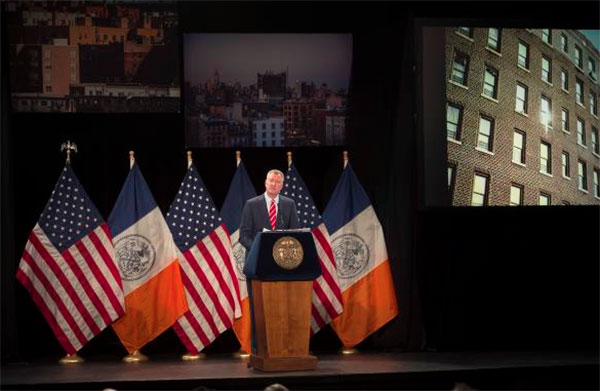 Mayor de Blasio delivering his State of the City (Mayor's Office via Twitter)
---
NEW YORK—In 2010, the United States Interagency Council on Homelessness issued the nation's first comprehensive plan to address homelessness among the nation's military veterans. The plan called for ending veteran homelessness by the end of 2015.
During his first year in office New York City Mayor Bill de Blasio, like his predecessor Michael Bloomberg, signed on to the pledge. He has just under a year to complete what is a formidable task, yet it is exactly what he promised to do on Tuesday.
There are currently 1,000 homeless veterans in New York City, according to the City Department of Homeless Services (DHS). Of those, 712 are in DHS shelters, 264 are in federal VA-funded housing, and 29 are living on the streets.
De Blasio included the issue of veteran homelessness in his State of the City address, which focused almost solely on addressing the city's affordable housing crisis. The mayor called the issue of veteran homelessness a "moral indictment," and noted his administration would continue working with the Obama administration on solving the problem.
"We will end chronic homelessness among veterans this year in New York City," de Blasio said during his first major speech of the year, given Tuesday at Baruch College in Manhattan. "Those who fight abroad to protect our freedom should never be left without a home here in the country they defended. It makes no sense, and we won't let it happen."
The City will create a housing plan for every military veteran in the shelter system by the end of February, according to details provided by the mayor's press office. Support will be provided to any veteran who has served in the military, regardless of discharge status. If a veteran does not qualify for services under the State or Federal definition, the Mayor's Office of Veteran Affairs will find public or private sources.
The City will push veterans through the new LINC rental subsidy program to find permanent housing and veterans will be given preference for existing supportive housing. These efforts are on top of the veteran preferences which already exist in subsidized and public housing.
The City will also continue the multi-agency coordination that has proved largely successful thus far. In November of last year, New York City was given an award for reducing veteran homelessness by 64 percent (a total of 3,032 veterans) since 2011, according to HUD's 2013 Annual Homelessness Assessment Report.
The collaboration, including weekly conference calls to address specific veterans needing shelter, has made a huge difference in combating veteran homelessness, but ensuring proper funding has been the key, according to advocates.
"There is an unprecedented level of resources available to prevent veterans from becoming homeless and also to rapidly re-house them when they do," Tori Lyon, executive director of Jericho Project, said by phone Monday. "The resources available actually match the size of the need. That is the only way you can end any kind of homelessness."
Jericho Project currently operates two supportive housing residences for veterans which housed 143 veterans in 2014 and another development is slated to open in 2016 in the Bronx.
This fiscal year the VA awarded $22.66 million to fund seven non-profit social service organizations in New York for the Supportive Services for Veteran Families (SSVF) programs, according to testimony from DHS at a November City Council hearing. Gotham Gazette asked the mayor's press office for clarity on how much total funding was received this fiscal year, however, emails were not returned by press time.
"We applaud the administration for their commitment to veterans and to alleviating the homelessness crisis. And, we commit to being a partner in the effort to help veterans renew their lives," Mitchell Netburn, president and CEO of Project Renewal said by email Tuesday. "We, like the administration, believe that no one should be without a home -- especially the men and women who have so selflessly served our country."
***
by Kristen Meriwether, Gotham Gazette
@MeriwetherK