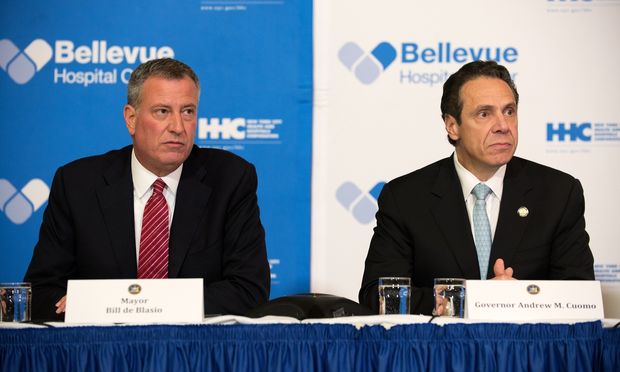 Mayor and Governor (photo: Bryan Thomas/Getty)
---
During his 2016 preliminary budget presentation, Mayor Bill de Blasio moved from his usual stance of appeasement when it comes to his up-and-down relationship with Gov. Andrew Cuomo and called out the State on funding the MTA and education, though he did not mention the governor by name.
The two like to say they are close, longtime friends; though if you watch carefully you might ask if a friendship means one party consistently insists on bullying, one-upping, and overruling the other. Despite being publically tormented by Cuomo, de Blasio has remained calm and subordinate when talking about the City's relationship with the State - an approach that appears to be mostly working to the benefit of de Blasio's agenda and is about all the mayor can do given that he is largely at the mercy of the more powerful governor.
But, de Blasio could, of course, take a more combative stance and his style may be changing at least ever-so slightly. With a trip to Albany for a public budget hearing upcoming on Wednesday, Feb. 25, we'll soon see what tack the mayor takes in his second run through the Albany gauntlet.
Competition and bad feelings between New York's governor and New York City's mayor have been the rule for much of modern history, but the relationship between Cuomo and de Blasio has brought an entirely new dynamic of rivalry as the two concoct and perform an often mysterious blend of closeness and distance.
In the second year of this new phase of their relationship that began with de Blasio's election as mayor, the pair are set to do battle on a number of policy issues, including education, the minimum wage, and affordable housing.
At de Blasio's upcoming testimony at a state Legislature joint budget hearing, some observers say they expect the mayor to firmly outline his differences with the governor - much more decisively and publicly than he has before. Last year, de Blasio went to Albany and almost exclusively talked up the city's need for pre-kindergarten funding. This year, the discussion is likely to be much wider ranging. Already, the cracks between the pair's policy agendas have started to show.
Confidants to each man insist they have been close friends dating back to when de Blasio worked under Cuomo at the Department of Housing and Urban Development (HUD) in the 1990s, and later on Hillary Clinton's 2000 Senate campaign. And yet, last year when Democrats were celebrating de Blasio's win and hoping the pair would work together on progressive issues, Cuomo's staffers were downplaying de Blasio's election and insisting the Mayor of New York City has traditionally had an "outsize" role in policy discussion.
Then came actual policy clashes: Cuomo big-brothered de Blasio on charter schools, forcing the city to provide charter schools with rent-free school space; the governor tried to coopt de Blasio's universal pre-kindergarten plan, denying the tax increase de Blasio pushed for and instead funding pre-K around the state; when de Blasio urged calm during the Ebola scare, Cuomo went the opposite direction, partnering with New Jersey Gov. Chris Christie to announce a mandatory quarantine for travelers arriving from Africa who may have had contact with Ebola-infected patients.
Most recently, Cuomo went over de Blasio's head during the late-January blizzard that mostly missed the city by shutting down subway and bus service. The Cuomo administration reportedly only gave de Blasio 15 to 30 minutes warning.
De Blasio has typically remained full of praise for Cuomo, avoiding admitting publicly to any real disagreements. The mayor kept his poise after Cuomo's last two State of the State addresses, downplaying to the press the fact that some of Cuomo's positions seemed directly at odds with what de Blasio wanted for the city. Cuomo has not done the same for de Blasio. This year Cuomo's office quickly issued releases attacking the mayor's plans on the minimum wage and affordable housing as outlined in de Blasio's State of the City. In his speech, de Blasio did call for a more progressive increase to the wage than Cuomo's newly minted plan had included, attempting to pass the governor on the left as he himself was accelerating.
The minimum wage - proper rates and control over New York City's - is a key point of policy disagreement among several that are likely to take center stage in the pair's 2015 struggle for power. We look at the top five heading into the intense months of budget negotiations ahead:
Minimum Wage
Last spring, in a deal for its endorsement, Cuomo promised the Working Families Party that he would support raising the state's minimum wage to $10.10 in 2015 and allow the city to raise its minimum wage up to 30 percent higher. The Governor appeared to break that promise in January.
In the lead up to his State of the State, the governor instead proposed raising the state's minimum wage to $10.50 and the city's to $11.50 at the end of 2016.
De Blasio countered in his State of the City by proposing a $13 minimum wage for the city with indexing for inflation that would increase the wage to $15 by 2019. "The current minimum wage proposal simply doesn't do enough to help New York City," de Blasio said without naming the governor. "That's why we will fight to raise New York City's minimum wage to more than $13 per hour next year."
Cuomo's office issued a statement calling the proposal a "non-starter" with the Legislature, implying that while he may be in favor of bigger numbers, the Republican-controlled State Senate would never go for it.
In her State of the City, given on Feb. 11, New York City Council Speaker (and close ally of de Blasio) Melissa Mark-Viverito promised to go to Albany to fight for home rule on the minimum wage.
Affordable Housing
De Blasio focused almost exclusively on the creation of more affordable housing in his second State of the City, given on Feb. 3. One key to the plan is the redevelopment of Sunnyside Yards, in Queens, where he wants to build over 11,000 units of affordable housing.
Cuomo's office quickly tried to put the kibosh on that idea, saying in a statement: "The M.T.A. uses Sunnyside Yards as an important facility for our transportation system, and it is not available for any other use in the near term. The State and the M.T.A. are studying several potential future uses of the site from a long term planning perspective."
De Blasio has remained steadfast on the idea. He told WNYC's Brian Lehrer that he felt a deal with the state is possible.
"If they have other things they think are a priority on that site, there's plenty of room on that site," de Blasio said the day after his speech. "Two hundred acres is an extraordinary amount of room."
Cuomo told NY1 that the state needs the land for a train yard and that developing over it would be a "very expensive form of construction."
Charter Schools
Cuomo announced in his wide-ranging education reform plan that he wants to increase the state's charter school cap. "The current charter cap is 460. There are 159 slots left. Only 24 available are left for charter schools in New York City," said Cuomo. "We want to add another 100 to the cap and allow the cap to be statewide and to eliminate any artificial limits on where charter schools can open."
De Blasio declined to detail most of his disagreements with Cuomo after the governor's speech, which he attended, but he acknowledged to reporters that the charter cap proposal was a disappointment. "I think the cap we have now is sufficient," he said about an hour after Cuomo spoke. "I want to certainly work with charter schools in New York City, but as I've said many times, the key to improving education in New York City and throughout the state is to do a much better job at traditional public school education. That's where my focus is first and foremost and that's where I think we need to keep our focus as a state if we're really going to turn the corner on education. So I think the cap we have now is sufficient."
De Blasio is likely to quietly aid teachers unions in their fight against Cuomo's plans to change the cap and to tie a new teacher evaluation system and other reforms to increased education funding. De Blasio and the unions will lean heavily on new Assembly Speaker Carl Heastie in these negotiations and those on other topics on which the governor and many New York City Democrats disagree.
MTA Funding
De Blasio was less shy in his evaluation of the State's funding for the MTA. While releasing his budget plan on Feb. 9, de Blasio faulted the State for not addressing the MTA's $15.2 capital shortfall. "The State has not put forward a plan to address that yet, nor has the State met its obligation in terms of some of the other infrastructure – roads and bridges – that are obviously aging," he said.
Cuomo has downplayed the deficit, and insisted that the $15.2 billion figure is just part and parcel of the MTA overstating its need to bring in more state funding.
Advocates insist both the City and State need to increase funding of the agency. Cuomo has a history of proposing budgets that take cash out of MTA's transit funding to pay off MTA bonds. Those bonds were originally taken out by the state with the promise that they would be paid for with state funds.
This year, Cuomo's budget would take $12.5 million from the MTA transit allotment and put it toward it's capital budget.
Advocates note that the city's contributions to the MTA capital budget have steeply declined over the last 25 years.
Education Funding
In another sign that the mayor is perhaps becoming a bit braver in his relationship with Cuomo, he questioned the State's commitment to education funding and brought up the Campaign for Fiscal Equity lawsuit that has been a rallying cry for Cuomo's opponents in public education.
"But even more distinct is the issue of the education funding, which under the Campaign for Fiscal Equity agreement, several years ago – there was a clear agreement that the State was going to fund New York City schools in an equitable manner, given our percentage of the state's school population, and the needs of this city," said de Blasio. "Other major cities in the state were going to benefit too. So, let's look at what happened in Fiscal '08 – this obligation was met. So there was an agreement struck, Governor Spitzer and the Legislature met the agreement, and then, as the economy worsened, there was a trend away from fulfilling the obligation under CFE."
De Blasio went on to say that the State has recovered from the recession and can afford to meet the obligations of the CFE lawsuit. "It's time to have a serious discussion, again, about the state's ongoing obligation to this city, and other cities around the state, in terms of the CFE agreement," he said.
Cuomo basically mocked the CFE in his budget presentation and insisted that the state's education system is hampered by failing teachers and greedy school boards. "The education industry's cry that more money will solve the problem is false. Money without reform only grows the bureaucracy," said Cuomo. "It does not improve performance. The state average per student is $8,000. The state average in a high-needs district is $12,000. A failing district like Buffalo, which has been a failing district for many, many years, the state spends $16,000 per student. So don't tell me that if we only had more money, it would change. We have been putting more money into this system every year for a decade and it hasn't changed."
However, Cuomo dangled a $1.1 billion boost in education spending if legislators agree to his education reform plan that includes revamping teacher tenure and evaluations, and raising the charter cap. We'll soon know how de Blasio and his closest allies are responding to the governor's offer.
***
by David King, Albany editor, Gotham Gazette
@DavidHowardKing