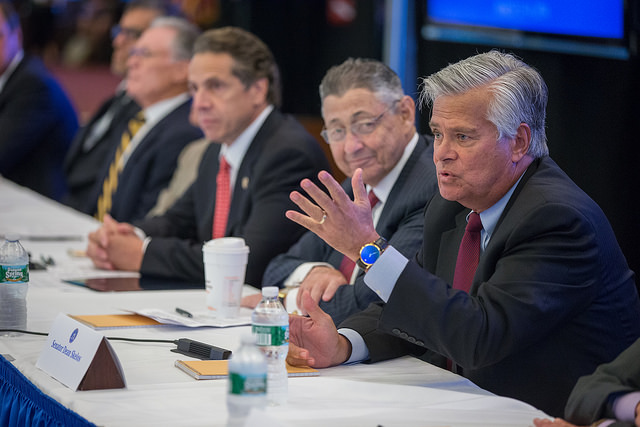 Republican Senate Majority Leader Dean Skelos (photo: Governor's Office via flickr)
---
The State Senate Elections Committee is expected to vote Monday whether to advance a bill that would close a controversial loophole in state election law that allows wealthy donors to pour unlimited cash into campaign coffers through the use of multiple limited liability corporations, or LLCs.
Sen. Daniel Squadron, a New York City Democrat and the bill's sponsor, has maneuvered the bill to a committee vote despite major opposition from the Republican majority conference. Monday's vote will come after reform groups and some legislators failed in an attempt to get the State Board of Elections to reverse its 1996 interpretation of state law that created the loophole. Senate Republicans have bristled at using the term "loophole" to describe the BOE interpretation.
"As the focus continues on this critical ethics reform, it will be disappointing if Monday's Elections Committee vote breaks down along the same partisan lines that the recent budget and Board of Elections votes did," said Squadron. "In light of the BOE's professed arguments, I'm hopeful that the Elections Committee will take a serious look at this issue to prevent unlimited sums of anonymous dollars from perverting our state government and the entire political process."
Assembly Member Brian Kavanagh, also a New York City Democrat, sponsors the same bill in the Assembly. Kavanagh told Gotham Gazette he believes his conference is also ready to move on the bill and that he thinks Senate Republicans should be too. "The Republican BOE chair said that he thought the Legislature was the appropriate place to address this. And I know he isn't the only one who believes that."
The LLC loophole has become a major flashpoint in the battle for campaign finance reform because other efforts at reform failed in this year's budget negotiations and a pilot public financing program for last year's comptroller race never got off the ground.
Advocates acknowledge that while having a committee vote on the issue is a victory in itself it isn't exactly likely that the bill passes the Senate given that Republicans currently enjoy a narrow majority that could fall apart at any time due to indictment, illness, or retirement. Their candidates are often bolstered by large donations from single individuals or industries that use the LLC loophole to their advantage.
Advocates admit that the vote may be the last gasp for campaign finance efforts this year. "I think the real chance for reform this year is on the LLC loophole because there is more clear agreement on that," said Rachael Fauss of good government group Citizens Union. "I think we will have to wait for another major push until the budget next year."
Kavanagh said he expects the LLC loophole to remain a major focus for the rest of the year with perhaps some room between the Senate Republicans and Assembly Democrats to negotiate further contribution disclosure rules, including, perhaps, requiring donors to list their employers. Conversation and movement during this year's budget negotiations mostly revolved around legislators' outside income.
The last two years have been a roller coaster ride for campaign finance reform advocates. Last March advocates were in a place they had never been before: Gov. Andrew Cuomo's budget proposal included a system for publicly funded campaigns and the Moreland Commission on Public Integrity was digging deep into just how weak and ineffective the state's Board of Electionss is at enforcing New York's already lax campaign finance rules. "It felt like we had so much momentum," said Barbara Bartoletti of the League of Women Voters, who also served as an advisor to the Moreland Commission.
Over a year later things have changed drastically: Cuomo abruptly killed Moreland in exchange for some limited campaign finance reforms, and despite massive scandals the Legislature has remained obstinant, refusing to make major reforms. If last March was the high of highs, this April has been the low of lows as campaign finance reform appears all but dead for the foreseeable future.
Reformers' best chance at change - having the BOE reinterpret its opinion regarding LLCs - failed and Senate Republicans stand even more steadfast against reform. It isn't surprising that the Legislature has failed to act on campaign finance reform despite the indictment of former Assembly Speaker Sheldon Silver and the investigation into Senate Majority Leader Dean Skelos because, as Barbara Bartoletti of the League of Women Voters told Gotham Gazette, nothing in Albany is surprising anymore.
"Scandal does not seem to deter the Legislature in its appetite to avoid dealing with the issue," said Bartoletti. In fact, Bartoletti said that scandal appears to have increased the Senate Republicans' affection for the current system. "The Senate Republicans hold such a tenuous grasp on the majority that they are loathe to change the system that gets them elected," said Bartoletti.
Republican Senators do tend to benefit more from the largesse of the real estate industry and corporations that use the LLC loophole to subvert the state's donation limits. Republicans counter that Democrats benefit from massive union donations.
"As soon as the so-called good government groups have anything to say about the unlimited money that unions pump into the coffers of Democrats or the dollars that Mayor de Blasio funnels to Upstate County Democrat Party Committees, we may start taking them seriously," Scott Reif, spokesman for Senate Republicans, said in a statement. "Until then, they should get a life."
Advocates don't put responsibility entirely on Senate Republicans. They look at the governor, saying Cuomo has failed to capitalize on major public outcry over scandal and not used his bully pulpit to push reform. They point to budget negotiations last year when most thought Cuomo was in a position thanks to Moreland and continuing pressure from the US Attorney to truly campaign for public financing of elections.
Instead Cuomo abruptly shuttered Moreland for what advocates call "meager" ethics tweaks and minimal campaign finance measures. The two measures - a pilot program for public financing exclusively in the 2014 comptroller's race and a new enforcement office in the BOE - have not delivered.
Incumbent Comptroller Thomas DiNapoli, an advocate of public financing of campaigns, declined to participate in the system because it was so hastily arranged and his Republican opponent failed to raise enough money to participate. The program, meant to perhaps initiate a much larger system, is now defunct.
Meanwhile, little has been heard from the BOE's enforcement unit headed by Cuomo appointee Risa Sugarman.
Moreland dedicated an entire hearing to attacking the BOE's paltry enforcement mechanisms. As part of the deal to kill the commission Cuomo and the Legislature installed Sugarman as the head of an office charged with finding violations of campaign finance law and bringing cases against violators.
Good government groups and election board members alike say that so far Sugarman's appointment has only caused a regression in the board's enforcement actions.
"The independent enforcement counsell is taking a very different approach to enforcement and has given much less focus to the routine enforcement work that was done before the independent office was created," Democratic Board Chair Douglas Kellerman told Gotham Gazette.
Kellerman says that Sugarman has failed to collect fines from those who were found delinquent before she took office in 2014 and has not issued notices to campaign committees that had not filed since the July filing deadline last year. As of January Sugarman had also not begun assembling a report on the biggest violators of campaign contribution limits the board has traditionally issued.
Sugarman did not respond to a request for an interview but she confirmed publically in board meetings with Kellerman that she had not sent the notices.
At a board meeting in January Sugarman argued she had found a number of bad addresses for previous filings. She also said she was waiting for hearing officers to be hired. Hearing officers were the Legislature's contribution to the enforcement unit and are seen by good government groups as an uncesscary hoop to jump through because cases against violators must also be presented in State Supreme Court. Other commissioners pushed Sugarman to act because such a large backlog had been created.
"I guess my overall concern is that there were certainly lots of problems with the old enforcement unit," Kellerman said to Sugarman at the January meeting, "but there were lots of things that were getting done with the old enforcement unit that I'm concerned have now gone by the wayside with the transition and I hate to see us have a step backwards as opposed to forward on this. The over-contribution report was one of those things."
BOE staffers and chairs have expressed frustration that Sugarman doesn't update them on her activities. She has stressed her independence and ability to work on investigations with complete secrecy but some BOE members think the office is directionless and is looking to land big cases at the cost of basic enforcement.
Advocates share a lot of those concerns. "It seems they are missing basic procedure, missing basic compliance that the board used to do such as filing reports and audits," said Fauss of Citizens Union. "It is unfortunate that the board is not in a better position. It is a shame that we don't even see enforcement of basic compliance."
Assembly Member Kavanagh said that he believes Sugarman's office has already accomplished a great deal: "We never had someone looking at filings beyond whether they were on time or not. Without that it is hard to see how real enforcement happens. Now we actually have someone scrutinizing them and I think that will have a great impact."
Bartoletti said she hopes to see increased action from the enforcement unit over the next few months, but is concerned that precious time has already been lost. "We will be watching closely for the rest of the calendar year. We may will be looking carefully at who they hire and how independent they are. I would hope they will be a fully-staffed, functioning enforcement unit by 2016 because without enforcement nobody cares what the laws are," Bartoletti told Gotham Gazette.
Dani Lever, a spokesperson for Cuomo, told Gotham Gazette: "The administration included additional funds in the budget last year to create and support the BOE enforcement unit. The unit is fully staffed and effectively operating at capacity."
Asked whether Cuomo plans to continue to push for campaign finance reform during the rest of session Lever said: "Yes, the Governor has been and remains committed to campaign finance reform."
Right now Bartoletti said she only has faith in one man to do campaign finance enforcement and it isn't technically his job. "The only one doing campaign finance enforcement at the moment is Preet Bharara," she said.
***
by David King, Albany editor, Gotham Gazette
@DavidHowardKing