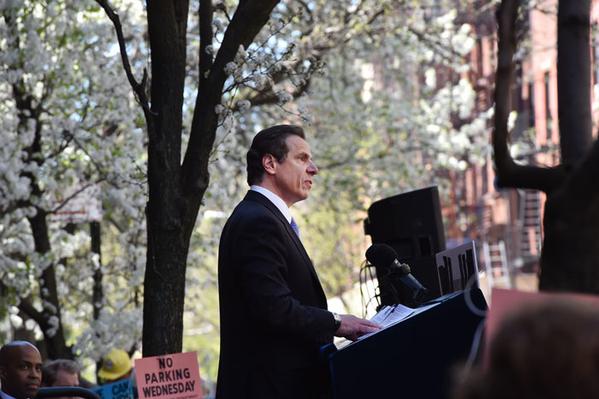 Gov. Cuomo (photo: @NYGovCuomo)
---
Last March Gov. Andrew Cuomo killed the Moreland Commission on Public Corruption in a deal with Assembly Speaker Sheldon Silver and Republican Majority Leader Dean Skelos. Now, a little more than a year later, both legislative leaders have been arrested and charged with multiple counts of federal corruption. Surrounded by scandal, it isn't immediately clear what the governor can or will do next. One thing that is sure, though, is that the worse Albany looks, the worse Cuomo looks.
After Silver's January arrest Cuomo gave a speech at NYU outlining grand ethics reform proposals like public financing of campaigns and enacting a full-time legislature. But when it came time to cut a budget deal, Cuomo again agreed to limited change in order to get an on-time spending plan. After Skelos' arrest this week, the governor has remained relatively quiet. With Albany in disarray and a national laughingstock, what can Cuomo do in a tough situation he has largely made for himself?
Reformers and political experts are torn about Cuomo's next move, especially after he's trumpeted many ethics adjustments as the end-all-be-all. Some say Cuomo needs to use the bully pulpit without fear of losing political capital, while others say Cuomo shouldn't say anything at all. On Wednesday Cuomo lamented the fact that if the charges against Skelos are true, it flies against the work he and others, including Skelos, have done trying to clean up the capital.
Zephyr Teachout, a Fordham Law professor whose speciality is corruption and 2014 primary opponent of Cuomo's, said that the Skelos indictment shows that none of Cuomo's smaller ethics initiatives have actually changed the climate of corruption in Albany. "Symbolic action won't cut it," said Teachout. "There is no bridge he can start to build right now, there is not one thing he can toss out there at this point."
Teachout added that "the thing that is so damning" about the complaint against Skelos is that the alleged corruption occurred since Cuomo's been in office, "not like the Silver indictment where things took place before Cuomo took office. So it shows us these incremental changes haven't paid off."
The Skelos complaint details how the majority leader asked Glenwood Management to steer title insurance business to his son. Skelos allegedly threatened to punish members of the real estate industry if they failed to comply with his demands and eventually a representative of Glenwood allegedly gave Skelos' son a $20,000 commission for doing no work. Glenwood steers millions of dollars into campaign accounts - including Cuomo's - of candidates running at all levels through the LLC loophole that allows them to subvert campaign finance limits.
"We've always suspected this is how things are done behind closed doors, but these complaints have really brought it into the light," said Dick Dadey, executive director of good govenrment organization Citizens Union. "Not just the influence of campaign donations but that some officials use their positions to extort," he added.
It was these kinds of relationships that the Moreland Commission was digging into when Cuomo's aides began interfering with it. And it was that kind of scrutiny that led legislative leaders to pressure Cuomo into ending the commission altogether, though it is unclear how much pressure they really had to apply.
Teachout said that Cuomo, who has taken in over $1 million from Glenwood, should go to great lengths to demonstrate he is not himself tied to the company in any quid-pro-quo arrangement.
"He should tell Glenwood their kind of business is not welcome in Albany, he should reveal his emails with Glenwood and [its head] Leonard Litwin and say enough is enough on the LLC loophole," said Teachout.
Bill Samuels, head of good government organization EffectiveNY, called on Cuomo to return all the donations from Glenwood. "I shouldn't have to call on the Governor to return this tainted money. If he were truly committed to ethics reform and cleaning up Albany, Cuomo would have immediately returned these funds to Glenwood Management and expressed outrage over this latest corruption scandal unfolding on his watch," Samuels said in a statement.
Cuomo told Capital New York at a press conference in Syracuse on Wednesday that he would not return the donations or refuse to accept more because Glenwood representatives had not been charged with wrongdoing. "If no one did anything wrong, then you can't just say, 'You have no right to participate in the political process,'" the governor said.
Dadey agrees that Cuomo should not have to return the contributions because they were made legally, but says that it would be, "Helpful to know what kind of interactions the administration had with Glenwood."
Karen Scharff, executive director of Citizen Action NY, said she feels Cuomo's attempts at ethics reform haven't paid off because he is so concerned about immediate political wins rather than the long-term good. Scharff said she'd like to see Cuomo take to the bully pulpit on public financing of elections even knowing that he won't win this year, but ready to take a loss and do it to build political momentum.
Teachout agrees. "If he actually believes in reform he has to show he is willing to take genuine political risk," she said. "He has to come out saying: 'Win or lose I am going to put capital on the line for this to get credibility."
Blair Horner, legislative director of the New York Public Interest Research Group, told Gotham Gazette that he has concerns that public financing of campaigns simply won't go anywhere because Senate Republicans are ideologically opposed. He and other good government advocates also worry that Cuomo no longer has any credibility on reform issues and that his proclamations on the subject have become white noise to the public and to legislators.
"The governor has eroded the bully pulpit," Horner said. "He has been delivering speeches but not real reform. In Albany, talk is cheap. He has shown that he prefers triage but that doesn't get you anywhere."
Dadey said that Cuomo must stay on the soap box to "connect the dots of corruption for the public."
"The governor must not allow this saga of scandal and corruption to prevent him from enacting real ethics reform," said Dadey. Good government groups like Citizens Union and NYPIRG, as well as reform-minded legislators and Attorney General Eric Schneiderman, have been calling for sweeping reforms aimed at truly cleaning up Albany's corruption problem. They say that the time for incrementalism is over.
Horner said that action is critical and he thinks the governor could find quick consensus with the Legislature on certain issues. Horner wants to see a new ethics watchdog where "the appointees aren't captives," a bill to restrict legislators' outside income, and legislation to end the LLC loophole. "The time for fake ethics reform has long past," said Horner.
Cuomo has remained relatively silent on Skelos' indictment. On Wednesday he said he will not call on Skelos to resign because, "I don't have the option of picking who they pick as their leaders. They pick a Senate leader, I will work with that leader," Cuomo said referring to state senators, especially the Republican majority.
Doug Muzzio, professor of political science at Baruch College, said he believes Cuomo is doing the best thing he can for himself by remaining mum on the scandals that have left Albany more dysfunctional than ever. "My initial inclination is he should keep quiet, stay far away from it, don't even comment," Muzzio told Gotham Gazette. Cuomo appears to be taking that tack, instead promoting on Wednesday that several private New York colleges have signed on to his campaign aimed at reducing sexual assault on campuses and penning an op-ed in the New York Times announcing his new move geared at raising the wages of fast-food workers.
What he'll do next on ethics reform is far from clear. Muzzio said Cuomo should avoid making any grand speeches on reform because everyone has heard it before. "I don't think Groundhog Day works because the press are gonna hang him for it. He should keep quiet while working toward a strategy of reform because this is going to pass."
***
by David King, Albany editor, Gotham Gazette
@DavidHowardKing