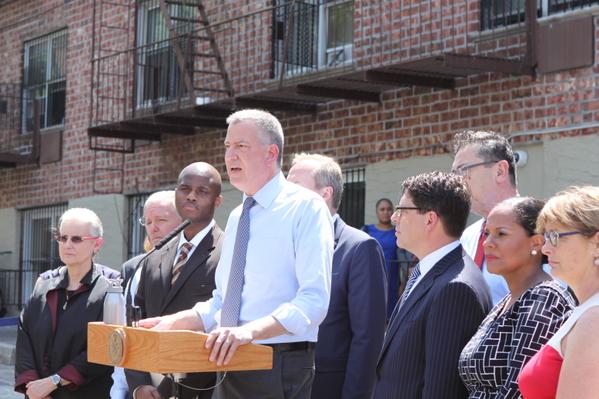 Mayor de Blasio, at podium, & DHS Commissioner Taylor, left (photo: @NYCDHS)
---
New York City is home to about 10 percent of the homeless population in the United States. By the end of 2014, the number of homeless in the city's shelters reached a historic high of nearly 60,000 that included 25,849 children. But since the start of this year, there has been an 11 percent decrease in homeless children. As of July 10, the figure stood at 22,864 homeless children according to city data (with 55,837 total homeless individuals).
Traditionally, though, when the school year ends there is a jump in the number of families applying to stay in homeless shelters. This year, New York City may have broken that trend.
While the number of single adults in the city's shelters is still increasing, there has been a slight but steady decrease in the number of homeless families. This reversal is giving hope to those advocating for the homeless that the summer spike in family homelessness may not be happening this year. They credit this to new programs under the administration of Mayor Bill de Blasio to help homeless families move out of shelters and into housing. The administration has also upped efforts to help at-risk families stay in their homes.
New programs are tailored to help homeless families whose situations are often different from those of homeless single adults. About one-third of homeless families have at least one working adult, according to Gabriela Sandoval, policy analyst at Coalition for the Homeless, a nonprofit group. "It's not that they don't have an income, it's that their income might not be enough to have an apartment," she says of these families. Eviction, domestic violence, and overcrowding of one apartment by multiple families have been identified as the main causes of family homelessness in New York City.
The last few years, the summertime increase in family homelessness has been significant. While the number of homeless families has been rising consistently for years, there is typically a sudden jump of about 500 or more families around the end of each school year, according to Sandoval.
There are several reasons for this surge. To avoid moving to a shelter during the school year, many families double up, that is, live with other families in cramped living conditions. When the school year ends, all the children from both families are home during the day. This increases stress on the host family, often to a point where they ask the other family to leave.
Going to a homeless shelter can mean disrupting or changing a child's school. Some parents who are trying to give stability to their children end up staying in normally unacceptable living conditions while waiting for the end of the school year. Landlords are also less hesitant to evict families with children in the summer than they are in the wintertime.
Families that enter the shelter system at the start of the summer do not necessarily leave once the summer ends, of course. For many, initial sheltering becomes long-term, with the average family stay in the shelter system at over 400 days.
"The kids are really the voiceless victims in the whole system," says Sandoval. Jeff Foreman, policy director of Care for the Homeless, agrees and describes the impact of homelessness on children as "phenomenal."
Last year, 1,800 babies were born in New York City's shelters. "Kids who are born in shelter can be in shelter long enough that they have those incredibly important developmental years—learn to walk and maybe talk—while they're growing up in a shelter," says Foreman. This is the case for Elizabeth, whose grandchildren are growing up in a shelter and who spoke with Gotham Gazette about her family's experience. Elizabeth came with her daughter and her children to a shelter three years ago, hoping that the stay would be temporary. "His first steps, he took in here," she says of her three-year-old grandson growing up at the shelter.
Shelter conditions affect parents and other caregivers, which in turn affects children in the family. Elizabeth and her daughter both regularly meet with a therapist to treat depression. Even though the family has an apartment in the shelter, they still have to deal with a curfew, restrictions on visitors, and water getting cut off for hours at a time. Last winter, Elizabeth and her family had no heat or hot water for three days. "There's nothing you can do," she says of the situation. "The stress is getting to me."
Studies show that homelessness also takes a toll on children's academic performance - it leads to more missed school days, and higher dropout and grade failure rates. Homelessness also leads to developmental delays, health problems, and higher rates of depression and other emotional problems. "It's a life-long impact if you're in a shelter long enough," says Foreman.
The summer spike in family homelessness has occurred consistently since at least 2005 when the administration of former Mayor Michael Bloomberg ended programs that gave homeless families priority access to public housing. The administration felt that this policy was an incentive for families to become homeless so that they could jump the line and get quick access to subsidized housing.
In the decade that followed, the number of homeless families in New York City increased from 8,722 to a high of 14,524 in January 2015. The situation worsened in 2011 when the administration, facing budget issues on the city and state levels, also ended its Advantage program, started in 2007, which was providing temporary rent subsidies to families. Once again, the administration felt it was incentivizing homelessness. "One theory is that some people have been coming into the homeless system, the shelter system, in order to qualify for a program that helps you move out of the homeless system," Mayor Michael Bloomberg said at the time.
The current commissioner of the Department of Homeless Services, Gilbert Taylor, does not share that view. "These are not single individuals who enter the shelter system by themselves. But rather these are mothers and fathers, these are aunts and uncles, these are grandparents, who are caretakers of the children who are in tow," he told Gotham Gazette. "And it matters. If you have a child, you really think about what's best for your child."
The current administration has introduced eight new programs to decrease homelessness. Many of these programs are targeted at helping families with children. In 2015, there appears to be something of a breakthrough, with a sustained decrease in the number of homeless families. "We've been hopeful for a very long time. It's just that this year, we're finally seeing...some changes in the right direction," says Sandoval.
At an affordable housing press conference on Monday, de Blasio discussed the state of homelessness in the city, saying, "Homelessness is not going up, thank God. The number of street homeless has gone down a little. We have a long way to go. The number of folks in a shelter has gone down about two or three thousand. We have much more work to do."
The CITYFEPS and Living in Communities, or LINC, programs provide eligible families with assistance in paying rent to move them out of the shelter system. CITYFEPS is a rent supplement program for families that are living in or at risk of entering shelters due to a recent eviction or foreclosure. LINC are rental assistance programs that are also intended to move families out of shelters. Three of the six versions of the LINC program are specifically for families. LINC I is for families with at least one working adult, LINC II is for families that have had multiple stays in shelters, and LINC III is for victims of domestic violence. "There's really evidence here of the start of the success of these programs," says Foreman.
The city is also financially supporting landlords who are often reluctant to rent to homeless families. This support includes providing incentives such as a signing bonus and security fund. The current administration has also restored priority access for homeless families to public housing. These policies led to over a thousand families making the transition from shelter to public housing in the last fiscal year.
In the past, the city often coped with the summer increase of homeless families by opening new shelters. But many of these emergency shelters lacked facilities, such as kitchens, needed for family living, like the Pan Am Hotel in Queens that was converted into a shelter last summer, and was widely criticized after bug and rat infestations were exposed.
This year, to check the summer increase in homeless families, DHS has stepped up efforts to prevent families from becoming homeless.
The recently passed fiscal year 2016 budget, which went into effect July 1, increases funding for homelessness prevention. This builds on last year's increase when the administration doubled Homebase, the homelessness prevention services that DHS provides through various nonprofit organizations. Homebase tries to keep families out of the shelter system by providing legal services, rent arrears and other grants, as well as mediation to help them stay in their homes. DHS boasts a 95 percent success rate for families it helped keep their homes last year through Homebase. The agency has also stepped up outreach efforts with an ad campaign targeting at-risk communities as well as a television ad encouraging families facing eviction to contact Homebase. Toward the end of the school year, DHS partnered with the Department of Education to reach out through schools to help families identified as at risk of losing their housing.
Through its programs, DHS is also trying to provide after-care services to avoid families returning to shelters when their subsidy ends, as happened at the end of Advantage. "We offer after-care services that help our clients connect to their communities in a way that will make their movement from shelter be long-standing and permanent," said Taylor. "Part of the after-care services for working families is really thinking about ways in which those employed can build wealth, can build income, and be prepared to afford and maintain their housing at the end of the subsidy period, which is up to five years."
These after-care services are targeted to the particular need of the population of each program and include help with maintaining employment and building income, providing access to vocational training, and aid in safely maintaining housing. "I would like to hope that it is a sustainable decrease, that the number of families that are leaving are leaving permanently," says Sandoval.
The city's fiscal 2016 budget is seen positively by providers of homeless services. "There's a lot of big victories in there," Foreman says of this year's budget. He estimates that there is theoretically enough funding to provide housing vouchers for 800 households under the eight new programs. This could mean thousands of people moving out of shelters and into permanent housing. Another victory in the budget is more funds for DHS to hire housing specialists to help homeless individuals find and keep permanent homes.
Despite the beginnings of progress, as de Blasio said on Monday, a lot more needs to be done to combat the city's chronic homelessness problem. Advocates would like the five-year time limit on the LINC programs for families to be extendable on the basis of need to avoid a return to shelter after the subsidy expires. And, while this administration is allocating 750 NYCHA apartments annually to the homeless, advocates want the number increased to at least 2,500.
Advocates are also seeking over 30,000 new supportive housing units in the city through New York/New York. These are affordable units, jointly funded by the city and the state, with targeted support services within the building for tenants with particular needs such mental illness, substance abuse, or having exited the foster system or incarceration. In New York City, many of the people in supportive housing have come through the shelter system.
On Friday, July 10, New York State Assembly Social Services Chair Andrew Hevesi released a letter to Governor Andrew Cuomo calling for 35,000 new supportive housing units. The letter, signed by a bipartisan group of 133 Assembly members, specifically asked for 10,150 units for families. "There's definitely more that the city should be doing," says Sandoval, "and the state should be doing."
For now, the city is processing summer shelter applications from homeless families. While a summertime increase is expected, the numbers may finally be smaller this year. For those who do come to the city's Bronx family intake center to apply for shelter, DHS will also be providing resources to help them stay in their homes in the chance that it is still possible. What will not be known until later in the year is if the summertime surge, even a smaller one than usual, will be offset by the number of families moving out of shelters.
"You don't turn a ship in a day," said Foreman, before adding, "it is beginning to work."
***
by Zehra Rehman, Gotham Gazette
@GothamGazette