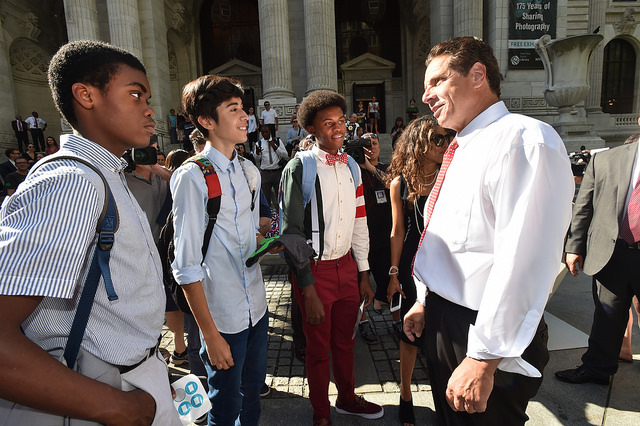 Gov. Cuomo chats with students (photo: Kevin P. Coughlin, Governor's Office)
---
On Monday, Governor Andrew Cuomo announced the launch of a "Common Core Task Force – a diverse and highly-qualified group of education officials, teachers, parents, and state representatives from across New York." Absent from the list of task force members is a current student in New York schools.
To be sure, there are parents and teachers of New York students on the committee, as well as high-level officials, such as State Education Commissioner MaryEllen Elia, trusted to represent a wide range of views, including those of the young people attending the state's public schools, where the common core standards are being implemented and tested. But, as is often the case when education policy is being made, students are left without a formal seat at the table.
Nor are students mentioned as key sources of feedback for the task force, which is charged with performing a "comprehensive review" of the common core and related education policy. In the video message explaining the committee, Gov. Cuomo says, "I have asked the task force to make the entire process as transparent as possible. It must communicate with parents, teachers, and educators all across the state." The written announcement says the governor "has directed the Task Force...to solicit and consider input from regional advisory councils comprised of parents, teachers and educators."
There is an open forum online where anyone can provide "comments and recommendations," part of the new Common Core Task Force website. At that website, the overview says that "parents and teachers should be able to have faith" in the state's learning standards, which must be "strong, sensible and fair." There is no mention of the confidence of the young people tasked with meeting the standards, whatever the adults decide they may be.
When asked about the omission of a student representative, a spokesperson for the governor, Dani Lever, wrote Gotham Gazette to say, "The task force will seek and consider input from all types of stakeholders including students."
The announcement of the task force launch includes a statement from Assembly Speaker Carl Heastie, who says that his Democratic majority "has heard the frustrations of parents and educators alike regarding the Common Core implementation in New York State." One can assume that Heastie sees "parents and educators" as able to convey the sentiments of the students.
But, comments from the speaker, the governor, and others indicate the common adult schema that education is something done to students, not with them. Heastie's press release statement goes on to say, "We remain confident that our public education system and our students will be best served by a collaborative effort of policy makers, parents and educators."
It is this paradigm that Zak Malamed has been working to change. Malamed is the founder and executive director of Students Voice, a non-profit "Inspiring and empowering students to take charge of their education." Malamed is from Great Neck, New York and is a senior at the University of Maryland. Student Voice is operating nationally, has robust online conversations, and recently launched a student bill of rights project.
Malamed, who said by phone Monday evening that he's lobbying the Cuomo administration to create a student advisory council system, had a mixed initial reaction to the lack of a student representative on the governor's new task force.
"My initial and impulsive reaction is, if this is really about the students, as Cuomo would say, you would think they would include students directly in this conversation, in this task force," Malamed said after looking around the task force website.
"Take a step back as an activist," he continued, "as students, we haven't done enough of the job to really push for that inclusion, we could always do more. Parents and teachers have organized quite well." But, Malamed said, "I don't think it should really rest on students' shoulders to have to force their way onto this type of task force."
Like Cuomo and many others, Malamed believes that the common core is strong in concept, but has seen a flawed implementation. He's quick to note, though, that he did not experience common core as a student.
Saying "it's frustrating" that there is no student seat on the task force, Malamed noted it would also be "tricky" to just select one student to participate. That's, in part, why he wants a representative advisory council system implemented, so that there is a mechanism for electing student members to these types of commissions.
Malamed added, though, that a couple of parents and teachers on the task force doesn't mean "they are totally representative either" - even a union head, he said, like the AFT's Randi Weingarten, who is on Cuomo's committee.
In his video message to parents, Cuomo puts students front-and-center, saying that his goal has been "to ensure that all students have access to high standards that prepare them for college and for the workforce, and that every child, in every zip code, has a quality education." The governor says the state must reduce student anxiety by scaling back on testing (about 20 percent of eligible students opted out of the most recent round of state tests).
Cuomo says he is eager for the task force to begin its work, and adds, "I urge parents and educators to participate in the process because this is about our children's future and their education to determine their ability to compete in the world of tomorrow."
Cuomo distills his message, saying, "the basic truth here is all of this is not about politics and not about Democrats and Republicans, it's not about the bureaucracy, and it's not about politicians or union officials. Education is about the kids."
Zak Malamed agrees: "to not include students at the end of the day is silly," he said. "It is perhaps the most important perspective."
***
by Ben Max, Gotham Gazette
@tweetBenMax