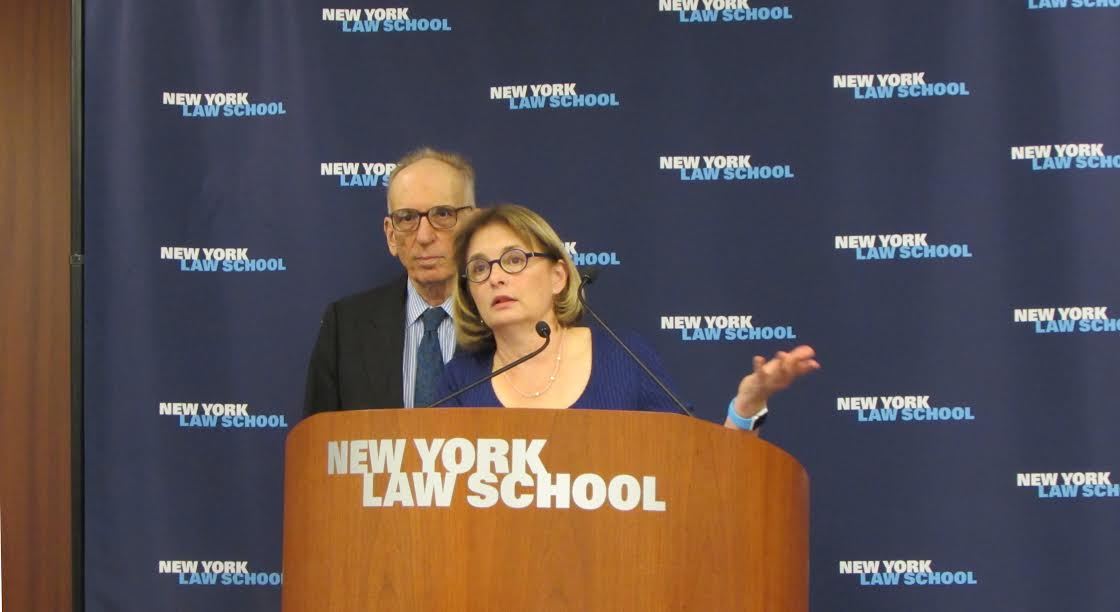 New York Law School's Ross Sandler & HPD's Vicki Been (Phoebe Rosen for NYLS)
---
Vicki Been, commissioner of the Department of Housing Preservation and Development, said that the city's affordable housing plan is on track and responded to critics on Friday, emphasizing that the plan is less about simply building units and more about "making neighborhoods better."
Speaking at a breakfast hosted by the CityLand publication of New York Law School, Been gave a balanced, thorough review of the concerns people have expressed about the city's rezoning plans, but said that the city, through HPD, is implementing policies that will prevent displacement and ensure existing residents are included as neighborhoods change.
Nearly two years into Mayor Bill de Blasio's term, his ten-year Housing New York plan to preserve or build 200,000 units of affordable housing is on target, Been declared, with the city having closed on more than 30,000 affordable homes. But two key elements of the plan, Mandatory Inclusionary Housing and Zoning for Quality and Affordability, have run into community opposition in recent months as the city begins the public review process that is likely to lead to their passage through the City Council, potentially with a few tweaks.
At a community meeting last month in East New York, Assembly Member Charles Barron and City Council Member Inez Barron urged residents to vote against a proposal to rezone the neighborhood, according to DNAinfo. The two said that while the new units built may be designated "affordable," they may not actually be affordable to existing residents. This concern, among several specific problems that critics point to with the plans, has been voiced in other neighborhoods as well. An extensive borough- and community-based review of the proposals is underway, with varying results thus far as local community boards vote in non-determinative polls.
Community boards have thus far had mixed responses to the proposed Mandatory Inclusionary Housing and Zoning for Quality and Affordability plans. While Brooklyn's CB6 approved the proposals this week, Brooklyn's CB3 and Queens' CB2 rejected the same proposals earlier this month. Residents in Brooklyn's CB3, which includes Bedford-Stuyvesant, said they were concerned about the plan allowing taller buildings to be built, changing the neighborhood's character, and eventually forcing them to move out of the area.
More borough- and community-based hearings are upcoming, including one being held by Manhattan Borough President Gale Brewer on Monday evening, and City Council hearings are not far off.
The Mandatory Inclusionary Housing plan would require 25 to 30 percent of new units built in a rezoned area to be "permanently affordable," while the Zoning for Quality and Affordability plan would change existing zoning laws to promote the construction of more affordable and higher quality buildings.
During an appearance on WNYC's The Brian Lehrer Show on Friday, Mayor de Blasio said his zoning plans are informed by what he saw as a lack of city regulation and planning in places like Williamsburg and Bedford-Stuyvesant.
Been said that all such plans are controversial because current residents fear they could be displaced - that gentrification is scary to many in and near neighborhoods that have been changing over the years. But Been also said the East New York plan, which aims to provide more than 3,000 units of affordable housing and improve transport and business corridors, was something the city should be doing more of. She also said that rezonings don't actually lead to more flight from neighborhoods by low-income tenants than is a typical amount of transience.
Speaking to Gotham Gazette after the event, Been said that while she would like the rezoning plans to be more widely accepted, "we would like to get it passed, and we're very optimistic."
She had a similarly optimistic response to a question from the audience about the future of the 421-a tax abatement, which will expire in December if it is not renewed given a deal between labor and real estate. "Life will go on," Been said to chuckles from the crowd. "There was life before 421-a, and there will be life if 421-a fails. We will survive and still deliver our 200,000 units."
Still, Been indicated she would like to see 421-a survive and that it, in a newly strengthened form, will be helpful in achieving the administration's goals.
Either way, the administration's rezoning plans are moving along. East New York is among the first neighborhoods the city plans to rezone, along with East Harlem and Flushing, among others. Some East Harlem tenants recently announced their own opposition to the plans. During her speech Friday, Been showed a presentation that included current photos of streets in East New York and future renderings that showed new, six-story apartment buildings with street-level retail space.
Been said that while change is inevitable when investments are made in a neighborhood, the city's approach will address concerns about displacement and gentrification while she also highlighted the positives that come with community development.
"If we're investing hundreds of millions of dollars in a neighborhood, we're doing it to make the neighborhood a bit better. We want it to be a more vibrant place…So as it gets better, it will become more desirable," Been said. While low-income people face a lot of housing insecurity across the board, she said that recent research shows that renters are not moving out of gentrifying neighborhoods at higher rates. Still, she acknowledged that "whatever the research shows, people fear displacement and they fear displacement for perfectly legitimate reasons."
Been pointed to a variety of policies included in the Housing New York plan that are aimed at preventing displacement. Most importantly, she said that the city will "double down" on efforts and take a data-driven approach to preserve existing affordable units. "We can't let any unit of housing that is already affordable become market rate," she said, noting that de Blasio's plan promises to preserve at least 120,000 homes that would otherwise become market rate.
Been also mentioned efforts in reaching out to owners of small buildings to preserve or establish affordability, providing legal assistance to protect tenants from harassment, changing vacancy decontrol laws, and establishing community preferences for distributing the new housing stock.
"We're really working hard to make sure that people in the neighborhoods and the lowest income people do get into the housing we're building," she said.
Been also noted that Housing New York plans include families earning as little as 30 percent of area median income (AMI)—or $15,000 for single households. "We are stretching our housing boat down and a little up, so that we provide economically diverse neighborhoods and do not concentrate poverty," she said. While some new buildings will be 100 percent affordable, many others will be mixed levels of affordability, with some units renting at market rate.
Providing housing for those earning below 30 percent of AMI would be too expensive using the same approach, Been said, noting that the city has historically relied on the federal Department of Housing Urban Development's Section 8 voucher program, funding for which has been cut in recent years. "That's why we're struggling so hard to provide housing below the 30 percent level," she said in response to a question from an audience member.
The affordable housing plan is "formed with the basic belief that we have to shape development instead of react to it," she said. "Too much of the discourse is about stopping development. You don't stop development in a city like New York…Let's shape it to serve the interests of the neighborhoods across the city."
***
by Christian Zhang, Gotham Gazette
@GothamGazette