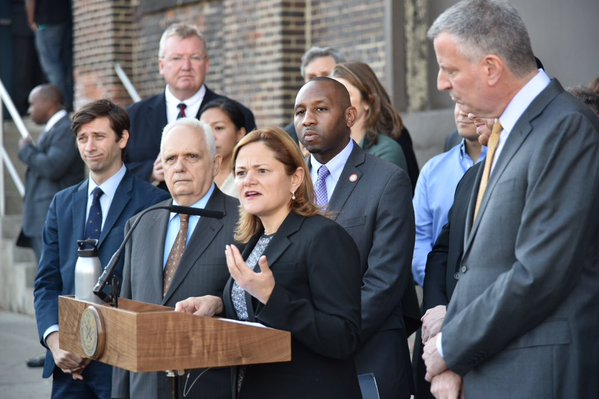 The Speaker & the Mayor (photo via the City Council)
---
Speaking at separate events over a two-day span, both Mayor Bill de Blasio and City Council Speaker Melissa Mark-Viverito acknowledged significant community pushback against the mayor's rezoning proposals and said that those plans will be tweaked before the Council votes on them.
On Monday, de Blasio was asked about the largely negative reaction across the city to the zoning proposals at the center of his affordable housing plans. Many community boards are voting against the two rezoning proposals, which call for changes to how space is used, including allowing more retail and housing density as part of new development with market-rate and affordable apartments.
Both the Bronx and Queens Borough Boards - made up of community board leaders, City Council members, and the borough president - have voted against them. The Brooklyn and Manhattan Borough Boards are expected to vote next week, while a Staten Island vote is not yet scheduled.
De Blasio said Monday that he is "resolute," adding that he is not surprised community boards have objections. "Those objections should be heard and we should think about them," de Blasio said, "and where we see the need to make certain modifications we will."
"But in the end," the mayor continued, "the community boards aren't the final decision makers. The mayor and the City Council make the decisions, in some cases, obviously, with the City Planning Commission. And that's where our process is set up, and that's how it's worked for years."
What de Blasio will need, of course, is City Council buy-in. As the mayor, top administration officials, and his city planning department consider feedback from local leaders and make "modifications" to the rezoning plans, they'll need to convince Council members representing the districts set to undergo the most change that they should vote in favor of the plans. These include representatives from communities like East New York, East Harlem, Flushing, and areas of the Bronx, among others initially targeted for the zoning changes and more housing.
The leader of the Council, Mark-Viverito, also happens to represent East Harlem and part of the Bronx. She abstained as the Bronx Borough Board voted against the mayor's plans and said she'll abstain when Manhattan votes on Monday, Nov. 30. While the community and borough board votes are non-binding advisory opinions, they are indicative of concerns throughout the city about de Blasio's plans. Those concerns include worries about rising prices and gentrification accompanying new development; that new housing won't be accompanied by new schools and transportation infrastructure; lack of parking; and more.
On Tuesday Mark-Viverito said that she is sure the plans will need to be changed in order to pass through the Council. Saying that Council members are listening to their constituents and that the plans will "obviously go back to City Planning," Mark-Viverito said, "The plan that has been presented originally, I can assure you, will not be stagnant and...will not be the plan that comes before us at the Council."
Some of the key changes that may be made based on community pushback include creating more flexibility within the proposals for how area median income (AMI) is determined - instead of using one set of figures for the whole city as the plans do now, AMIs would be set more by local geography so that apartments being labeled as "affordable" would truly be so for local residents, especially the lowest income earners. On the other hand, in some areas of the city, residents are looking for more units to be carved out for middle-income earners. There are also historical and neighborhood preservation concerns in some places.
Other possible tweaks relate to ensuring that affordable housing for seniors is made permanently so; that parking is protected; and that affordable units are required to be built among market-rate units, not off-site or even on separate floors.
"The land-use review process is extensive," Mark-Viverito said Tuesday. When it comes to the two rezoning proposals, Mandatory Inclusionary Housing and Zoning for Quality and Affordability, the speaker said, "We're at only the beginning stages of that debate and that conversation. So yes, community boards are taking a position, some borough boards have taken positions; but we're nowhere near engaging in that level of debate at the Council level."
She promised continued constituent engagement and figuring out how to "make additional improvement" to the plans. Calling some of the community concerns "legitimate," Mark-Viverito said "some communities want greater AMIs, some communities want lower AMIs. It's going to be a very, very heated conversation."
For his part, the mayor said "it's all part of a democratic process," and that the community boards "inform the process." He did remind, though, that community boards are indeed advisory and that the elected officials - who often disagree with community boards - make the final decisions.
"I'm listening. My whole team is listening to them," the mayor said Monday. "We're looking at if we think any of the points raised a need to make any changes." De Blasio and his team will continue to defend the plans, even if they're open to tweaks. They argue that the city desperately needs more housing, especially affordable units, which can only be built in most cases if new market-rate housing is also allowed. They also sell the plans as community development, highlighting new retail space that will created, and with it, employment and shopping opportunities.
"It does have an impact on our thinking," de Blasio said of community feedback. "It does help us figure out things we need to do better."
***
by Ben Max, Gotham Gazette
@TweetBenMax
@GothamGazette