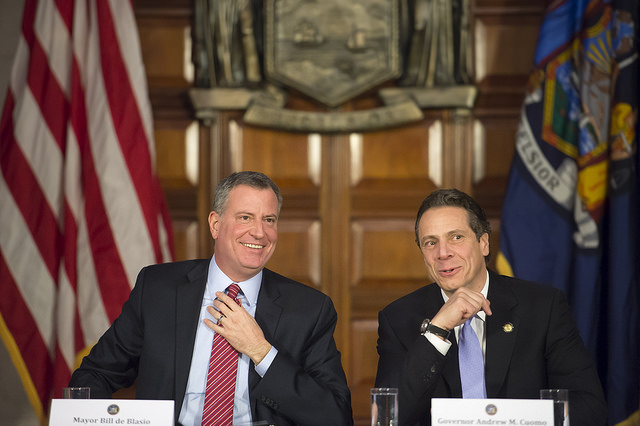 De Blasio & Cuomo in January, 2014 (photo: Rob Bennett, Mayor's Office)
---
The feud between Gov. Andrew Cuomo and Mayor Bill de Blasio escalated yet again last Friday when a spokesperson for the governor said that "the mayor can't manage the homeless crisis" and that the governor's State of the State address will feature the administration's intervention plans.
Finger-pointing continues from both sides, with Cuomo questioning de Blasio's competence and intelligence. This, after de Blasio called out Cuomo, though not by name, when making his own supportive housing announcement, signaling that negotiations on a joint city-state plan had stalled. Advocates and legislators heaped praise on the mayor and called on the governor to match his commitment to the homelessness-fighting program.
Cuomo, however, appears ready to go it alone himself, eyeing his January 6 speech, which will include an untold number of plans to outflank, undermine, and frustrate de Blasio. With nearly two years of evidence, at this point it appears to insiders in Albany and around the state that a significant part of Cuomo's policy making has become infused with his animus toward de Blasio and that it could be hurting the city.
As seen on a variety of issues from housing to policing to minimum wage, Ebola to Legionnaires' Disease, Cuomo has decided to deny the mayor's requests, co-opt an issue, or act unilaterally, while being sure to weaken de Blasio's standing.
"It's clear that the mayor can't manage the homeless crisis and the state does intend to step in with both management expertise and resources," a Cuomo spokesperson, Dani Lever, said Nov. 27. On Nov. 24, Cuomo told reporters about combatting homelessness, "To me, it's not just the money. It's more managing the city properly, efficiently, effectively, smartly, especially on this issue that causes so much pain to people."
De Blasio dismissed the criticism as "political posturing," but advocates and observers are having a hard time dismissing the latest developments in the feud. It appears now more than ever that Cuomo is deciding policy based on exacting a price from his former friend. Cuomo hasn't missed many opportunities to needle de Blasio, thwart his priorities, or use state resources to highlight the mayor's vulnerabilities.
"An outsider has got to look at this and say, 'What's with the governor?' You don't want to get into armchair psychoanalysis here, but I think you've got to get into armchair psychoanalysis," said Douglas Muzzio, professor of political science at Baruch. "And beyond that you have to ask: is this good for the city and state?"
What was once more clearly defined as policy disagreement over taxes and charter schools has morphed into something different. As the state legislative session wound down last spring, Cuomo appeared determined not to allow de Blasio any wins, even seeming to welcome only a one year extension of mayoral control of city schools - a major factor leading to de Blasio's June 30 tirade against the governor, which may have moved Cuomo to his current approach to the mayor.
"As the Mayor has said, we work with the Governor to ensure New York City's interests are protected. When they are in jeopardy, we communicate that to Albany and to city residents," de Blasio press secretary Karen Hinton told Gotham Gazette.
It appears clear that de Blasio is not particularly interested in mending fences. While he has resolved to refer more to "the state" or "Albany" than "the governor," de Blasio has shown he continues to feel disappointed with Cuomo and has not walked back his shockingly frank summer criticisms of the governor.
Some advocates fear Cuomo, offended beyond repair, is willing to throw out proven policy just to spite de Blasio, as in the case of supportive housing.
Cuomo teamed with charter school advocates against de Blasio, stood against de Blasio's plan for the 421-a real estate tax break, undermined the mayor's push for stronger housing laws, and, more recently, has threatened to cancel funding for bonds that would allow de Blasio to go forward with part of his affordable housing plan.
At other times Cuomo has sought to outflank de Blasio, or seize on perceived weaknesses. While de Blasio urged calm on Ebola and counseled that the threat was under control, Cuomo held a press conference with New Jersey Governor Chris Christie and announced they would quarantine travelers returning from West Africa.
Cuomo gave de Blasio short notice when he shuttered the subway for the first time in 111 years due to a January snowstorm. The governor criticized the mayor's response to a Legionnaires' Disease outbreak in the Bronx and sent in state officials; he inflamed tensions between de Blasio and the police union, seized on fears the city is getting less safe, and sent more state troopers to the city. The governor has taken ownership on minimum wage, something that could have easily been a joint effort.
"The governor hasn't missed any opportunity to kneecap the mayor and the only rational explanation is the Machiavellian one, that one has to kill off any potential rival," said Muzzio.
However, Muzzio and many other observers say that in most cases it isn't clear that the governor's focus on the mayor is doing any harm to the city. "It might help to have more troopers in the city. It might help for the governor to send assistance on Legionnaires'. His actions on Sunnyside Yards and charter schools could be both positive and negative. You'd have to tally the costs and benefits along a wide swath of issues," Muzzio said.
As the governor spent the summer and fall swinging back to the left, it became increasingly difficult to distinguish legitimate policy disagreements between Cuomo and de Blasio.
However, with the recent clash over supportive housing, there is now a growing unease with and distaste for how Cuomo is carrying out his political maneuvering against de Blasio. The grotesque impact the beef appears to be having on the governor's policy-making decisions is raising more and more eyebrows. Insiders say that the feud with de Blasio has even influenced recent Cuomo administration hiring decisions.
"We're really hoping they can both rise above it. We hope they are going to come together because this isn't about them, this is about the homeless," said Laura Masuch, executive director of The Supportive Housing Network of New York.
"The [hoped for New York/New York IV] agreement will last beyond these two gentlemen and it enables nonprofits and the private sector to keep doing it the same way they have for years. It would be a shame to walk away from years of commitment," said Masuch. "We are basically ready to go, there is construction just waiting on the agreement."
Assembly Member Andrew Hevesi, his chamber's chief proponent of supportive housing, echoed Masuch's concerns. "What we saw last week from the governor was spin," Hevesi told Gotham Gazette. "It was someone trying to avoid their commitment. The state has contributed to [New York/New York] for the last 20 years, every governor has been part of this including Mario Cuomo, and now it is Andrew's turn."
Hevesi said although he is used to strife between Cuomo and de Blasio this particular issue should not have been allowed to fall into the feud quagmire.
"There are 20,000 people who need help," said Hevesi of those eligible for supportive housing, adding, "Find something else to fight about."
For some insiders the current situation is reminiscent of former Gov. Eliot Spitzer's feud with then-Senate Majority Leader Joe Bruno. Spitzer was so enraged that Bruno stood in the way of his policy initiatives that he assigned state troopers to track Bruno's use of state airplanes and then used his press office to leak the findings. It led to the "Troopergate" scandal and an investigation by then-Attorney General Andrew Cuomo. Cuomo's office found that Spitzer had misused the state police for political purposes. Spitzer was roundly criticized for being so aggressive and vindictive that it actually prevented competent governing.
"We know the man has a streak, he has thin skin and tends to be very vindictive," said Barbara Bartoletti, of the League of Women Voters, about Gov. Cuomo. "It's unclear to me whether this is about turf or something personal but he certainly does seem to have a problem with the mayor. He just constantly keeps him off balance, co-opts his policy and cuts him off at the knees every chance he gets."
Cuomo hasn't been accused of misusing state assets to undo de Blasio. Instead, Muzzio said the governor is deftly using the power he has as governor to systematically weaken the mayor. That style of utilizing policy decisions to dispatch or handicap potential rivals has become part of the Cuomo brand.
"This is looking like a one-of-a-kind feud," said Muzzio with a historical perspective on mayor-governor relationships. "Just looking at the kind of range of issues over which this is being waged is unprecedented. This is hardball politics with Roger Clemens throwing at your head."
[Read: Did De Blasio's Tirade Help Cuomo Get His Groove Back?]
***
by David King, Albany editor, Gotham Gazette
@DavidHowardKing