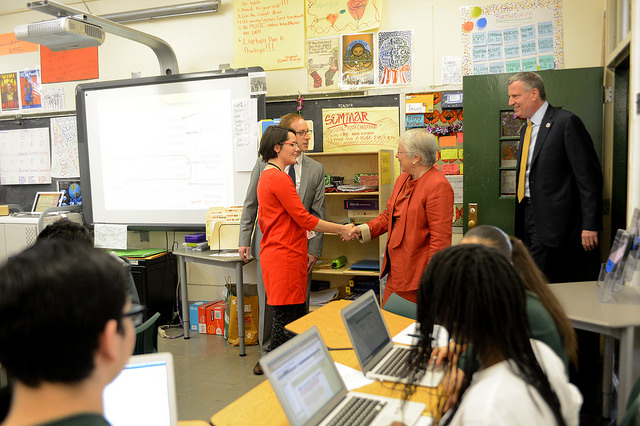 photo: Rob Bennett, Mayor's Office
---
Education is a democratizing force. As we work to build a more equitable and even stronger public school system and city, it is our responsibility to ensure all our students – regardless of where they attend high school – are prepared to enter and graduate college.
As a lifelong Hunter student, I have been the beneficiary of tremendous good fortune through access to high quality education, and I feel compelled to pay it forward. I am grateful that my parents knew the benefits of a Hunter education early on, but this awareness is far from universal. I founded Promoting Access to Specialized Schools in New York City (PASSNYC) chiefly to tackle the lack of awareness of the admissions process and opportunities afforded by the city's specialized high schools. At PASSNYC, we believe that educational access and achievement are paramount in creating a more just and progressive society.
These schools offer some of the most transformative opportunities for students from all socioeconomic backgrounds. Yet, PASSNYC's work recognizes that there will never be enough seats for all of the talented students that would benefit from attending.
Advanced Placement courses are powerful tools that serve talented students and help them make the most of their college experience. AP courses engage our high school students and allow them to explore subjects in depth, but most importantly, research shows that they prepare students for the rigors of a college education. An AP class on a student's transcript makes their college application more competitive. AP exam credits often count toward degrees, allowing students to graduate faster and with less debt.
Unfortunately, outside of the specialized high schools, many students lack access to AP classes and support for AP exams. Citywide, there are still over 100 schools that lack AP courses, and many more that don't offer a full slate of APs, especially in the all-important STEM subjects. These schools disproportionately serve low-income and black and Latino students.
The de Blasio administration's new "AP for All" initiative aims to change that by giving all New York City students access to at least five AP classes by the fall of 2021. Monday's announcement of the first AP for All expansion is welcome news: 63 high schools will offer new AP courses next school year, including 35 that don't currently offer any AP courses at all.
At Hunter College High School, I was surrounded by some of the most ambitious students the city has to offer. In this environment, it was not unheard of for a single student to earn a top score on seven AP exams before graduating. I have seen firsthand how the challenge of AP courses brings out a level of drive and motivation that can power students through the course and on to college. Many of my former classmates are most thankful for their high school AP teachers, citing them as essential to their current success. In hindsight, it is remarkable how much I was offered and took for granted.
We can't afford our bright young minds missing out on opportunities that put them on the road to enrolling and succeeding in college – or that can spark the passion to become an engineer or a doctor – just because of their neighborhood.
AP for All will give more students in need the means to demonstrate their potential and talents, starting with thousands getting new opportunities across 63 high schools next year.
PASSNYC is aligned with the City's approach to focus support on both teachers and students.
As AP for All expands to reach every high school across all five boroughs, more New York City students than ever will be equipped with the resources, knowledge, and confidence to succeed as college students and face the challenges that lie ahead.
***
Ryan Baxter, founder and chairman of PASSNYC, a not-for-profit, volunteer organization dedicated to broadening educational opportunities for New York City's talented underserved students. On Twitter @PASSNYCorg.
***
Have an op-ed idea or submission for Gotham Gazette? Email This email address is being protected from spambots. You need JavaScript enabled to view it.