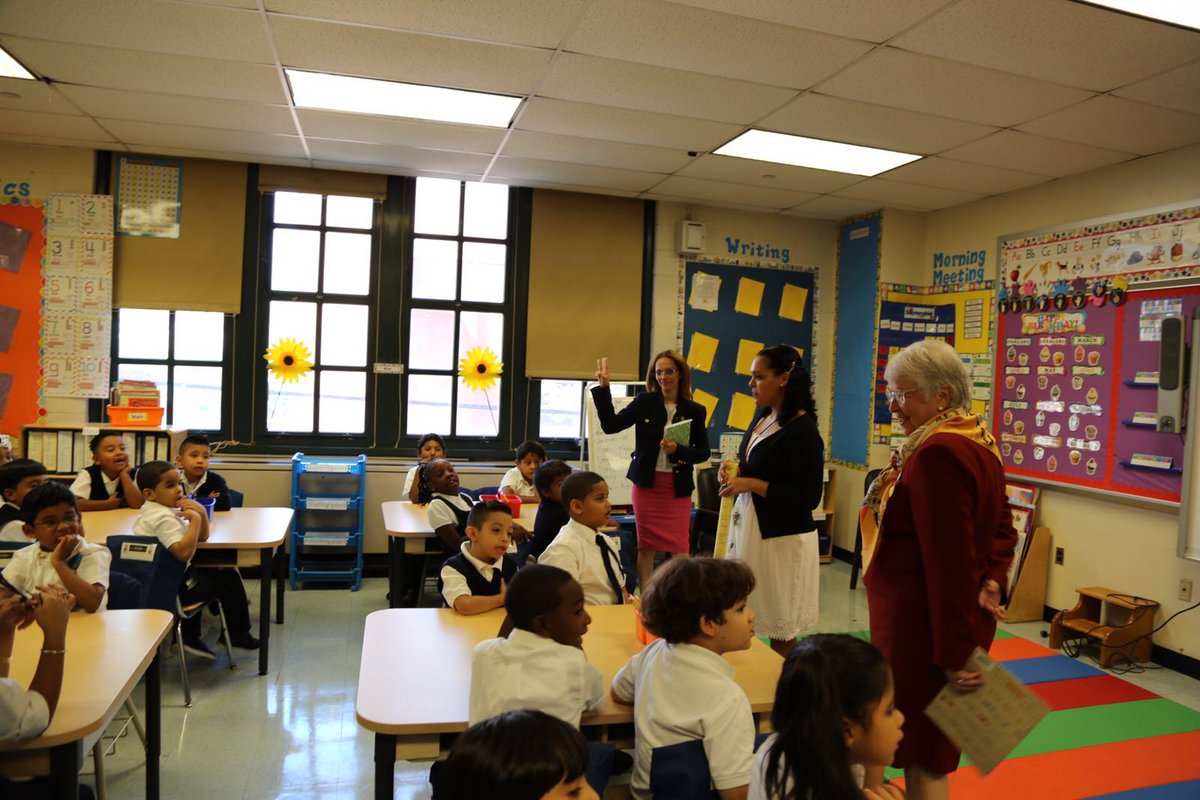 (photo via @NYCSchools)
---
This school year is very different from previous years. This September, students began their classes in the midst of a heated presidential race and a hostile political climate where nearly every young New Yorker -- black, Latino, immigrant, LGBTQ, female, and Muslim -- has been maligned by politicized messages of racism, sexism, xenophobia, homophobia, and bigotry.
This year, however, could also be different in other ways. If parents, teachers, and community leaders step up to the plate, this could be a year where we take time to educate our children about our nation's First Amendment.
This nation was founded on the premise that all people should have freedom of religion; it is part of what makes our country extraordinary. No one should live in fear because of the color of their skin, the language they speak, or how they pray. This year is the perfect time to educate our children about what it really means to stand as one nation, undivided, no matter our faith traditions or our country of origin.
Students who are Muslim or perceived to be Muslim are under particular attack this year. Within a four-week range, there have been three murders of Muslims in New York, the city I call home. In Brooklyn last week, two women were assaulted while pushing their children in strollers for no reason other than they dared to leave their homes wearing headscarves. A Muslim woman in hijab window shopping in midtown Manhattan was set on fire. One can't help but wonder how many other incidents of harassment and abuse go unreported in communities across the city and country.
Obviously, this is not a local problem. On a national level, anti-Muslim rhetoric has increased exponentially during the current presidential race. Our nation's children have seen, again and again, proposals to ban all Muslims from entering the United States, to launch a database specific to Muslims, or even reintroduce internment camps.
In a school system of 1.1 million students, I can't imagine what it is like for Muslim students and those perceived to be Muslim in New York City, especially during this time. Sadly, students experience prejudice and discrimination from their peers. In the days after Donald Trump's initial call for a 'Muslim ban' back in the Spring, 10-year-old Nadine's mother called me that her daughter was bullied in school and asked what should she do about it. Nadine, who lives and goes to school in the Bronx, was told by one of her peers that all Muslims are terrorists and ISIS and Muslims should go back to their country. Nadine's heart sank and she felt defenseless in front of peers who said nothing to her aggressor, her mother told me.
Nadine is not alone, there are children across the US who are being bullied based on their religion. Bayan Zehlif, a Muslim student and senior in Rancho Cucamonga, CA was misidentified as "ISIS Philips" in her high school yearbook photo. What a terrible way to end your high school career.
Incidents like these can be prevented if schools make a concerted effort to create a caring and nurturing environment in every classroom where every child sees a reflection of him/herself in their peers. While we teach Common Core standards, prepare for AP tests, and coach our students before the SATs, we must not forget to prioritize students' civic education. Their understanding of the world around them must include a focus on the virtues of a pluralistic society and empathy for their fellow human beings.
Empathy and respect for plurality can be fostered from simple "getting to know each other" activities, sharing stories of culture, costumes, and traditions, and discussions of what holidays stand for. Even hosting an open conversation about what it is like to be different from each other, and how that makes our democracy stronger, can shift the perspectives of our students to a more productive place.
When we invest in the time to do this, we connect our students, by mind and heart. We build bonds between them to see each other as allies and fellow students, not adversaries. As a result, we empower students to be upstanders, not bystanders, when one of their peers comes under attack. After all, this is what we want our country to look like. It should start in the classroom.
***
Dr. Debbie Almontaser is the founding and former principal of the Khalil Gibran International Academy. On Twitter @DebbiAlmontaser.
***
Have an op-ed idea or submission for Gotham Gazette? Email This email address is being protected from spambots. You need JavaScript enabled to view it.