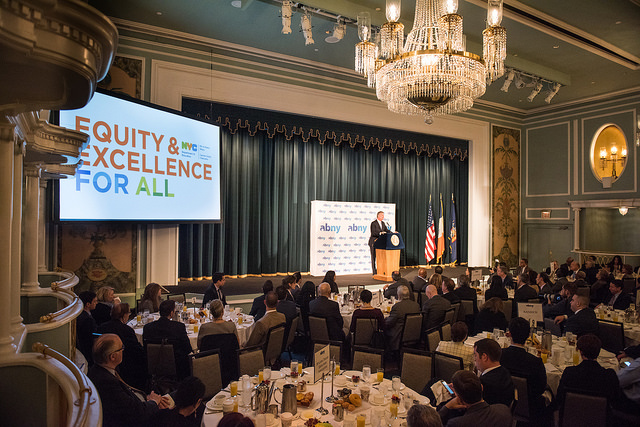 Mayor de Blasio at ABNY (photo: Edwin J. Torres/Mayor's Office)
---
If Bill de Blasio wants to be the Education Mayor, he needs to do better than this.
In Friday's "Equity and Excellence" address sponsored by the Association for a Better New York before a generally well-heeled, overwhelmingly white audience, de Blasio discussed a list of programs that he's largely been repeating for over a year.
We've heard it before and surely he can claim credit for planting seeds: Pre-K for All, Literacy for All, Algebra for All, Computer Science for All, AP for All, etc. Yet in most cases these are pilot programs with full implementation and assessment dates roaming well past the end of a possible second term for this mayor.
He claimed specious test score improvements long-disavowed by the State Education Department and others since last year's and this year's assessments were so markedly different. His speech even failed to mention the mayor's signature Community Schools initiative and he rarely brought up Chancellor Carmen Fariña, perhaps signaling disappointment with both.
But more than that was missing.
The speech was notable for avoiding every hot button education issue facing the city, however relevant to his theme. Except for a guarded, meandering response to an audience question, the mayor never mentioned charter schools. Similarly, only when asked did the mayor defend Specialized High Schools like Bronx Science and Stuyvesant, never casting doubt on their unbalanced racial makeup and the selection process that he criticized during his 2013 campaign.
Never addressed were the opt-out movement, the Common Core, or State programs for "Renewal" and "Receivership" directed at struggling schools. Not once, in a speech on equity(!), was desegregation, diversity, or race called-out as an appropriate subject for mayoral attention.
Having been beat up on these issues, the mayor has backed down. His education agenda has been reduced to bromides about workforce and college preparation, creating strawmen he is ostensibly correcting, and – in his only shoutout to former Mayor Bloomberg – continuing to ensure school safety.
To be sure, the current Department of Education has made major changes in structure and practice. Superintendents and Field Support Services Centers have largely replaced Networks as mainstays of school support and oversight. School Report Cards are notable for de-emphasizing test scores, the Discipline Code has been revised so that restorative justice practices take priority over suspensions, and opportunities for positive parent/school interactions are way up.
But none of these, not the "for Alls" and not organizational tinkering, are worthy of an Education Mayor. Issue avoidance doesn't build a legacy. The time for de Blasio to craft a vision that delivers on Equity and Excellence on a scale this city deserves, that its children deserve, is way overdue. "Racial and Economic Inequity" should be the topic of the mayor's next education speech. Until then, he is thinking small and only repeating himself.
***
David C. Bloomfield is Professor of Education Leadership, Law, and Policy at Brooklyn College and The CUNY Graduate Center. The third edition of his book, American Public Education Law, is out now. On Twitter @BloomfieldDavid.
***
Have an op-ed idea or submission for Gotham Gazette? Email This email address is being protected from spambots. You need JavaScript enabled to view it.