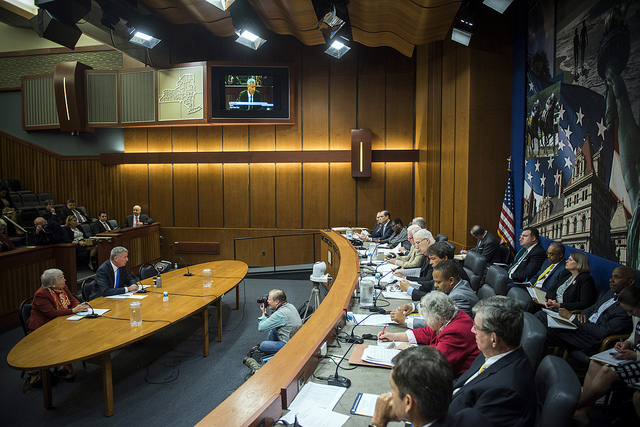 De Blasio testifies in Albany, May 4 (photo: Demetrius Freeman/Mayor's Office)
---
In 2009, then rank-and-file Assembly Member Carl Heastie was the lead sponsor of a bill designed to weaken then Mayor Michael Bloomberg's ability to determine education policy in New York City. Seven years later, Assembly Speaker Heastie is thought to be Mayor Bill de Blasio's greatest ally in the fight to renew the system of mayoral control of city schools as is.
The 2009 bill, called the Better Schools Act, would have removed the mayor's ability to name the majority of members of the Panel For Educational Policy, allowed the city's Independent Budget Office to audit "financial investments and academic achievement," and provided training for parents and teachers to be more involved in the system.
The bill never came to a vote in the Assembly as then Speaker Sheldon Silver was a supporter of mayoral control. The bill died in the education committee two years in a row. It did, however, get a vote in the Senate in July 2009 where it was voted down. Bloomberg, in 2002 the first mayor given mayoral control of schools, won a six-year extension.
That extension came due mid-way through de Blasio's second year in office last year and the mayor was given just one year more as his ongoing conflicts with Senate Republicans, who control that chamber, and Gov. Andrew Cuomo, dominated policy-making in a turbulent Albany rocked by scandal.
Both Senate Republicans and Gov. Cuomo disagree with de Blasio on several aspects of education policy, like support for charter schools, while also having major political problems with the mayor.
Cuomo has proposed a three-year extension and stayed out of the public discussion, but the dynamics between de Blasio and Senate Republicans appear to have killed any chance at a nuanced debate as an extension is again being considered and de Blasio was asked to participate in two May hearings on mayoral control of the schools. He attended the first, in Albany, and sat for four hours of testimony, but declined to appear at the second, in New York City, letting his schools chancellor, Carmen Fariña appear. Senate Republicans, especially Majority Leader John Flanagan, were not happy.
The irony, which applies to many involved in this education debate, is that de Blasio's belief in the concentrated system of power that mayoral control provides more closely aligns with his biggest critics, while de Blasio's allies are forced to support a system they largely criticized under Bloomberg.
Education reform groups, largely funded by major donors to Senate Republicans, have staged protests of de Blasio's policies, but continue to support mayoral control as a governing system. The city's teachers union, the United Federation of Teachers (UFT), was often at odds with Bloomberg and is very close with de Blasio, but has not been a vocal supporter of mayoral control. The UFT and Senate Republicans are often antagonists and the union declined to testify at either hearing this month.
Sen. Diane Savino, a member of the Independent Democratic Conference from Staten Island, was a cosponsor of the Better Schools Act and said it was obvious to her why the tune in Albany has changed. "Then it was Bloomberg and now it's de Blasio. It's just about who is mayor," Savino told Gotham Gazette. "Quite frankly politics has taken over the issue in both houses. We should be talking about how to make the system better. The concerns everyone had in 2009 are still concerns today. If the PEP was a problem then, the PEP is a problem now. If parental involvement was a problem then, it's a problem now."
Heastie's office did not return request for comment on his past support of the bill and whether he would be interested in voting on a bill that alters the current school governance system. A spokesperson for Senate Republicans declined to comment on Heastie's support and whether Flanagan is considering changes to mayoral control. Flanagan has been critical of de Blasio on a number of fronts, including in a statement after the mayor's Albany testimony in which Flanagan said de Blasio had not answered questions to his satisfaction.
The Better Schools Act would have expanded the PEP from 13 to 17 members serving two-year terms, with the mayor appointing eight members, each borough president one, one by the City Council, one by the Governor, and one by each head of the Assembly and Senate majorities.
Now, the panel's 13 members include eight appointed by the mayor and one each by the five borough presidents.
"Bloomberg had gravitas and immense wealth; de Blasio has neither," said Doug Muzzio, professor of political science at Baruch College, when asked what he saw as the major difference between the 2009 and 2016 battles for extending mayoral control.
In 2009 Senate Republicans were Bloomberg's greatest ally. The mayor was seen by many as the conference's financier, but for the first time in decades they were technically no longer in control of the chamber. That is until then Senator Dean Skelos teamed with rogue Democratic Senators Pedro Espada and Hiram Monserrate to stage a coup, suddenly casting a leadership vote that other Democrats protested. The following legal and political battles saw the chamber sit empty for months. State government was crippled and mayoral control expired. Technically, the system reverted back to the old Board of Educaiton set-up with more decentralized power, something many have called inefficient, ineffective, and rife with nepotism and corruption.
When Democrats regained control of the chamber in 2009 then Senate Democratic Leader John Sampson insisted on making a number of changes to mayoral control to increase parental involvement, angering Bloomberg. Sampson and other Democrats continued to hold a grudge against Bloomberg for his generous financial support of Senate Republicans.
Despite their general support for Bloomberg, a number of city-based Republicans at the time also advocated changes to increase parental participation in education decision making.
Some of the major players against mayoral control included Sampson, Espada and Senators Carl Kruger and Shirley Huntley. All of them have since been convicted on corruption charges (as has Skelos).
Leonie Haimson, executive director of Class Size Matters, a group that is opposed to mayoral control, said she recalls being disillusioned after having a much-anticipated meeting with Assembly Speaker Silver (also since convicted on corruption charges). "He just shrugged and blew us off. We made no headway with him whatsoever," said Haimson. "We didn't have a chance in hell getting anything through because Shelly Silver wouldn't do anything and we knew Senate Republicans were going to do anything Bloomberg wanted, that was very clear."
Eventually Bloomberg abandoned negotiating with Senate Democrats and invoked Neville Chamberlain in a an interview. Senate Democrats were outraged saying Bloomberg had compared them to Nazis. Asked by a reporter whether he meant to compare Democratic state senators to Nazis, Bloomberg replied: "I certainly did. What part of that did they not understand? This is ridiculous." The mayor's team later walked things back, saying he hadn't heard the question.
The New York Post, meanwhile, ran a month-long series of pieces highlighting the benefits of mayoral control, titled "City Schools, City Rules." The Post later celebrated its own coverage, running an August 2009 story with collected quotes from public officials, including Bloomberg, praising its reporting on the subject and taking some credit for the deal that was reached. Post front pages that spring had been unsparing, salacious attacks on the dysfunction in Albany - the paper even sent a clown and had her pose for pictures with legislators. Those pictures later became even more salacious covers.
The deal that was struck gave Bloomberg a six-year extension, but included new checks and balances: the IBO with more oversight over education spending, required hearings over the potential closure of underperforming schools, and Panel for Education Policy approval of Department of Education contracts worth more than $1 million.
Last year, as mayoral control was heading toward sunset, the Legislature was rocked by the indictments of its legislative leaders - Silver and Skelos. The Legislature was finding its footing under the new leadership of Assembly Speaker Heastie and Senate Majority Leader Flanagan as the mayoral control deadline approached. Bloomberg was no longer mayor, his large donations to Senate Republicans had ceased. Heastie, a Bronx Democrat, and de Blasio were developing a strong alliance.
De Blasio not only wasn't donating to Republican candidates - quite the opposite - he was finding creative ways to donate to swing-district Democratic candidates in their bids to unseat Republicans and win back control of the chamber. Flanagan balked at proposals to renew mayoral control by the six years it been extended under Bloomberg or even the three proposed by Gov. Cuomo and others. De Blasio was calling for it to be made permanent. When the legislative session's "big ugly" hodgepodge of legislation was unveiled, de Blasio was left with a somewhat shocking one-year extension.
The mayor knew Senate Republicans were behind the minimal renewal, but he also blamed Cuomo for not going to bat for him - part of why de Blasio unleashed a very public tirade against Cuomo on June 30.
This year, de Blasio's position is even weaker and Albany only slightly less chaotic. The year started with the convictions of both Skelos and Silver and then news of federal investigations into de Blasio's fund-raising and Cuomo's economic development programs. Senate Republicans are now on edge as they lost the seat Skelos held for decades to Democrat Todd Kaminsky and they face the prospects of a number of aging and retiring members. But the de Blasio scandal has given them hope as the probe into his 2014 fundraising for those state Senate races has led investigators to a number of districts with races that could determine control of the chamber. Democrats are sure to continue to dominate the Assembly. Carl Heastie remains de Blasio's most important Albany ally.
Flanagan has held hearings on mayoral control over de Blasio's head. The first hearing, on May 4, went smoothly by most accounts, with Democrats and Republicans praising the mayor's responses and saying they expected a renewal. But Flanagan later issued a statement criticizing the mayor's testimony, saying, "Too often, the mayor showed a disturbing lack of personal knowledge about the city schools. In addition, he has left too many unanswered questions and failed to provide specifics on many of the issues raised by my colleagues on both sides of the aisle. Until that occurs, I will not entrust this mayor with the awesome responsibility of operating the New York City school system."
De Blasio then decided not to testify at the second hearing last week, further angering Flanagan.
"I am extremely disappointed the Mayor doesn't believe this hearing is significant enough to attend," he said. "With the future of mayoral control at stake, Mayor de Blasio has left too many unanswered questions about his stewardship of the New York City school system."
During both hearings this year, Democratic Senators have repeatedly mentioned that they favor renewing mayoral control for de Blasio but are concerned about how another mayor might run the system. The issues of oversight and parental involvement have been raised yet again by people on both sides of the aisle. De Blasio and many others - including the 100-plus business leaders who announced their endorsement of an immediate extension - have argued that the discussion is not about a particular mayor's policies, but about the mayoral control system as a governance structure.
"Politics seems to be major factor in people's positions now, and politics should not decide the governance of the education system for the largest city in the country," said Haimson. "Whether you are for or against a particular mayor shouldn't come into it. It is supposed to be about whether the system works."