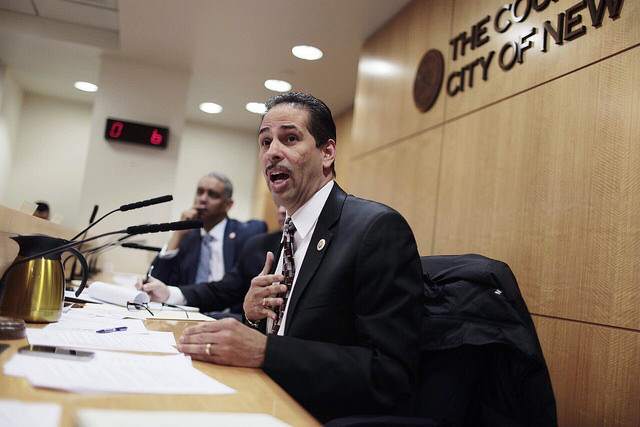 City Council Member Cabrera (photo: William Alatriste)

---
City Council Member Fernando Cabrera is preparing for a rematch with incumbent State Senator Gustavo Rivera in the 33rd Senate District in the Bronx, according to sources familiar with Cabrera's intentions.
Cabrera did not have an easy go of things when he first challenged Rivera in the 2014 Democratic primary. Reports by various publications highlighted Cabrera's connections to extreme anti-gay groups like The Family Research Council, his praise of Ugandan anti-gay laws, and his conservative voting record.
Cabrera lost the 2014 primary by 20 points. He told The Observer that he believed his loss was due to "the liberal media."
"He had the mayor, he had the borough president, he had county, he had all the unions, he had liberal media, he had the LGBT community–what was left?" Cabrera said, according to The Observer. "It was absolutely unfair. I think [the media] was very biased. It was clear, every time we tried to put our message out, it was not being put forth correctly or misrepresented."
According to five sources familiar with his intentions, Cabrera plans to again challenge Rivera this year - a move that is causing tension with the Bronx Democratic County Committee, whose leaders were hoping to maintain peace between their elected Council member and senator.
Cabrera and his office did not respond to multiple requests for comment. He is in the midst of his second four-year term as a Council member and can run for one more in 2017. State Senators serve two-year terms and have no term limits.
"Whatever decision [Cabrera] makes the results from the last election are what they are, and I'm not sure they could be any different," said Assemblymember Marcos Crespo, who heads the Bronx County Democratic Committee.
Asked whether he shares concerns voiced by other insiders that the time and resources of both elected officials, Cabrera and Rivera, would be better spent representing their shared constituents rather than battling each other, Crespo replied; "I would agree with that statement."
Rivera said that while he welcomed all challengers he is taken aback by Cabrera's candidacy because he thinks Cabrera's beliefs fly in the face of those of Senate Democrats.
"Since I defeated Pedro Espada in 2010 I've been working consistently to return the Democrats to the Senate Majority, I've been fighting for my constituents, for tenants rights, for equality. We saw before how the Democratic majority was undone by a backroom deal," Rivera said. "My opponent is someone who changed registration from Republican to Democrat, is anti-choice, anti-women, has dangerous views on the LGBT community, and has taken major donations from landlords while the rent laws are up [for reauthorization] next year."
Rivera said he feels that Cabrera is the kind of politician who could jeopardize a Democratic majority, which the party is hoping for through this fall's elections.
"We want to make sure when we get to the majority we can can do the right thing, and this endangers that," Rivera said of Cabrera's challenge.
Rivera is seen by many as an outsider to the Bronx County Democrats. He has openly clashed with Sen. Ruben Diaz, Sr., who holds conservative views similar to Cabrera's, and has warred with Independent Democratic Conference leader Sen. Jeff Klein over Klein's decision to split from mainline Democrats and essentially give Republicans rule over the chamber (even after Democrats won a numerical majority).
Rivera was further seen to have rankled the county machine when he supported his chief of staff, Katrina Asante, in the race to replace Sen. Ruth Hassell-Thompson, who was recently hired by the Cuomo administration, creating an open seat. County Democrats have rallied behind District Leader Jamaal Bailey, who is seen as a protege of Assembly Speaker Carl Heastie, who has endorsed him. Asante officially dropped her bid on Wednesday.
Norwood News reported in April that some involved in Bronx politics see Hassell-Thompson's hiring and Heastie's endorsement of Bailey as an undemocratic conspiracy parallel to the backroom maneuvering that allowed Bronx County Democrats to replace former Bronx County District Attorney Robert Johnson on the ballot with Darcel Clark, a Heastie ally.
Crespo refuted the idea, telling Norwood News, "The notion that the only way Senator Ruth Hassell-Thompson could get something is by somebody asking, that's nonsense. People either have too much fun believing somehow running strings everywhere."
While some insiders say Asante faced trouble raising funds due to Heastie's support of Bailey, most insiders Gotham Gazette spoke to said they see Cabrera's planned challenge to Rivera as unrelated.
During his last run for Senate, Cabrera voiced interest in joining Klein in the IDC and appeared to benefit from many of Klein's donors. This year, with control of the Senate extremely tenuous, it appears unlikely the IDC will get involved in the race.
Gary Axelbank, a political observer and host of BronxTalk, said that he sees Cabrera's run against Rivera as a boon for constituents. "When two elected officials from one district oppose each other, it's very healthy for constituents to have that sort of high-level choice. It speaks to the best of our participatory democracy."
However, Axelbank noted that Cabrera turned down his invitation to a televised debate with Rivera in 2014. "We invited Councilman Cabrera to participate in a debate the last time these two ran against each other, but he declined to participate, which we found to be very disappointing. We plan to invite both the candidates to debate again this summer and we hope and expect that Councilman Cabrera will join us so that the voters have the best chance to make their choice."
Meanwhile, Rivera is not hiding the fact that he takes Cabrera's challenge as an affront to not only his work but the work done by all elected Senate Democrats to win back the majority from Senate Republicans.
"It's more than a little offensive that this person is more interested in his political future than serving our constituents," Rivera said.