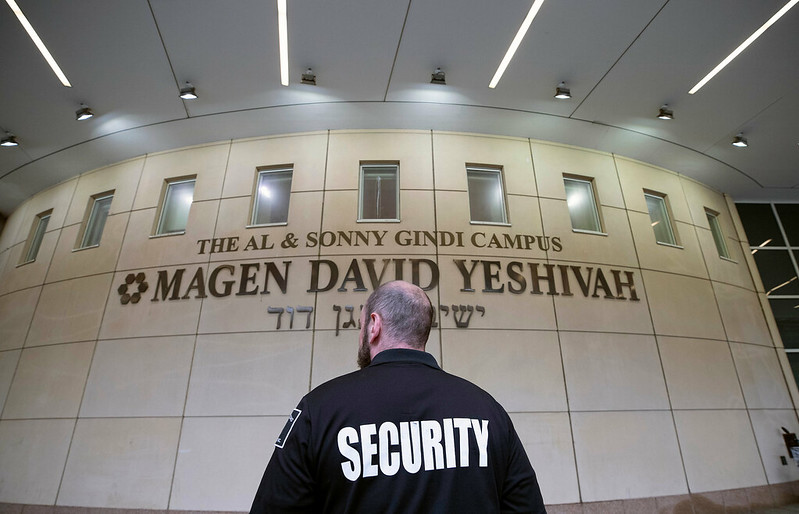 Security at a yeshivah (photo: Mike Groll/Office of Governor Andrew M. Cuomo)
---
A newly-released report by the Anti-Defamation League paints a stark and troubling picture: anti-Semitism is on the rise, with incidents of assault seeing the largest increase. Rising coronavirus-related hate crimes, coupled with the not-too-distant memory of the death of Rabbi Josef Neumann, a victim of the Hanukkah attack in Monsey, New York, are powerful reminders of the urgency needed to identify and implement improved solutions for acts of hatred.
Beyond violent attacks like those in Jersey City, Pittsburgh, Poway, and Monsey, incidents of anti-Semitic crime in New York City and across the country have spiked to their highest levels in recent memory. But the troubling rise of anti-Semitic hate crimes goes beyond New York, extending across the county and the world.
Prosecutors, the elected standard bearers for fairness and justice in our communities, can rise to the occasion and treat this issue with the urgency and gravity that it demands, but they must also be supported through the creation of tools for increased reporting of such crimes, and legislative change to facilitate prosecution. The Anti-Semitism Accountability Project's recently-launched portal for victims of hate crimes and New York State's Hate Crimes Domestic Terrorism Act are positive examples of creative solutions to support the prosecution of this ancient and pervasive scourge.
Perhaps it comes as no surprise that, with memories of World War II fading and Holocaust survivors dwindling in number, anti-Semitic people have felt emboldened to reignite centuries of hate. The relative silence in the face of these acts should be of concern to us all. I have written about the need to identify hate crimes and domestic terror for what they are in order to prosecute white supremacist violence, and the same principles should apply to anti-Semitic conduct.
As anti-Semitic conduct tends to be under-reported and underestimated, inadequate law enforcement resources are directed towards addressing the problem. Encouraging victims of anti-Semitism to come forward requires open communication between communities and prosecutors, and assurances that hatred will not be tolerated. Increased reporting will better improve understanding and tracking of and response to the alarming rise in anti-Semitic crime.
With improved reporting, prosecutors can also address the increase in these crimes by proactively working with communities to provide education on the issues; indeed where anti-Semitism is driven by ignorance or lack of social proximity and connection, prosecutors may direct resources to build bridges between faith-based and other communities. By working to address the underlying cause of the increases in anti-Semitic crime, prosecutors can help keep communities safe by preventing further crime.
Once crimes are properly reported, Governor Andrew Cuomo's recent legislation, which characterizes some hate crimes as domestic terror, is a model for how to provide enhanced tools to law enforcement to investigate and prosecute these crimes. It also serves as another step towards achieving the cultural shift that real lasting change requires, expressing the core American values of tolerance and inclusivity. And now as much as ever, with a rising tide of anti-Semitism, prosecutors can be advocates for the right of the Jewish people -- and indeed, all people -- to live peacefully and free from insidious hate.
As with all hate crimes, prosecutors' responses to anti-Semitism must be tailored to ensure an effective criminal justice system response that values the long-term safety of all community members, and this may include and go beyond traditional law enforcement tools.
As in all crimes, people charged may suffer from mental health challenges, and the appropriate redress may include treatment, pro-social programming, community service, or even restorative justice -- the ancient practice in which a person who has caused harm meets with a trained professional and the survivor of a crime to learn about the harm they have caused and begin to take responsibility and try to facilitate the survivor's healing.
The integration of educational and restorative principles may prove particularly useful when a perpetrator lacks understanding of the damage anti-Semitism has wrought over the centuries and the harm it continues to inflict. This approach has been met with some success abroad for handling anti-Semitic crimes. Much as they should do with any impacted group, prosecutors should collaborate with community leaders and crime victims, and should tailor the criminal justice response to consider the harm caused, as well as the overall safety of all.
Throughout history Jewish people have often been forced to live in fear, whether from the apparatuses of government or from social ostracism. At this daunting moment in our history, with accurate information and adequate legal tools, our local prosecutors -- the elected ministers of justice in our communities -- can be bastions of good in the face of hate.
***
Lucy Lang is the Director of the Institute for Innovation in Prosecution at John Jay College, and a former Assistant District Attorney for Manhattan. On Twitter @LucyLangNYC.
***
Have an op-ed idea or submission for Gotham Gazette? Email This email address is being protected from spambots. You need JavaScript enabled to view it.