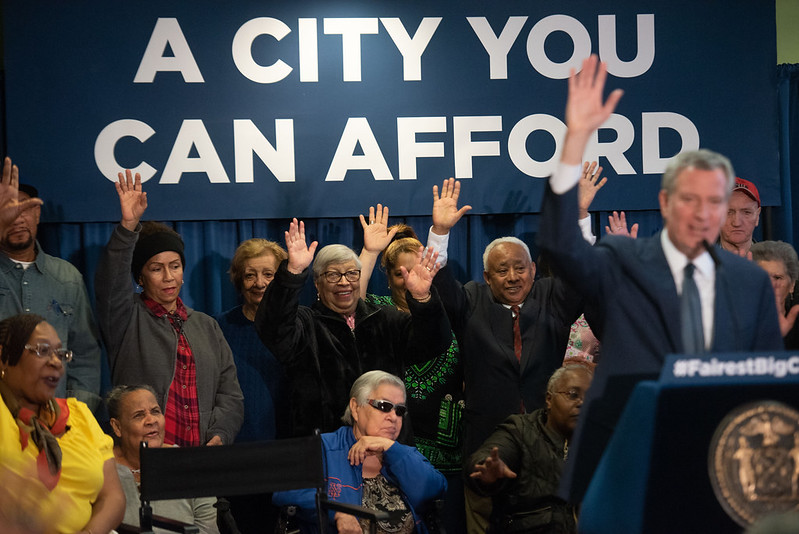 Mayor de Blasio with New Yorkers (photo: Michael Appleton/Mayor's Office)
---
Dear Mayor de Blasio, Manhattan Borough President Brewer, Council Member Chin, and Members and Residents of Manhattan Community Board 2:
My name is John Sanchez, I'm the District Manager of Bronx Community Board 6, a great neighborhood, but also among the poorest in our city. In Bronx CB6, which includes Belmont, East Tremont, and West Farms, there is a 31% poverty rate, a higher than 30% unemployment rate, and 60% of residents are rent-burdened. I love my neighborhood but I can't fault any of my neighbors for wanting to live in a higher opportunity neighborhood like SoHo or The Village in Manhattan Community Board 2, especially given it would likely help their children's long-term outcomes for career earnings, health, and educational attainment.
While I am sure many residents in places like Manhattan CB2 finally recognize that Black Lives Matter, in too many parts of our city this call to action stops when it comes to integrating exclusionary neighborhoods and having Black neighbors. I am writing to implore you to take a monumental first step toward equitable integration by supporting the plan presented by Open New York to rezone SoHo and NoHo for thousands of new homes, of which at least 700 would be deeply affordable through the Mandatory Inclusionary Housing (MIH) program.
The rationing of affordable housing development in New York City due to arbitrary zoning rules and local control and the resulting displacement of demand to communities like mine must end.
I actually used to live in SoHo when I was a Resident Assistant at NYU. While the odds of attending NYU as a Black and Latino man from The Bronx are slim but improving, the odds of someone like me building a life in SoHo are six times lower, with only 2% of Manhattan CB2 residents being Black. The neighborhood's long-standing refusal to construct affordable housing is the main reason for its lack of diversity. While neighborhoods such as Jerome Avenue, Far Rockaway, and East New York have been rezoned during the de Blasio administration, places like SoHo and Riverdale retain their zoning from nearly 40 years ago, limiting the number of people who can live there and preserving their pale "community fabric" instead of fostering beautiful mosaics.
Adding insult to injury, our city's inequitable land use strategy contradicts the Department of Housing Preservation and Development's very own guidance, which states "MIH requirements work best in strong housing markets. Rental projects in moderate and weak markets do not achieve sufficient returns to achieve feasibility without subsidies." Allowing the stronger housing markets like SoHo to build without subsidies would allow low-income areas like my community board to have more subsidy dollars to build more units of housing at deeper levels of affordability.
The fiscal crisis brought on by the pandemic makes changing this dynamic even more urgent - if the city is going to cut $1 billion from our affordable housing construction budget, we must get the most equitable bang for our buck with the funding that's available.
The pandemic has shown us that viruses don't recognize the geographic lines that define our land use process. New York is an interconnected city that cannot exist without people of all backgrounds doing their part, especially when it comes to addressing our affordable housing crisis. Whether operating our transportation system, staffing our hospitals, teaching our children, delivering our food, or cleaning our streets, our city would grind to a halt without the essential workers who mostly live in communities like mine. Yet in wealthy neighborhoods like SoHo they're only welcome to visit when working, shopping, or sight-seeing, but not if they're looking for a place to live.
If you can accept a food delivery from a New Yorker who doesn't look like you, you can also embrace them as a neighbor. If you can hire a nanny for your children who looks different from you, you can also embrace their children as classmates of your own children.
Upzoning SoHo for mixed-income housing would be an important next step in building a New York that is united and open to all regardless of background or income. Let's show the whole city that building more housing is not a burden on any community, but a benefit for us all that should happen throughout the five boroughs.
***
John Sanchez is the District Manager of Bronx Community Board 6 and a candidate for City Council in District 15. On Twitter @NYJohnSanchez.
***
Have an op-ed idea or submission for Gotham Gazette? Email This email address is being protected from spambots. You need JavaScript enabled to view it.