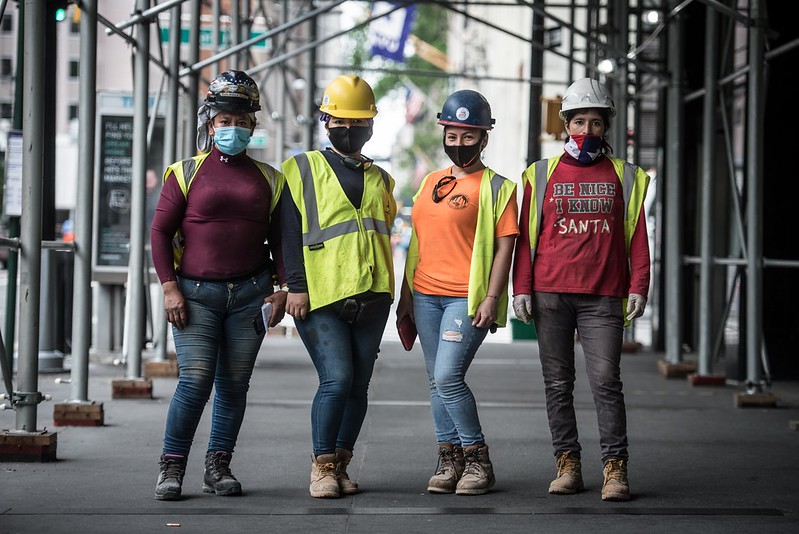 Construction workers in New York City (photo: Michael Appleton/Mayoral Photography Office)
---
As our city tries to address the economic fallout of the coronavirus pandemic, we have a responsibility to ensure that no New Yorker falls through the cracks while others are on the road to recovery. Low-income, underserved communities have borne the brunt of the pandemic's health and economic damage. For an inclusive recovery, city leadership must think both inclusively and creatively, and use the vast tools of city government in developing solutions especially focused on our most vulnerable neighbors.
To address high unemployment, New York City should implement a Public Option for Employment, capturing a population of New Yorkers who have historically been shut out from the private sector or stuck in low-wage jobs and placing them on a pathway towards a good job and long-term economic security.
A Public Option for Employment means, simply, that New York City will have a job for everyone who is ready, able, and willing to work when the private sector is not fulfilling our city's economic needs. This was the underlying concept behind FDR's New Deal, which was the lynchpin of lifting our nation out of the Great Depression almost a century ago. We have extensive work to do to improve our city, and we have people desperately in need of work. It only makes sense to connect people ready to work with jobs that need doing.
In the Bronx, particularly in neighborhoods of the 15th City Council District like West Farms and East Tremont, many of our residents work in low-wage occupations, and unemployment is as high as 30% in parts of these communities. New York City is on track to lose 500,000 to 600,000 jobs this year, with severe declines in front-facing industries — hotels and food services, administrative services, arts and entertainment, transportation, and retail. The Bronx has been hit the hardest due to the high concentration of workers employed in these job sectors. The coronavirus has disrupted careers and opportunities and forced many Bronxites out of work and into poverty. While losses are widespread, a recovery divide continues to grow between high-income neighborhoods and those that have suffered from generational poverty and disinvestment.
As we look to recover from covid's devastation, a Public Option for Employment is a unique opportunity to rebuild our economy differently. We must create pathways for unemployed workers, particularly those stigmatized by race, gender identity, or former incarceration status. We must seize upon this moment to make sizable and overdue investments in our infrastructure. Investing in our people will grow the number of construction and engineering workers to fulfill our infrastructure needs, strengthen our storm resiliency, expand mass transit, fix public housing, and improve public utilities and broadband.
As we look at the vulnerabilities exposed by the pandemic, we can develop programs for health services, childcare, and eldercare. And we must look toward the future and consider our resilience through careers in sanitation, parks and recreation, and other projects designed to move toward a green, emission-free city. We have to ensure that we not only foster but also protect human capital. We must have an inspiring vision of what our city workforce can look like if we tap into the many talents that New Yorkers possess by helping them build skills for a new career path.
A Public Option for Employment is a bold strategy to reverse our shrinking workforce, address labor discrimination, combat low wages and reduced work hours, and bring more money into our communities to sustain our local businesses. We must invest in people to restore our collective humanity and elevate everyday New Yorkers out of poverty. A Public Option for Employment can begin as a part-time, work-based, learning apprenticeship program and lead into full-time positions. The apprenticeship portion should come with a guarantee of at least 25 hours a week and should pay no less than $18 an hour.
We know many industries need rapid growth, and much of that is reliant on New Yorkers who do the heavy lifting. For our industries to blossom, our economy to stabilize, and our communities to prosper, our focus has to be on job creation and job training. Any public employment option must include training programs, apprenticeship opportunities, and professional development. Labor unions must be brought to the table, and we must ensure that we provide all the best elements that unionized labor promotes, such as health care coverage, family leave options, and a secure pension. Unemployment offices and workforce development centers should become recruitment centers for a Public Option for Employment program.
You're probably wondering how we can afford to make such an investment in our workforce in a time when federal dollars seem scarce and austerity looms over our city and state budgets. A program like a Public Option for Employment does not have to launch in one fell swoop. We can phase in implementation, starting by targeting neighborhoods with the highest unemployment rates, and improving our economy, public health, and city infrastructure.
The city's budget office should immediately begin identifying $1 billion in savings across city agencies to fund the initial rollout of the program. We can look at cancelling the allocation of $11 billion to build four new borough-based jails and reinvest those savings. More importantly, we can and should push our state representatives to create new revenue by taxing the ultra-rich.
With a little political will we can implement big bold ideas that will change peoples lives in New York City. The psychological and social benefits that come with a job can have a transformative effect on the overall health of our city's residents, both physical and mental, and even reduce poverty-related crime.
***
Elisa Crespo is a candidate for City Council in the 15th City Council District in the Bronx. On Twitter @elisacresponyc.
***
Have an op-ed idea or submission for Gotham Gazette? Email This email address is being protected from spambots. You need JavaScript enabled to view it.