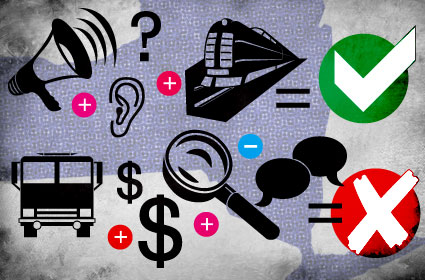 Gotham Gazette image by Ya-Hsuan Huang
This year, New York City residents will see legislators from all over the state vote on issues that directly affect their lives. From the transit bailout to school control, rent regulation and perhaps even term limits, the city will watch legislators from rural areas, small towns and suburbs decide its fate. This drama plays out every year, but last year the defeat of congestion pricing and enforcement cameras for bus rapid transit left some New Yorkers wondering how legislators from outside New York City make their decisions when they vote on issues that only affect New York City.
What informs the thought process of upstate legislators when they vote on issues that seemingly relate only to the five boroughs? Which downstate legislators do they talk to for insight? And how much impact do upstate legislators truly have over New York City issues?
Many factors affect the way legislators vote. Who legislators know -- and who their friends and foes are -- influence which bills they back, which ones they oppose and where they will come down on issues that might not have much to do with their districts. If a powerful legislator, such as a committee chair takes a stand on a bill, legislators tend to fall in line so that they will have support on their bills in the future. Certainly belief and ideology, as well as campaign contributions, play a role as well.
A review of some recent debates and votes offers an indication of the complicated calculations that influence voting in the capital.
A Chairman's Prerogative
In the battle for enforcement cameras for bus rapid transit, one member of the Assembly from upstate New York was able to influence the outcome to his liking single-handedly. Some observers say arbitrarily.
Last year, Assemblymember Jonathan Bing of Manhattan introduced a bill that would have allowed the installation of traffic enforcement cameras on buses. These cameras would have photographed vehicles illegally using the rapid transit bus lanes and enable the city to issue tickets. The goal was to increase the speed and efficiency of the notoriously slow New York City bus system. Environmentalists and transportation advocates supported the bill. They expected that the measure, which was pending before the Assembly transportation committee, would easily get to the Assembly floor.
It didn't.
Committee Chairman David Gantt of Rochester, who has long opposed traffic enforcement cameras because of privacy concerns, held an impromptu committee meeting. Six members who had co-sponsored the bill then vote to "hold" the proposal, meaning it would not come to a vote during the legislative session.
According to witnesses and reporting by Streetsblog, the vote, instead of taking place during a regular committee meeting, was held in a hastily called meeting in the Assembly parlor. A number of members missed it, so were counted as voting yes -- in favor of the hold -- since under Assembly rules at the time an absence was treated as a yes vote. A number of legislators from New York City and even some of the measure's cosponsors were recorded as voting to hold the bill.
Gantt dismissed any outrage among the bill's supporters about the way the vote was handled. "They will have to answer that," he said and added "I get more press in New York City then in my own district cause of this stuff."
The number of cosponsors voting to table their own bill struck the New York Times as odd, so the paper ran a piece discussing it. The story quoted Bing saying, "This is such a specific New York City issue, it's one of the many things where you wonder why the State Legislature has any role at all."
Insiders say that Gantt used his influence to trade favors with legislators on the committee so that some of those who initially supported the bill voted with him to table it.
Why did Gantt act to kill the camera measure? He said he wanted to protect the public.
"The problem with bus cameras is, say you pull into a bus lane to drop your kid off to see the game at Madison Square Garden and get a ticket," said Gantt. "I'm worried about the public. It's the same as congestion pricing. I'm not against that, but we shouldn't do anything drastic in a hurry."
Gantt noted that his problem with bus lane enforcement cameras is similar to his problem with cameras used to photograph vehicles running red lights. "Say you let a friend borrow your car, and they get a ticket," he said. "It costs a ton of money to fight that ticket down there." Further, Gantt said, enforcement cameras do not help public safety but are simply "gimmicks" to increase revenue. "New York City is facing a budget gap and so is everywhere else, but you should make real cuts, not use gimmicks," he said.
Supporters of the measure clearly disagree. They believe creating rapid transit bus lanes would allow buses to move through traffic at a decent speed and help alleviate New York's severe congestion problem. They wonder if Gantt truly understood the impact bus rapid transit would have had on the city.
Critics also point to Gantt's sponsorship of a bill last year that would have allowed red light enforcement cameras to be installed at intersections in counties outside New York City. They have charged that the bill would have benefited CMA consulting services of Albany, which distributes monitoring technology. A former counsel to Gantt, Robert Scott Gaddy has a sizable contract to lobby on behalf of CMA Consulting. A Gantt staffer said at the time that Gantt never supported traffic enforcement cameras and only introduced the bill "to control the legislation -- to do what he wants with it."
The Geographic Schism
Observers tend to think the defeat of the bus lane cameras sprung more from one man's -- Gantt's -- strident opposition than from any gap between the city and upstate.
Assemblymember James Brennan of Brooklyn, who chairs the Cities Committee, does not see Gantt's concern about the enforcement cameras as an upstate vs. downstate issue. "It is an issue that affects Buffalo, Syracuse and places all over the state," Brennan said. "It is not just a New York City issue."
Neysa Pranger of the Regional Plan Association agreed. "Generally, legislators defer to those whose districts are affected by the legislation. It is unfortunate how it (bus rapid transit camera legislation) played out, but I think it had more to do with how he (Gantt) felt about the issue than regionalism," she said.
Bing said that he never had a conversation at the time with Gantt about why Gantt opposed the camera legislation. "I reached out to the chairman and said we would like to work with him to make amendments to the bill based on any concerns he had, just as we did with the New York Civil Liberties Union and the transportation unions, but not once did I hear why he was opposed to it," Bing recalled.
Gantt said he communicates with downstate representatives and said he talks largely with those who he thinks "want the best for the state as a whole." Those representatives include Richard Gottfried from Manhattan and Michael Gianaris from Queens.
Deferring to the City
Last year, supporters of a congestion pricing plan that would have charged commuters $8 to enter parts of Manhattan were shocked when Assembly Speaker Sheldon Silver announced that the plan did not have "anywhere near a majority in the Democratic conference and will not be on the floor of the Assembly."
The proposal, pushed by Mayor Michael Bloomberg, had support from the City Council, environmental groups and labor groups —as well as upstate Republican senators who Bloomberg had supported. It faced stiff opposition from legislators from Brooklyn, Queens and New York's suburbs, who said the plan was elitist and would hurt their constituents.
When the plan failed, supporters blamed outspoken legislators from outside the city, notably Richard Brodsky of Westchester. Critics slammed Brodsky, saying that he opposition stemmed not from concern for his constituents but his relationship with the parking industry. Streetsblog reported that in 2007 Brodsky had received more campaign donations from the parking industry than any other legislator, some $16,700 over a three-year period.
Whatever the reasons for Brodsky's opposition to congestion pricing, though, his suburban constituents would have been affected by congestion pricing more than, say, the constituents of David Gantt from Rochester. Further Brodsky was joined by many legislators from Brooklyn and Queens, who also stood against charging their constituents to drive in Manhattan.
According to Brennan, upstate legislators deferred to legislators from New York City and its suburbs on congestion pricing, and opposition certainly was not limited to one member or to one area.
"No offense to my upstate colleagues, but I think for the most part they didn't express their opinions on congestion pricing. It very much came down to concerns of people who were directly affected," Brennan said. "There is no basis for them to even think it was defeated by upstate members."
Personal Politics
In general, Bing said, members tend to yield to the wishes of legislators whose district would be most affected by a given proposal. "On most issues there is deference to a local legislator," he said. "That happened for congestion pricing. Upstate members deferred to downstate, and the reverse is true. …We tend to defer to the members whose districts are affected."
On upstate matters, Bing said, he relies on legislators including Crystal Peoples of Buffalo and Darrel Aubertine of Cape Vincent. "I would talk to Aubertine about guns and farms and I would tell him about downstate housing," said Bing.
Assemblymember Jack McEneny of Albany, said that the debate over congestion pricing in the Assembly was long and hard. He described the process: "We had this caucus to try to get on the same page, and it is very time consuming. But while we debated, Shelly wouldn't say where he stood. It was debated. Problems came up, like where the money goes, if it is going to transportation, the privacy issue and the specter of people dumping cars in neighborhoods. We would say, 'Shelly, where do you stand?' He would say, 'I don't want to tell you.'"
Finally, McEneny said, when it became clear there was not enough support to bring the bill to the floor members again pressed Silver on where he stood. According to McEneny, Silver responded, "'I'm from the Lower East Side. I'm for it for my constituents but I will go with the will of the conference."
McEneny insists that Silver ensures that his majority discusses issues at great length before moving on them. "Someone says we need an East Side subway stop? I say, why? They explain it," said McEneny. "We challenge one another. We spend tedious amounts of time in caucus and everyone gets to talk."
What would have informed McEneny's vote on congestion pricing had it come to a vote? "'All politics is local,' -- Tip O'Neill," said McEneny. "All politics is personal -- Jack McEneny," he continued. "I read the sponsorship more than I read the bills. I know by the name on the bill if it is someone who knows their stuff or if it is someone who is doing a favor for a friend."
McEneny said that while tensions between upstate and downstate existed in the past, he thinks upstate representatives have reconciled their issues with New York City. "After 9/11 people saw the list of names and realized that New York is the nursery for young professionals," said McEneny. "It is New York's economic engine. They said, 'That's our cash cow.' And we want our children to go there to learn and then come back home."
The Mayor's Role
The personal politics in Albany has posed challenges for Mayor Bloomberg, who has earned the enmity of many legislators for his attitude and for some of his political moves. It is said that a number of upstate legislators find Bloomberg arrogant, heavy handed and elitist.
Transportation advocates say antipathy for the mayor could have helped kill congestion pricing "Everyone hates the mayor, right?" asked Kate Slevin of the Tri-State Transportation Campaign. "You go to Albany with a plan with the mayor's name on it and it is very difficult. Go back with a plan with Richard Ravitch's name on it, and it is a different story. People don't like the mayor and the way he does business."
Gene Russianoff of the Straphangers Campaign, a transit advocacy group, said there traditionally has been tension between the legislature and the mayor of New York. "The Tom and Jerry relationship between the state legislature and the mayor dates back centuries. There has always been this tension. One level of government always has it in for another level," Russianoff said.
That relationship between the mayor and the legislature will certainly influence upcoming action on school control, term limits, rent regulation and aid for the transit system.
The fact that the term limits issue has arisen in the capital at all could be viewed as a commentary on the mayor's popularity, along with legislators' reluctance to see out of work City Council members seeking their jobs. Assemblymember Hakeem Jeffries of Brooklyn has proposed a bill that frames the extension of term limits in the city -- and the mayor's push for a third term -- as a statewide issue. His bill would require any extension of term limits be put up to a public vote. To the surprise of observers the legislation has made it out of Assembly, and a similar bill has support in the Senate.
The fate of another issue dear to Bloomberg's heart -- mayoral control of schools -- could also hinge to some extent on distaste for, if not Bloomberg himself, his appointee: School Chancellor Joel Klein. During a series of recent hearings about mayoral control, legislators expressed their frustration about working Klein and his staff. While many of those irked at the chancellor represent New York City districts, Gotham Schools' Elizabeth Green has written, "I haven't found any lawmakers who don't complain about Klein."
The situation has led to speculation that a deal might be made to allow Bloomberg to keep some control of city schools -- if he gets rid of Klein. In the meantime, Klein reportedly has stepped up efforts to communicate with lawmakers in hopes that his effort will yield a better outcome for his boss.
The Power of the Purse
Bloomberg's campaign donations, largely to Senate Republicans, won him support on key issues, such as congestion pricing. It could also work against him. Sen. Suzi Oppenheimer of Westchester, chair of the Senate education committee, will likely have some say in the fate of mayoral control of schools. Perhaps unfortunately for the mayor, he gave money to Oppenheimer's opponent last year and, by some accounts, she does not seem ready to forgive him.
While money always figures in politics, it can be a particularly powerful influence when the issue at hand does not affect a legislator's constituents. The State Senate's stand on rent control provides an example.
Traditionally, the Democratic controlled Assembly would pass rent reform legislation only to see it languish in the Senate, which was controlled by upstate Republicans who greatly benefited from donations from the real estate industry. Many of those senators had no rent control -- and not many apartments--in their districts. To cement the upstate support, real estate interests ran advertisements in upstate districts telling viewers to call their legislatures to "oppose New York City rent regulation."
Now with the Senate having, as Bing put it, a new "urban Democratic majority," one would expect that to change. In general, with both houses controlled by Democrats -- and the three most powerful leaders in Albany all from New York City -- one would expect this to be a good time for issue dear to the Democratic city.
Things, though, might not be that simple. Faced with a thin majority and a few outspoken renegade Democrats, Senate Majority Leader Malcolm Smith is tiptoeing around sensitive issues. On rent control, for example, Smith said in a recent interview, that the rent regulation proposals passed by the Assembly still "need debate" in the Senate -- and will likely not be taken up until after the state's dire budget situation has been addressed. Insiders say that Smith is concerned that Republicans might be able to win back seats upstate if the Democratic majority is seen as focusing too much on downstate issues.
On top of all of this there is the simple fact that New York City legislators don't always agree. Disagreement between representatives of the five boroughs helped ensure congestion pricing did not come to a vote. It is almost certain that New York legislators will not come down united on school control.
In general, Smith minimized the idea of downstate vs. upstate concern. He believes the basic interests of his urban district in Queens are the same as those of communities in upstate New York, Smith said. Calling the divide a "psychological myth" created by Republicans," he said, "We have seen results of that in the form of a $15 billion deficit. Its not really upstate downstate -- it is people's interests vs. special interests."
Sen. Neil Breslin of Albany frames the same idea differently. "I think of it a lot like a baseball team," he said. "We might be from different places, but we are all playing for the same team to better New York."