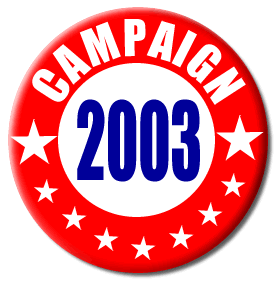 Normally, few would have taken notice of the routine summer meeting about to begin on the City Council side of City Hall last Wednesday. Little girls in sashes and tiaras, veterans of the Bronx Puerto Rican Day Parade, were posing with plaques near the podium up front, one of several picture-ready ceremonies before the 51 members of the City Council took up the serious business of the day, the highlight of which was going to be a vote to approve the construction of 20 public toilets.
But then Othniel Askew shot and killed Brooklyn Councilmember James E. Davis, the first murder ever to take place inside City Hall. The murder brought national attention to the often overlooked branch of city government just months before all the council members must run for re-election.
It is a good bet that even most New Yorkers did not know that there were any political races coming up. But Othniel Askew certainly knew. He had hoped to run against Davis, and claimed he had collected enough signatures to make it onto the ballot, but told reporters he narrowly missed the deadline for filing the signatures with the Board of Elections.
As police continue to investigate the bizarre circumstances of this sensational crime, it is unclear whether (and, at this point, unlikely that) the murder will have anywhere near the same impact as the assassination in July 1881 of President James Garfield by a person always described as a "disappointed office seeker" -- which led to a complete rethinking of the process of staffing the federal government.
There are plenty of critics of the election system in the city who believe it needs to be rethought, and not because of violence -- although violence in city politics certainly exists. In 2001, a council candidate's headquarters was set on fire and in another incident police had to break up a shoving match between rival campaign workers. Just two days after Davis was shot, a campaign worker for a challenger was arrested for threatening Queens Councilmember Hiram Monserrate.
But candidates are far more routinely battered by the frustration of simply trying to get onto the ballot, especially if they are challengers to an incumbent. Every campaign season, candidates go to court to knock one another off the ballot, with the most powerful and wealthy candidates backed by a team of lawyers. The Davis campaign, for example, though suddenly without a candidate, continued to challenge the signatures of a candidate for the seat, Anthony Herbert.
The race to succeed Davis is one of just 51 this fall, when across the city, some 165 people will be running for seats now largely occupied by one-term incumbents. The race in district 35, James E. Davis's old seat, will certainly be the most watched campaign of the year (See article). But there are at least nine more races in which, political observers say, the outcome is not at the moment a foregone conclusion.
Some races to watch this fall are rematches of 2001, when the difference between the winner and loser was just a few dozen votes.
In the north Bronx, Shirley Saunders, who lost to Larry Seabrook by just 103 votes in 2001, is running again and challenging the record of the incumbent. "I think people have seen Larry Seabrook more over the last three months [campaigning] than they have in all of sixteen years," said Saunders.
In other races, the incumbents have spurred the opposition by their personalities or actions.
Queens Councilmember Allan Jennings has earned a reputation as one of the most unpredictable members of the council, in the last two years comparing himself to Jesus Christ, placing newspaper ads pledging his love for a Chinese folk dancer, and calling Mayor Bloomberg a "dictator." Jennings, who did not get the endorsement of the Queens Democratic party is facing five challengers this fall, but says he is not concerned: "I am still going to win."
And some races - although they have a personal and political component - are centered on issues that affect New Yorkers' lives.
Cypress Hills, Brooklyn, for example, has the highest rates of childhood lead poisoning in the city and incumbent Councilmember Erik Dilan is one of just a few in the council who has not sponsored legislation to require landlords to clean up lead dust. His challenger, Nellie Santiago, says if she is elected she will work to get the bill passed.
Just how the murder of Councilmember James Davis will change this campaign season is yet to be seen.
Some say that the violent attack in the chambers of the City Council is bound to affect the candidates and their strategies. "Events like this make us feel vulnerable and distrustful, both for candidates and the citizenry," said Scott Levenson, a political consultant.
But others say that unlike the terrorist attacks of September 11, which postponed - and overshadowed - Primary Day in 2001, this tragedy will not radically alter the political process. "In 2001, the very act of campaigning could be viewed as taking advantage of a tragedy," said political science professor Douglas Muzzio. "This is a totally different set of circumstances. These candidates will run all out, full out."
TEN RACES TO WATCH
The following are summaries of articles about ten races. The links take you to a district homepage on our Community Gazettes. Then click on the "Campaign 2003" button to take you to that district's campaign page.
District 10 - Washington Heights, Inwood
In an area of the city where rents are rising and affordable housing is scarce, three Democrats and a Republican are challenging incumbent Councilmember Miguel Martinez.
District 12 - Co-Op City, Baychester, Wakefield, Eastchester
A third of the population of district 12 and two Democratic rivals live in Co-op City, which represents the bulk of voters and the area's major issues. Shirley Saunders, who only lost by 103 votes in 2001, is again challenging incumbent Councilmember Larry Seabrook.
District 18 - Parkchester, Castle Hill, Soundview
In the latest chapter in a long political rivalry in the Bronx, incumbent Councilmember Pedro Espada Jr. has dropped out of the race and handed his seat to his son Pedro G. Espada. A new challenger, backed by the Bronx Democratic Party, is hoping she can win.
District 27 - St. Albans, Hollis, Cambria Heights
The quiet middle-class neighborhoods of district 27 in Queens are home to much of borough's trash. Garbage dumps - and what should be done about them - are a major campaign issue in this district where the challengers say the incumbent spends too much time at City Hall.
District 28 - Richmond Hill, Rochdale Village, South Jamaica
Councilmember Allan Jennings has earned the reputation as one of the most unpredictable members of the City Council. Five challengers and the Queens Democratic party are hoping to unseat him.
District 34 - Williamsburg, Bushwick, Ridgewood
The face of Brooklyn is changing as the waterfront is developed and trendy neighborhoods spring up. But the council member who represents district 34 will also have to listen to the concerns of residents of Queens, now that redistricting has changed the political boundaries of this area.
District 35 - Fort Greene, Clinton Hill, Prospect Heights
Councilmember James E. Davis was shot dead by a political rival. This fall, residents will now have to choose someone to fill the vacant seat.
District 37 - Cypress Hills, Wyckoff Heights, Bushwick
This district has the highest incidents of childhood lead poisoning in the city, and the race centers on legislation to create tougher lead paint laws. The incumbent does not support it; the challenger does.
District 43 - Bay Ridge, Dyker Heights, Bensonhurst
Taxes matter a lot in this area, which is one of the few parts of the city ever to elect a Republican to the City Council. A Democratic incumbent, who has voted to raise several taxes since taking office in the spring, is hoping he can hang on to his seat.
District 45 - East Flatbush, Flatlands
A nondescript building in East Flatbush could determine the political future of City Councilmember Kendall Stewart. He owns the building and blamed recent violations on his tenants. His challengers say he is not serving the community.