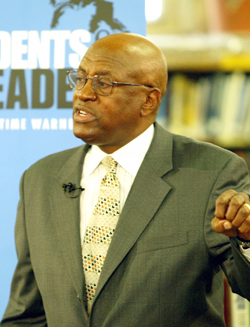 It's been nearly 15 years since an incumbent Democrat lost a reelection bid for Congress in New York City, and barring scandal or death, most U.S. Representatives face little risk of losing their seat over the course of a career. Harlem, for example, has had only had two representatives - Adam Clayton Powell and Charles Rangel - since the Congressional district was first created in 1944.
U.S. Representative Edolphus "Ed" Towns, who has represented the 10th district in Brooklyn since 1982, has not had it so easy.
In 1998, Towns narrowly survived a primary race against attorney Barry Ford. And this year, Towns faces several well-known Democratic challengers, including City Councilmember Charles Barron, Assemblymember Roger Green, and hip-hop writer and activist Kevin Powell.
One reason the 12-term incumbent faces opposition is his voting record, which has upset Democrats in both Washington DC and New York.
Last year, Minority Leader Nancy Pelosi threatened to strip Towns of his committee assignments after he missed a key budget vote that the Democrats lost by just two votes. Towns offered no explanation, other than to say "people miss budget votes all the time."
A few months later, Towns went against Democratic leaders and voted in favor of the Central American Free Trade Agreement (known as CAFTA), a trade deal that many union leaders and human rights activists opposed.
All three challengers -- Charles Barron, Roger Green, and Kevin Powell -- say they would have voted against the trade agreement because it moves jobs out of the U.S., hurts the environment, and exploits low-wage workers overseas.
Towns also hasn't offered a clear answer to why he voted for the trade agreement, but his legislative aide, Rick Blake, defended the vote as "principled" and said the congressman has supported labor issues more than 90 percent of the time.
In the 10th district, which includes East New York, Bedford-Stuyvesant, Fort Greene, and parts of Brooklyn Heights and Cobble Hill, the incumbent and all three candidates agree on the most critical issues: jobs, education, and affordable housing.
Towns, who sits on the Health Subcommittee of the House Energy and Commerce Committee, said he stands on his record (see his Web site) although in an interview he did not specify exactly what he has accomplished.
The congressman says he is currently working to build connections between local schools and the fire department in order to help encourage students to go into the profession. He also plans to "convene a summit" of educators and corporate leaders focused on improving the preparedness of youth for jobs and college.
City Councilmember Charles Barron -- a former Black Panther who calls Towns "lackadaisical" - is campaigning on his record in the council, including opening a youth center in the area, fighting for funding to renovate parks, and helping the City University of New York establish a long-term capital plan.
"I've demonstrated that I can deliver infrastructure," said Barron.
If elected to Congress, Barron said he would advocate for more federal funding to help the district's small businesses. He also wants to build a science and technology center as well as a planetarium to provide education and job training for residents. "We need to bring science, technology, and culture to the 10th district," said Barron.
State Assemblymember Roger Green, who announced his candidacy for the house seat in April, said that there is a "disconnect" between Towns and his constituents. Green cites Towns votes to repeal the estate tax and to tighten bankruptcy regulations, which Green says will hurt the poor and benefit the wealthy.
"[We shouldn't be voting for] tax credits for Paris Hilton so that she can buy jewel necklaces for her Chihuahua," said Green.
Green also points to the efforts in the State Legislature to improve education, build affordable housing, and require large developers to employ minority-owned businesses.
Unlike Barron and Green, Kevin Powell, who first gained fame on the MTV television show "The Real World" and later helped found the hip-hop magazine Vibe, has never held elected office.
But Powell points to his record of political activism, such as working to raise money for local charities, fighting for voting rights, most recently, organizing Hurricane Katrina relief efforts. He said he would focus his campaign on reducing the rates of HIV and AIDS, improving education and after-school programs, and reducing crime.
"The problem with Towns is that he is not actively engaged in the community development process," Powell said.
When it comes to the campaign, Towns has the advantage of an incumbent. He already received endorsements from local politicians like Rep. Charles Rangel and several members of the State Legislature and City Council. Towns has also raised almost $591,000.
Barron, however, has shown he can also raise money in his past City Council campaigns and has gained considerable name-recognition as an outspoken advocate for the poor.
"I have the best chance to retire the incumbent," claimed Barron.
Green has a 26-year record in the New York State Legislature to build on, but it is not unblemished. In June 2004, Green resigned from the Assembly after he pled guilty to two counts of petty larceny and one count of filing a false instrument for falsifying for travel expenses. Still, Green was re-elected to his seat later in the year.
Powell, who is 40-years-old, has scheduled a series of fundraising events across the country for his bid -- and hopes to draw in voters with his youth and enthusiasm.
"Money, fame, status, personal achievements, and all that means very little to me when pain and suffering are still real on this planet," his Web site states. "I am interested in the powerless becoming powerful."
Towns dismissed his challengers and said they were "not bona fide candidates."
"Well, the ideal situation would be that I had no race," Towns told the Daily News, "But if I'm gonna have one, let all run. God bless."