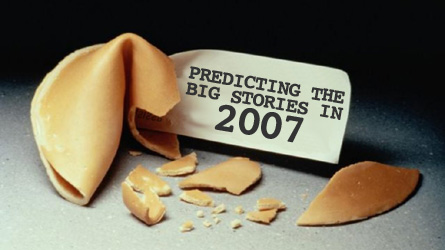 At the site of New York's two World's Fairs, Mayor Michael Bloomberg recently talked about the future. In a speech, the mayor laid out the possibility of a grim 2030 for New York City. Rush hour will be 12 hours long, there won't be enough electricity to go around, and monster storms, empowered by global warming, will regularly pummel the city.
But the mayor sees a way out, if New Yorkers can come up with ideas to change the future. He thinks they will.
"It's here in Flushing Meadows ... that more than once, New Yorkers have looked beyond the present, to see the promise of the future," said Bloomberg.
Of course, the futures envisioned at the World's Fairs didn't necessarily come true. At the 1939 World's Fair – whose theme was "Building the World of Tomorrow" – an exhibit called "Futurama" predicted that the United States would construct an elaborate system of superhighways, enabling people to spread across the country in suburban luxury. This is kind of what happened, actually, except that in Futurama the vehicles that traveled on the superhighways didn't have drivers, and were controlled instead by magnet-wielding computers. The 1964 fair had Futurama II, which foresaw a "near future" where people populated the moon and vacationed in underwater hotels.
Gotham Gazette encourages such innovative and fanciful thinking, so each December we ask New Yorkers to predict what will happen in the year to come. This year, two dozen public officials, journalists, and advocates tell us what they think the big story in 2007 will be. There was little talk of cataclysmic new weather patterns or automated cars (well, a little talk about automated subway cars). But our predictors did see a 2007 with big fights in Brooklyn, big changes in Albany, the end of the black-and-white cookie -- and twelve months of speculation about November 2008.
DOUG MUZZIO – PROFESSOR, BARUCH COLLEGE
New Yorkers will confront the unthinkable.
Pataki gets off LSD, goes into private sector.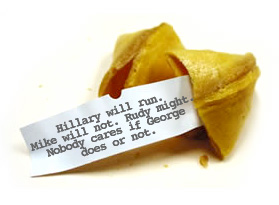 Everything does not change on Day One -- or Week One, Month One, Year One, or even first term. But a lot does. Albany is awakened from its long dysfunctional, often corrupting, sleep.
DICK GOTTFRIED – MEMBER OF THE STATE ASSEMBLY
The story will be the Spitzer Administration, of course.
BROOKE MASTERS – AUTHOR OF "SPOILING FOR A FIGHT: THE RISE OF ELIOT SPITZER"
Eliot Spitzer will charge into the governor's mansion and pick at least one high-volume, high profile fight with Sheldon Silver to demonstrate his independence. One likely point of contention: Spitzer's efforts to reform redistricting and campaign laws.
On other policy issues: Spitzer will give the NYC schools more than the $1.9 billion required by the Court of Appeals but considerably less than the $6 billion the CFE folks were hoping for. For business, he'll try to revamp the workers compensation insurance rules to cut premiums. Middle-class homeowners should see a small cut on their property taxes. There will be months and months of negotiation over efforts to revamp Medicaid and Spitzer will almost certainly lose his temper and tell someone powerful off in a way that makes headlines in the tabloids and the Wall Street Journal.
ERROL LOUIS – NEW YORK DAILY NEWS COLUMNIST
The debate in Albany on a host of issues – including parole reform, public support for subsidized housing, transparency in government and reducing the influence of lobbyists – is about to shift several paces to the left. Big story.
Locally, the conclusion of the Campaign for Fiscal Equity lawsuit means the city will have a constitutionally mandated minimum of $2 billion in additional spending every year. This will spur a furious three-way battle between the Department of Education, the United Federation of Teachers, and long-suffering parents who have been waiting more than a decade for change.
BRIAN LEHRER – RADIO HOST, WNYC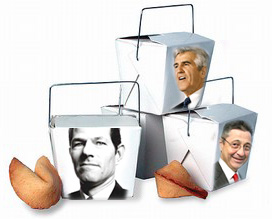 Governor Spitzer will move quickly to stuff the legislature with big proposals for change, including less power for two of the three men in the room (guess which two.)
Spitzer will stage some "Sister Souljah moments" early, not aimed at black people specifically like Bill Clinton's was, but to show his independence from some Democratic constituencies (the teacher's union?) and establish his bipartisan credibility. Remember, he'll want to run against Obama in 2012.
Spitzer will be very popular in his first year, despite a tough love budget.
Giuliani, Pataki, and Hillary Clinton will all run for President, and all still be in the race at year's end. Bloomberg will still be teasing us with the idea at this time next year.
Congestion pricing will gain even more popularity among policy wonks, but union opposition will stop it from taking off in City Council or in Albany. Spitzer will have to answer the question: "Why does Albany get to decide these things for the city anyway?"
The trans-fats ban will take effect in restaurants, but New Yorkers' trans-fat blood levels will remain unchanged.
JONATHAN BOWLES -- CENTER FOR AN URBAN FUTURE
Continuing his recent public health kick, Mayor Bloomberg bans black-and-white cookies, pastrami sandwiches and Kennedy's fried chicken. He also orders changes to the Nathan's Hot Dog Eating Contest, capping the number of hot dogs allowed to be eaten at 10.
The Spitzer administration accomplishes more in its first six months than the Pataki administration did in 12 years.
In addition to advancing transit infrastructure projects like the Second Avenue Subway and the extension of the Number 7 train, state and city officials finally start to put pressure on the
MTA to improve and expand existing subway and bus service.
GENE RUSSIANOFF, STRAPHANGERS CAMPAIGN
There will be a new MTA Chairman by late spring to replace current MTA Chairman Peter Kalikow - as well as a new president for the subway and bus system to replace NYC Transit President Larry Reuter, the longest serving head of the city transit system.
Transit and traffic officials will open the first two "Bus Rapid Transit" lines - and these "subways on the surface" as Mayor Bloomberg calls them will be very popular with riders.
In the fall of 2007, the MTA will have to face an estimated $900 million dollar deficit for the following year. Everything - from a fare and toll hike to new management savings to increased state aid - will be in play.
New York City Transit will end its loopy plans to run trains without conductors.
The Second Avenue Subway will start construction, but its long-term fate will remain uncertain.
Mayor Bloomberg will sign Council legislation that requires private employers of 50 or more to offer their workers TransitChek, a programs that gives both businesses and employees tax breaks for using subways, buses and commuter rail.
NICOLE GELINAS - SENIOR FELLOW, MANHATTAN INSTITUTE
1. The state-run Metropolitan Transportation Authority (MTA) finally will learn that its customers loathe the unattended high-entry-exit-turnstiles it has installed all over Gotham's subway stations in the past few years to save a few million dollars' worth of token clerks' hours. The MTA then will determine, once and for all, to deal with its real labor problem: not too many clerks, but overly generous pension and healthcare benefits for those workers relative to what's available in the private sector. The MTA and the Transport Workers Union then will negotiate a new contract that calls for reasonable pension and benefit reductions in the future, allowing the authority to property staff its stations again while saving the riders and taxpayers money at the same time.
2. Mayor Bloomberg will announce that he won't spend another taxpayer dime on city-subsidized "affordable housing." In a speech, he'll say he's decided, after careful consideration of the issue, that the government shouldn't be in the business of subsidizing housing for hundreds of thousands of working-class and middle-class New Yorkers, because the end result of that philosophy is government allocation of all housing, which certainly isn't something the city should pursue. The mayor will say he'll spend that money instead helping the MTA to build new express tracks to the outer boroughs, to allow those same working-class and middle-class New Yorkers get to work more quickly from their unsubsidized, private-market housing.
3. If it's a boy, Donald Trump, Jr. and his wife, Vanessa, will name their new baby Donald Trump III.
SUDHIR VENKATESH – DIRECTOR OF THE CENTER FOR URBAN RESEARCH AND POLICY AT COLUMBIA UNIVERSITY
The big story will be the rise of hate crimes against minorities. There will also be a new wave of grassroots organizing; I think you're going to see minority communities challenging their own leadership.
ESMERALDA SIMMONS – EXECUTIVE DIRECTOR CENTER FOR LAW AND SOCIAL JUSTICE, MEDGAR EVERS COLLEGE
There will be continued advocacy against the New York Police Department's use of excessive force. I don't think it's going to die down. There will also be a push for immigration reform and for more affordable housing.
JILL NELSON – JOURNALIST, AUTHOR AND ACTIVIST LIVING IN HARLEM
I think the big story will be the continued loss of affordable housing and the disappearance of the working and middle class from the city as it is transformed into a place for the very rich, those who serve them, and the few others who still cling to housing.
I also think we'll see increased instances of police violence against young Black and Latino males and perhaps an organized and violent response to these police actions as people arm to protect themselves from the robbers and the cops.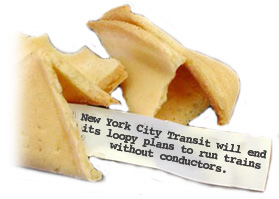 Overall, we'll see an increased division based on race and class as the wealthy continue to eat up housing stock, wages stagnate, hospitals close and health care disappears, public schools continue to fail most students, unemployment remains almost 50 percent among Black males, people feel economically disenfranchised and trapped, and the developers, chain stores and gentrifiers, like arrogant and studiously oblivious locusts, continue to gobble up the resources necessary to maintain the economic, racial, and cultural diversity that once made New York City such an amazing place for dreamers and pragmatists alike.
GALE BREWER – CITY COUNCILMEMBER
The big story in 2007 will be the issue raised by the shooting of Sean Bell, and the relationship between police and residents – all kinds of residents. There have been a lot of discussions. This is a diverse city, and we have a wonderful police force. This is a historical, ongoing challenge. We're a safe city, but we also have to be a compatible and compassionate city.
MARTY MARKOWITZ – BROOKLYN BOROUGH PRESIDENT
The Atlantic Yards project will bring thousands of new union jobs to Brooklyn as we eagerly anticipate the arrival of the Brooklyn Nets and thousands of units of affordable housing in our enhanced and vibrant downtown.
Our new Democratic Governor and Congress will play a role in bringing the parties responsible for the oil spill in Greenpoint and the pollution of Newtown Creek to justice.
Coney Island will reclaim its status as "America's Favorite Playground," as plans for a new amphitheater are set in motion and the glorious Parachute Jump, a.k.a. "Brooklyn's Eiffel Tower," lights the way.
SAMUEL FREEDMAN – NEW YORK TIMES COLUMNIST, AUTHOR OF SMALL VICTORIES
1) The Atlantic Yards plan will be either defeated by racial politics or terminally bogged down in court challenges.
2) Confrontations will develop at many schools between teachers and the principals installed by Chancellor Joel Klein straight out of the Leadership Academy.
3) The cast of prospective mayoral candidates for 2009 will have people cursing the law that does not allow Michael Bloomberg a third term.
ELAINE RIVERA – STATE POLITICS REPORTER FOR WNYC
The big stories of 2007 will be:
1. Eliot Spitzer's first 100 days. He's got to make his mark quickly.
2. What happens with Atlantic Yards. If Sheldon Silver nixes the project, it will be the third development project he has nixed -- first here was the West Side Stadium, then the Moynihan Station.
3. New Yorkers running for president. Hillary will announce. Mike will not. Rudy might. Nobody cares if George does or not.
DAVID RABIN – OWNER OF LOTUS, CO-PRESIDENT OF NEW YORK NIGHTLIFE ASSOCIATION
Someone in City Hall will finally wake up and realize that nightlife is a $10 billion economic engine for NY, and is just as crucial a factor as Broadway, sports teams, or museums when people decide to travel here as tourists or move here. The Mayor will set up an Office of Nightlife just like the Mayor's Office of Film, Theatre and Broadcasting.
DAVID KALLICK – FISCAL POLICY INSTITUTE
Eliot Spitzer will quietly realize that it doesn't make sense to spend hundreds of millions in public dollars to build the Freedom Tower as a home for government workers who don't even want to go there.
Taking the Freedom Tower out of the equation, Spitzer will restore public confidence in the rebuilding process by making the rebuilding at Ground Zero go faster, work better, cost less, and have the memorial - - not a political symbol - - as its central element.
RICHARD PEREZ-PENA – REPORTER, NY TIMES
I'm a health care reporter, so I always think health care is going to be the big story in the upcoming year.
One of the most interesting things is going to see how Spitzer tries to keep his promise of universal health insurance. I really don't know what he has in mind.
I think the [Berger Commission's recommendations] will take effect. It may not all happen on schedule, but I think it will happen. But I also think that in a few years we're going to be doing this again. The hospital closures aren't going to stop because you managed your way through a part of the process. All those same forces are still at work.
JENNIFER CUNNINGHAM – EXECUTIVE DIRECTOR, 1199 SEIU
2007 will be a year in which the debate over healthcare costs rekindles the desire of Empire State policy makers to address the crisis of the uninsured. NY's congressional delegation, with its newfound clout, will push for a federal solution, sharpening the debate over the issue during the 2008 presidential election cycle.
JOHN SEXTON – PRESIDENT OF NYU
With Mayor Bloomberg's announcement of a major sustainability initiative for New York City and with the issue of climate change very much on everyone's mind, more and more major New York City institutions are going to scrutinize their operations to determine how they can contribute to sustainability.
The reason New York City is so great is that it has been, almost since its beginnings in the 17th century, the birthplace of important ideas. Sustainability is one of those crucial ideas, and I expect to see an accelerating embrace of it in 2007.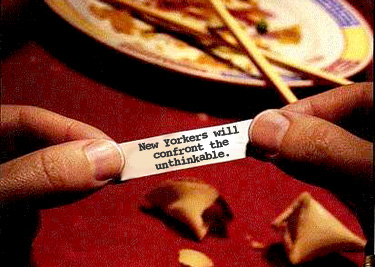 MAJORA CARTER – SUSTAINABLE SOUTH BRONX
The City of New York will coordinate its agencies in a way that allows for our environmental problems to be mitigated in many different ways with multiple benefits instead of relying on single-use, expensive, and ugly "end of pipe" solutions like sewage treatment plants, more power plants, emergency room asthma treatments, and jails.
JAMES ODDO, CITY COUNCIL REPUBLICAN LEADER
1) I think that in 2007 any talk of tinkering around with term limits dies. I think that comes to a stop. I think it's a mistake. It's impossible. After watching what the media did with the pay raise issue, people will come to realization that it's a fight you can't win.
2) This year, particularly during the budget process obviously, there will be more talk of property tax rollback than ever before. As the surplus continues to grow, the pressure on the council and individual members to bang that drum will grow. I'm not saying we'll get it, but I think you'll hear a lot of us talking about that.
3) In a case of instant karma, New York Yankee pitcher Mike Mussina will have an inordinate number of line drives hit back at his head this year. And I will cheer as each near miss happens, and hope that he has an epiphany. That's my third prediction. It might be as much wishful thinking as my prediction last year: " 2006 in a word: Suozzi!" But whatever.
Â