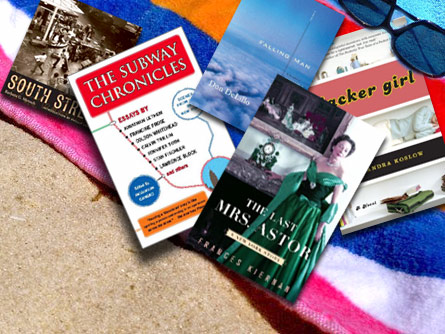 In writing and researching City of Fire, his fictional trilogy about New York City, Kevin Baker has read many books on New York City. Although fiction, the books includes lists of other writers' work Baker consulted as he portrayed Irish immigrants in the Civil War draft riots, Eastern European immigrants of the early 20th century and the African Americans who made their way from the Deep South to New York in the depth of the Great Depression.
And out of all his readings he provided us with a list of some he likes best, including his all time favorite: Low Life: Lures and Snares of Old New York by Luc Sante. Baker also recommends two books on civil mayhem, The Shakespeare Riots: Revenge, Drama, and Death in Nineteenth-Century America," by Nigel Cliff, and "The Devil's Own Work: The Civil War Draft Riots and the Fight to Reconstruct America" by Barnet Schecter. His other choices are: Gotham: A History of New York City to 1898" by Edwin G. Burrows and Mike Wallace; and "102 Minutes: The Untold Story of the Fight to Survive Inside the Twin Towers" by Jim Dwyer and Kevin Flynn, along with two books about mayors -- Grand Illusion: The Untold Story of Rudy Giuliani and 9/11 by Wayne Barrett and Dan Collins and Fiorello H. LaGuardia by Thomas Kessner.
Baker is a New York reader and a New York writer -- involved in the book industry from at least two ends. And he is far from alone. Many New Yorkers make their living from books – writing, publishing, selling and lending them – and in their spare time many read books about the city.
We have asked some people involved in books in New York to select their favorite works about the city. The choices are eclectic, from a mystery by a French master of the genre to a former wilderness writer's examination of the rats that live among us.
A selection of their choices is below. Next week, other experts about New York, including historian and political scientists, will tell us what they recommend. And we would like to hear from you: What are your favorites books about New York City? Send your choices to This email address is being protected from spambots. You need JavaScript enabled to view it. -- and we'll publish a selection of your comments.
For a list of some upcoming book s about New York, click here. And for our past interviews with some top New York writers – including Jim Dwyer, Kate Ascher and Jonathan Lethem click here.
SOME NEW YORK NOVELS
Dionne Mack-Harvin, executive director, Brooklyn Public Library:
Breath, Eyes, Memory by Edwidge Danticat
Danticat is an extraordinary storyteller, and she does a remarkable job at capturing the resilience and enduring strength of women in this novel. I also love the vibrant imagery of this story, especially how Danticat weaves back and forth between the countrysides of Haiti to the buzz of Brooklyn's Flatbush Avenue.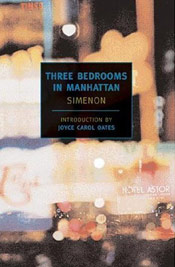 Alexandra Egan, Urban Center Books
Three Bedrooms in Manhattan, by George Simenon.
Set against the backdrop of a 1945 Manhattan both murky grey and neon, the work by the famed French mystery writer takes the reader along for endless rambles up and down late night Fifth Avenue and all through Greenwich Village. We drink whiskey and feed jukeboxes along with the protagonist, Francois, and the woman he meets by chance in a 24-hour diner and stumbles into love with. This is a side of Manhattan - visceral, desolate, and poetic - that has mostly not survived, and Simenon's stark novella, based on the story of his own meeting of his second wife, is a wonderful opportunity to discover (or relive) it.

Brooklyn Is: Southeast of the Island: Travel Notes, by James Agee.
Full of language so precisely and carefully sprawling that it must be read aloud. The book takes the reader across Brooklyn from edge to edge, revealing a borough by turns unchanged and unrecognizable. Every Brooklynite will find their neighborhood here, along with a portrait both scathing and sympathetic of the people, architecture and history that give Brooklyn its enduring spirit.
PERSONAL HISTORY
Nancy Bass, owner, Strand Books
Here is New York, by E.B. White
A timeless, relevant literary essay about the city. Funny and insightful; a quick but substantive read.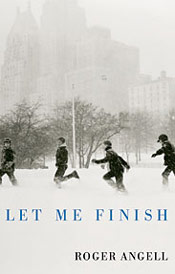 Toby Cox, owner, Three Lives and Company Bookstore
Let Me Finish, by Roger Angell
The long-time contributor and fiction editor at the New Yorker recounts his early days as a boy growing up in New York City.

The Good Life, by Jay McInerney
In this moving, surprising, and heart-stopping post 9-11 redemptive novel, Jay McInerney once again proves himself as a classic New York observer.
Stephen Maine, manager, The Strand
I Love New York, Crazy City, by Isa Genzken.
On a visit to New York a decade ago, German artist Isa Genzken accumulated hundreds of handbills, postcards, print ads, tabloid tear sheets, flyers, hotel invoices, and matchbook covers, patching them together, along with her own snapshots of New York street life, in a voluminous, scattershot scrapbook. This is a faithful facsimile of that unique volume, both a playful record of Genzken's idiosyncratic visual imagination and a vivid time capsule of mid-1990's Manhattan.
EVER EVOLVING CITY
Fred Bass, owner, The Strand:
The Big Oyster: History on the Half Shell by Mark Kurlansky
A revealing history of forgotten piece of New York's past: Oysters were the city's most famed export for centuries. And the book offers a cultural, economic and ecological study of New York's rapid development.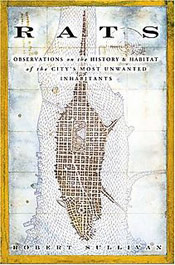 Jeffrey Lewis, co-owner, Bluestockings bookstore:
FOR YOUNGER READERS
Margaret Tice, coordinator of children's services, New York Public Library:
Uptown, by Bryan Collier
A tour of Harlem, the train, brownstones, shopping on 125th Street, summer basketball and the sunset of the Harlem River.

The Man who Walked Between the Towers, by Mordicai Gerstein
A lyrical remembrance of Philippe Petit's daring escapade in 1974, beautifully graced by striking panoramic views of New York City.

My Chinatown: One Year in Poems, by Kam Mak.
A boy from Hong Kong vividly remembers his first experiences in New York City "where the English words taste like metal in my mouth."

Max Found Two Sticks, by Brian J. Pinkney
A young Brooklyn boy responds to his neighborhood friends by drumming on buckets, hat boxes and garbage cans, echoing the city sounds.

Fat Kid Rules the World, by K. L. Going. (Published by G. P. Putnam's Sons)
In this book for teenagers, 17-year-old Troy gets a new lease on life when a homeless teen, who is also a genius on guitar, wants Troy to be the drummer in his rock band."
Abigail Moller, employee, The Strand
From the Mixed-up Files of Mrs. Basil E. Frankweiler, by E.L. Konigsberg
New York City has long been a magnet for those in search of the extraordinary, whether in their personal or professional lives. If you have ever felt yourself to be in rebellion against the monotony of daily life, or have ever longed to escape toward beauty and excitement, than this children's novel about two young people who run away from home and live for a time in the Metropolitan Museum of Art, will speak directly to you.
Reporting by Besa Luci, Mara Gay, Zach Rose and Valerio Russo
Â