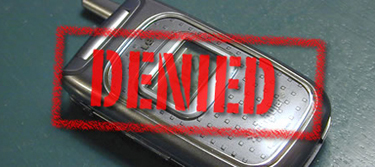 When NARAL Pro-Choice America applied to Verizon Wireless for a code so it could send text messages to Verizon subscribers who wanted to receive them, the organization never expected that the wireless provider would deny its request. AT&T, T-Mobile and Sprint, which share almost the entire U.S. market with Verizon, had shown no hesitation signing NARAL up for the five-digit "short code."
Unexpectedly, though, Verizon rejected NARAL's application. In its response, the company said its decision was in accordance with its policy to refuse messages it deemed "controversial or unsavory to any of our users."
Following a New York Times article and a public outcry, Verizon rescinded its rejection. But the fact that Verizon can reject or block politically controversial messages, whether or not it does, left many people feeling outraged.
On October 17, New York State Assemblymember Richard Brodsky convened a hearing to get the facts from NARAL and Verizon and to consider the issue of net neutrality, which would prevent Verizon and other service providers from withholding service based on the content of messages.
Net neutrality is the principle of non-discrimination on communications networks, especially the Internet, but also phone or mobile wireless networks. Proponents of net neutrality say the networks, no matter who owns them, should carry our messages regardless of their content or who is providing that content. Current law permits Internet and mobile wireless service providers to decide what content they carry, the way a cable television provider chooses which channels it can offer. This applies not only to the kind of short message code for which NARAL applied, but also to Web sites and even e-mails.
Phone companies like Verizon want the law to stay this way so they can charge a toll for some Web sites or messages to get through first -- or to get through at all. The current situation also grants them the power to censor political messages or to block content provided by their competitors: Because it is a private network, constitutional protections like free speech do not apply. This is why net neutrality is sometimes called the first amendment of the Internet.
Brodsky has introduced a bill, the Omnibus Telecommunications Reform Act of 2007, that would completely overhaul the way the state's telecommunications systems are regulated, promote the development of more high-speed Internet infrastructure and foster net neutrality. The hearing of the Assembly's Committee on Corporations, Authorities and Commissions, held in a pleasant but windowless hearing room at 250 Broadway, was an opportunity to consider additional strategies for net neutrality and to hold Verizon to account for its censorship of NARAL.
Provider as Censor
"Those of us at NARAL were stunned, frightened and appalled to discover that current law would permit such an offensive and ominous incident to happen," Kelli Conlin, president of NARAL Pro-Choice New York, told the State Assembly.
Verizon's defense was that it had made a mistake. Since then, the company says it has updated its policy to be "content neutral" so that something similar will not happen again. Representatives promised that the company does not block content.
But the committee members were skeptical.
Brodsky pointed to language in Verizon's own Acceptable Use Policy for Internet service, in which the company reserves the right to terminate service if a person's use of it is "objectionable for any reason." Verizon also puts restrictions on speech that it deems indecent or racist -- speech that in other settings would be constitutionally protected.
Assemblymember Daniel O'Donnell wondered who at Verizon made the decision to censor NARAL. Company representatives deflected the question, but O'Donnell persisted, making clear that without net neutrality or some application of the first amendment to the company's networks, an anonymous person at Verizon becomes the arbiter of free speech.
Verizon representatives conceded they would continue to put limits on communication. Assemblymember Brian Kavanagh wondered what the company would do if another applicant for a short code was so unpopular with Verizon customers that granting it access would hurt the bottom line. In that situation, Monica Azare, a Verizon New York senior vice president, said, "We have an obligation to do what is most prudent and in the best interest of all of the shareholders. And we do have an obligation to be a good corporate citizen as well, but we do not have to be the moral compass of the world in making a decision like that."
Assemblymember Linda Rosenthal asked the Verizon representatives what they would do if she used her Verizon phone to urge people to boycott Verizon. "I think the suits would go into a room again and huddle," Azare said.
Ultimately, Verizon attorney Keith Clemens assured Rosenthal they would not block her messages. "That is your right to free speech," he said.
The point of the hearing, however, was that constitutional protections on speech do not extend to communication over privately owned networks. What's more, Verizon's use policy specifically says, "You may NOT use the Service... to damage the name or reputation of Verizon, its parent, affiliates and subsidiaries, or any third parties." (Verizon has reportedly followed AT&T in cutting this type of language from its policy, but it was still there one week after the hearing.)
I was at the hearing to testify along with representatives of Free Press and Consumers Union. We argued that vital communication services such as e-mail, Web sites and text messaging are the platform for political speech today and that free speech is too important to leave to the discretion of private corporations.
Wielding Political Power
Telecommunications companies have a huge amount of political influence. Verizon spent nearly $10 million on lobbying in 2006. AT&T spent nearly $20 million -- well over that amount if you add in BellSouth, with which it merged in that year. The US Telecom Association, of which AT&T and Verizon are both members, spent another $20 million, according to the Center for Responsive Politics. And that does not include the tax-free money spent on industry-funded nonprofits posing as grassroots organizations.
Given that kind of lobbying, it is surprising to see any legislators, let alone a whole dais of them, take on the phone companies. They gave Howard Simons, the representative from the Cable Telecommunications Association of New York, a similar treatment. Still, it's hard to move big bills like Brodsky's through Albany when the governor and the leader of the State Senate are not on speaking terms.
The Committee on Corporations is pondering more incremental legislation to enforce or encourage net neutrality. It is a complicated task: Because the networks cross state lines, regulating them is generally a federal issue. However, Congress has stalled in its consideration of net neutrality measures, putting pressure on state and local governments to act.
Maine recently became the first state to pass a resolution endorsing net neutrality. New York City Council Member Gale Brewer, who testified to the State Assembly, has introduced a hearing similar resolution in the New York City Council. She told the Assembly she would consider a separate resolution urging the city's Department of Information Technology and Telecommunications to include net neutrality provisions in its negotiations with Verizon, Cablevision and Time Warner for franchises to provide cable television service to New York City.
Beyond symbolic resolutions, state or local governments can place restrictions on procurement, purchasing telecommunications services only from providers that agree to net neutrality.
State governments also have consumer protection authority, so they could require service providers to display more prominently the parts of their terms of service where they reserve the right to block content or cancel service to a customer who says something they don't like.
The hearing made clear that, as we move more and more of our political speech and civic engagement onto the Internet and other telecommunications networks, there is a pressing need to extend first amendment protections to those arenas. Otherwise, free speech could be nothing more than a premium feature on your Verizon Wireless calling plan.
Joshua Breitbart is policy director for People's Production House.
Â