Along with the big events that occurred in 2007, many things that people expected to happen, wanted to happen or feared would happen never took place.
Here are some of the big ones.
Bloomberg Did Not Declare His Candidacy for President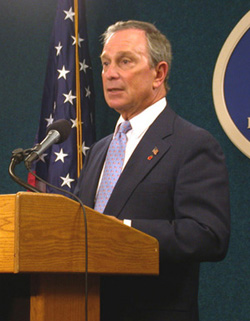 Speculation about the popular but term-limited Mayor Michael Bloomberg making a run for the White House gained ground in June when he announced he would quit the Republican Party -- the party he joined in 2001 in order to run for mayor and whose convention he welcomed to the city in 2004.
Bloomberg denied he had presidential ambitions, but many remained skeptical. For the rest of the year, political aficionados examined Bloomberg's every move, like tea leaves, trying to define what it said about his plans for the future. Bloomberg clearly enjoyed the attention, spurring it with his own moves -- such as the launching of a web site -- or when, during his recent trip to Bali, he criticized both U.S. politcal parties for not doing more about climate change.
Throughout it all, he continued to insist he would not run and instead planned to devote his post City Hall days to philanthropy. But Bloomberg fans, do not despair. Pundits say that the billionaire mayor would not really have to make his final decision until February or March 2008.
Gridlock Does Not End in Albany
New Gov. Eliot Spitzer was supposed to air out the figurative "room" where three men hold sway and end the dysfunction that he said put New York in a prolonged sleep (maybe stupor would be more like it).
Whoever you blame, it didn't happen. The year ended with the two houses of the state legislature unable to agree even on when to meet, let alone on what to do if they did manage to coordinate schedules. Major issues -- campaign finance, salaries for legislators and judges, and much more remained in limbo. "The gridlock here now is worse than I've seen it in decades," Barbara Bartoletti, legislative director for the League of Women Voters told the Daily News. "It's all because of the toxic atmosphere these people are functioning in."
Quinn Lets Term Limits Stand, Paving Way for 2009 Election Free For All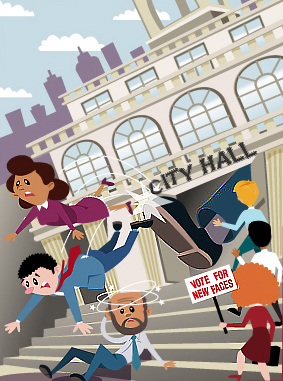 Two years ago Christine Quinn, then a candidate for City Council speaker, said she opposed term limits in their current form and would work with her council colleagues to alter them. After becoming speaker, Quinn said she and the council had had an on again off again conversation on the issue.
In December, that discussion ended. Quinn, considered an almost certain mayoral candidate in 2009, said term limits would remain as is. "I don't agree with term limits, but they are the will of the voters," who expressed their support for them in two separate elections, she said.
Whatever the reason behind her move, the decision paves the way for a wild game of political musical chars in 2009 as three dozen council members, to say nothing of the mayor, public advocate, comptroller and four borough presidents, all have to leave office.
Driving in Manhattan Remains Free
That is, of course, if you don't count the gas, wear and tear on car and psyche, and the pollution. Despite support from environmentalists, Quinn and some business leaders, among others, the Bloomberg administration saw its effort to institute an $8 fee to drive into Manhattan during the work week stall in Albany. With a special session of the legislature about to close and the plan declared all but dead, a compromise emerged that could still save the plan -- assuming a special panel, the City Council and the state government all sign off on some variant of it next year. So stay tuned -- as you listen to your car radio trapped in traffic on Canal Street.
No Moynihan Station or Governors Island -- And No Doctoroff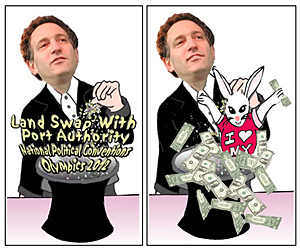 Lots of major development projects moved forward in 2007, but some cannot seem to get off the ground -- for better or worse. After years of talk about creating a new train station and other facilities in the West 30s, the notoriously inefficient and unpleasant Penn Station remains and a new Moynihan Station, incorporating the Farley post office has not budged much beyond the realm of fantasy.
Four years after the federal government sold New York Governors Island for $1, the city and state still have not come up with a plan for the island off the tip of Manhattan. Mayor Michael Bloomberg has reportedly toyed with the idea of having his foundation create a public health institute there. Other visions have included casinos, hotels, dormitories and a major campus for the City University. But so far, the island remain closed to the public for most of the year, offering New Yorkers a peek at its dazzling views and historic buildings during summer weekends only.
But if Moynihan Station and Governors Island (or your own favorite project) remain in limbo, you won't have Deputy Mayor Daniel Doctoroff to blame. He will be leaving city government to become president of Bloomberg's communication company. And he'll be taking some other stories that did not happen -- the 2012 Olympics, to name one -- with him.
The New York City Housing Market Does Not Collapse
While the housing market reeled from a nationwide mortgage crisis in much of the country, the real estate boom in Manhattan continued strongly with more than 10,000 apartments changing hands -- all for an average price in the borough of more than $1.3 million.
In general, the real estate industry remained in better shape in New York City than elsewhere. The average sales price for a place to live throughout the city reached about $782,000 in the third quarter of 2007, up 20 percent over the same period a year earlier. "We've never been able to produce a great deal of new housing here in New York, and we have great demand," Michael Slattery, a senior vice president at the Real Estate Board, told the Associated Press.
There were signs of weakness outside Manhattan. While luxury condos rose throughout Brooklyn, the borough saw a slight drop in sale prices for condominiums and co-ops. Lower income home-owners, who pay a higher percentage of their incomes for housing than more affluent people, stood to lose badly from any weakening in the market. In Queens, for example, the number of mortgage foreclosures more than doubled between July 2006 and July 2007.
And some experts feared the worst could still come if Wall Street brokers, bankers and others no longer receive the enormous bonuses and salaries that have fueled the huge price rise in real estate in Manhattan and parts of Brooklyn -- and in turn produced lots of tax revenue for the city and an impossible housing situation for most of the rest of us.
Starrett City Was Not Sold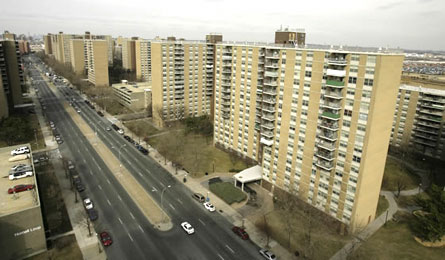 The sale of Stuyvesant Town and Peter Cooper Village -- touted as the "world's biggest real estate deal -- was one of 2006's top stories. As that purchase was announced, Starrett City, the 140-acre development on Jamaica Bay with many low and moderate-income residents, went on the auction block. The anticipated sale of the relatively remote complex for as much as $1 billion seemed likely to be a big story this year.
Except it did not happen. Borough Park developer David Bistricer put in a whopping $1.3 billion bid for Starrett City, leaving many people there to fear for their future. Federal and state officials then blocked the sale on the grounds that Bistricer's proposal to spend all that money for the complex and still keep the apartments affordable was not "financially feasible."
But the residents of the 6,000 apartments still face uneasy days ahead. In August, the current owners announced they were considering steps to charge market rents for the apartments and leave the government programs that enable many of Starrett City's residents to live there.
Renters Still Don't Get a Tax Break
The approximately two thirds of New Yorkers who rent their homes have seen a steady rise in their rent for years while they have not reaped the tax breaks, rebates and increase in values that homeowners have. With this in mind, many renters cheered when Council Speaker Christine Quinn proposed a renter's tax break, a $300 tax credit for people who don't own homes.
"A home is a home, whether you rent it or you own it," Quinn said.
Here's hoping they didn't spend the $300. Quinn's proposal vanished with barely a trace. The mayor never took a stand on it. Although it required approval in Albany, no record exists of Quinn or her council colleagues having done much to press the issue apparently because the mayor was not willing to push for it. Instead, the city budget approved in June cut property tax rates and provided a rebate to homeowners. Renters, who tend to earn less than homeowners, got nothing.
No NYC Team Won a Sports Championship
With Boston emerging as sports powerhouse, New York City teams came up empty handed again in 2007. The New York Knicks led city teams in futility, once again failing to make the playoffs for the 2006-2007 and starting the 2007-2008 season on an even more abysmal note, managing to lose 104-59 to the Boston Celtics in one particularly grim contest.
In baseball, in one of the the worst end of season collapses in baseball history, the Mets squandered the lead they held for much of the season, failing to get into the playoffs. The Yankees managed to make it to the post-season, but in their standard pattern, failed in the first round, putting an end to Joe Torre's years as team manager.
The Rangers, Jets and Giants all also stumbled along the way.
But New York teams still made headlines. A former Knicks front office employee, Anucha Browne Sanders, successfully sued coach Isaiah Thomas and Madison Square Garden, the team's owner, for sexual harassment, winning a settlement of $11.5 million. As anger against the Knicks in general and Thomas in particular mounted, the team tried to keep Madison Square Garden fans from booing. And then former Senator George Mitchell released hs report on the use of steroids in baseball. The Mets and particularly the Yankees may not almost stand out on the field but they did play a starring role in that document, which singled out Yankees pitching aces Roger Clemens and Andy Pettite, among others, for using the substances.
Correction: This story originally stated the gridlock in Albany stalled legislation extending the program to provide tax breaks for construction of affordable housing in the city. That is incorrect. A revision and extension of the so-called 421-a program passed the legislature and was signed by Spitzer in August.
Â