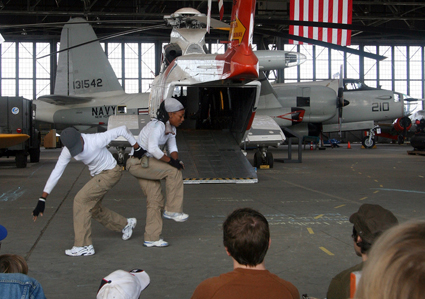 Arts advocates and organizations scored a victory last year when New York City's Department of Cultural Affairs reorganized its process for allocating funds in an effort to make it more merit-based and equitable. In terms of funding totals, the Department of Cultural Affairs and the New York State Council for the Arts both received as much money in their fiscal year 2008 budgets, if not slightly more, than they had in any year over the past decade. The immediate future looked good. But now, just a year later, the arts community sees expecting tough times ahead.
The current recession has arts organizations, like the rest of the city, taking a hard look at their finances. Public funding for the arts, as for every sector, is expected to shrink in both the city and state budgets. The cultural affairs department, which had an adopted expense budget of $168 million in fiscal year 2008, has a budget of only $152 million for this year. That may shrink to $149 million if the City Council approves the mayor's 2.5 percent budget reduction for all city departments for the remainder of the year.
If the mayor's plan for next year also is approved, the department will face another $3.8 million cut for fiscal year 2010. Bloomberg has said that he wants to keep arts funding at a high level, but when money gets scarce, arts sometimes loses out to services seen as more essential, such as education, police and fire.
The budget for the state arts council is likely to be slashed next year as well. The state legislature failed to approve budget reductions for the remainder of this fiscal year, leaving an ever greater deficit for 2010. With the public funding picture looking grim, the thousands of organizations that rely on city and state grants are expected to have to tighten their belts.
Staying Alive -- For Now
No one is yet sure exactly how much they will lose. Despite any budget reductions for the remaining fiscal year, most organizations that depend on public grants will not see a change until the next fiscal year, which starts on April 1 for the state budget and July 1 for the city budget.
Dance NYC executive director Michelle Burkhart said her organization, which provides services to artists and groups, has "already seen less funding from both city and state" grants. Of the groups Dance NYC works with, Burkhart said so far "no one's come yet saying they have to close their doors or go on hiatus."
However, she said, budget cuts would certainly affect her organization and its ability to serve its members. The majority of Dance NYC's constituents, according to Burkhart, are "underrepresented artists, working project to project" as well as "grassroots organizations." Dance NYC offers them various kinds of assistance, from workshops to help artists efficiently run organizations to providing stable infrastructure to dance groups. "We've just kind of had to re-evaluate some of the programming we're offering - minimizing some of the programs we're able to provide the field," Burkhart said. "Workshops are being re-evaluated or cut completely."
With the financial crisis deepening and the city and state budgets for next year still in the planning stages, the fiscal predictions change constantly. Virginia Louloudes, executive director of the Alliance of Resident Theatres/New York, said, "Now we're OK. Next year, we're not so sure."
Her organization provides services and support to member artists and theaters and is one of the thousands of groups that rely on state grants, city money or both. State and city budget cuts are difficult enough for organizations to absorb, but in a recession, arts organizations face other budget reductions as well. "It's going to hit us in three places: individual giving, the amount of money the city has to give us and the amount of money the state has to give us," Louloudes said.
Private Money
The budget cuts in the recession in the early 1990s, Louloudes said, changed arts funding so that organizations relied more on corporate and individual donations than before, making private gifts perhaps even more important than public funds for some organizations.
Due to business mergers in recent years, the number of corporate donors has shrunk, forcing groups to rely more on individuals. Steve Zeitlin, executive director of City Lore, an organization committed to preserving New York's cultural heritage, said that in the coming months, changes in individual giving will "affect people the most."
With the economy in a recession, major corporate and individual donations are scarcer. As organizations conduct their year-end appeals, Zeitlin said he guessed that the response would show that giving has dropped a great deal. Of City Lore's funding, Zeitlin said, "We've had funders who say 'yes, we'll consider your proposal, but we have no idea when.'"
Ticket Sales
Arts organizations had prepared for the worst in terms of their finances, according to Louloudes. "I think that all of us have been sensing that this has been coming, so we are all being very conservative," she said.
However, less than a week later, after her organization had done more surveying among its members, Louloudes had a different opinion. "It's worse than I thought," she said. According to Louloudes, theaters in her organization are seeing a decline in attendance and income as well as a decline in funding.
New York has already seen a rash of show closings on Broadway, with "Hairspray," "Spamalot," "Spring Awakening," "13" and "Young Frankenstein" all announcing final performances in January. Smaller shows and companies are also expected to suffer. In the theater community, Louloudes predicted, "Off-Broadway will feel it the most." Smaller off-off Broadway groups without established fixed costs like rent for performance and office space may have an easier time weathering the storm than larger groups. But regardless, Louloudes said, "I'm concerned about the entire field."
Looking Ahead
Despite all the planning and saving, arts groups feel the worst is yet to come. Steve Zeitlin said City Lore had not felt the effects of city and state budget cuts, but probably would in the next year. "When these cuts happen, there's always a little bit of a lag. ... It hits us over a period of time," he said.
When funding is cut, Zeitlin said, "We basically have to go into survival mode and keep the infrastructure of the office intact." The result, Zeitlin said, is that the group may have to cut some programming in order to survive and continue advancing its cause. City Lore runs programs aiming to preserve New York City art and landmarks as well as promote ethnic folk arts to "ensure that the city's traditions and cultures are still given a voice in the city's cultural life." Zeitlin said. Zeitlin said he hoped City Lore wouldn't have to cut any programming next year, but worried that financial pressures would force the group to do so.
The various affects of the recession will be widespread. Louloudes said she has already seen groups suffer because of the downturn - the Ohio Theatre, an off-Broadway theater in SoHo and a member of ART/New York, will no longer have a space. The theatre's landlord was forced to sell the building because of financial pressures.
As a result of the funding cuts and fall off in contributions, New York City may experience a decline in the number of arts groups, performances and events in the upcoming months. It also seems likely New York City will see fewer free public events, Zeitlin said, because "those are precisely the events that rely on government funding."
In any case, arts in New York face a difficult battle. Of the times ahead, Louloudes said, "We have to prepare for the worst and hope for the best. And when I say 'best,' I mean 'I hope we can survive this.'"